2014 Yamaha Snowmobile Lineup Unveiled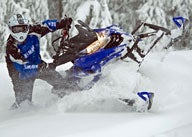 Yamaha partners with Arctic Cat and rewrites "new" model expectations
For the past few seasons snowmobile enthusiasts asked what the next "big" thing would be from Yamaha. Here's the answer: the all-new 2014 SR Viper series.
In some ways Yamaha and its SR Viper series enters model year 2014 holding the promise and challenge of a bride and groom, for whom this old wedding ditty applies:
"Something old, something new
Something borrowed, something blue…"
If Yamaha drew up a marriage contract, that old "wedding" saying would fit just right. The "something old" would be the Yamaha 1049cc high-performance 4-stroke triple. The "something new" would be the all-new SR Viper series. And something borrowed has to be the Arctic Cat-sourced platforms (ProClimb and ProCross) underpinning this new Viper series of five new models ranging from short track sport performance to long-track off-trail performance. Something blue is, of course, Yamaha's corporate blue, but with optional reds and blacks thrown in for variety.
Not since 1974 has any snowmobile manufacturer(s?) collaborated on a new model launch this closely. Back then Suzuki needed a performance image and worked a deal with Arctic Cat to put a 60-horsepower, 432cc Suzuki free-air in Cat's proven El Tigre chassis. A short-term fix, the resulting combination gained Suzuki its sport model, the Suzuki Fury. And, long-term Suzuki discontinued its own not so popular, but totally reliable "Suzuki" branded sleds in favor of supplying engines for Arctic Cat under the "Spirit" label.
Who knows what the future holds other than Yamaha gains a nifty series of Viper sport performers powered by virtually the same engine as used in its big bump Yamaha Nytro series, which will feature minimal changes for 2014.
Five Versions
Now that you have digested the Viper concept, let's see what Yamaha's new Viper series is exactly. There are five models. The two short-track models come with a 129-inch Camoplast Ripsaw II sport track in base sport performance Viper ($12,149) and "big bump" Viper RTX SE ($12,649) version with air-shocks up front. There are also two LTX models – the base LTX ($12,499) and Fox Float 2 equipped LTX SE ($12,949) – with a stretched out tunnel to accommodate a 137-inch Ripsaw II track. For serious off-trail adventurers there is the 141-inch tracked Viper XTX SE ($12,999) designed with near-mountain powder attributes that make it well suited to getting around backcountry slopes and valleys.
Although the five sleds share commonality with ProCross and ProClimb platforms and their underpinnings, Yamaha's Viper has its own nomenclature. The front suspensions on all five models have the SR Viper front design. The base and LTX versions utilize premium grade, aluminum-bodied, rebuildable high-pressure gas shocks. All "SE" designated models feature Fox FLOAT 2 shocks. Rear suspensions are the same for all but the Viper XTX SE, which features a more powder-oriented Dual Shock SR 141slide rail with air shock. The other Viper models come with different length versions of what Yamaha calls its "comfort-tuned" Dual Shock SR rear. Whether it's the 129- or 137-inch rear suspension, both feature premium HPG shocks, torsion spring tuning and a U-slot on the front arm that helps couple the front and rear torque arms. The basic suspension set up – aside from shock and spring tuning – works the same for base or rough trail Viper versions.
Redefining Base Model
One thing you should know about the base models of Viper and Viper LTX is how Yamaha defines "base." The so-called base models differ in how Yamaha views the rider. The Viper is the sport performance version designed for riders who will stay on groomed trails and rack up substantial mileage. The LTX is for the occasional off-trail rider. That's why you'll find them equipped with a heated seat, taller windshield and rear-of-the-seat travel pack.
The SE versions, specifically the RTX SE and LTX SE, come with air shocks, a lower sport-styled windshield and tunnel-mounted tool pouch just big enough to hold a spare belt and minimalist tool kit. These are the two sleds with "air" shock front suspensions and stiffer settings in the rear suspension. Yamaha expects SE riders to seek out and challenge big and nasty bumps, on or off trail. Since these riders will be standing more than sitting, they won't miss a heated seat or midheight windshield.
The Vipers feature great rider ergonomics with pre-curved control handlebars and a very inviting tapered saddle that keeps the rider in an action-ready position.
The longer track and more aggressive powder-oriented features of the Viper XTX SE will be popular with serious off-trail riders who want to get into fresh and unbroken powder. This model bases its features on a long platform with taller riser and handlebars equipped with a mountain strap for added leverage.
Proven 4-Stroke Triple
These five 2014 Viper models all use the 1049cc Yamaha high-performance triple. It is mounted low and tilted back in the engine bay to maximize center of gravity and centralizing mechanical mass. While the platform may be something borrowed, it is unique to accommodate the extra three-cylinder width of the 4-stroke Yamaha powerplant and its triple exhaust header. A portion of the tunnel effectively has been cut out to fit the 3-into-1 exhaust just under the front of the seat. The final exhaust dumps into a large forward-mounted muffler can, which means this Yamaha's sound signature is quite different than a similarly powered Nytro with its rear-exiting exhaust.
The Yamaha Viper models may borrow in a collaborative effort, but they are distinctly Yamaha and stand apart on the trail in bold Yamaha blue, red or black with painted chassis for differentiation.
New Model And Updates
Also new for 2014 is a 500cc Phazer XTX ($8,599) model, which borrows from the mountain-equipped version. This new model should be a popular one with low country adventure riders. It offers a 14-inch wide by 144-inch long Freeride track with 1.5-inch lug height for good off-trail grip. This is an excellent alternative to the Phazer MTX ($8,599), which is unchanged for 2014.
Looking at Yamaha for 2014, expect minimal changes, which means more use of the "Tuner" skis and new color choices in various model lines.
In the Apex line of base ($14,099), SE ($15,049) and 144-inch track length XTX ($14,499) look for color and graphics changes plus Tuner skis. The returning Vector ($11,999) models are now all considered groomed trail runners, including the LTX ($12,199) with its 136-inch length Ripsaw track. Both Apex and Vector series come standard with electric power steering.
Rough trail riders will welcome the return of the Nytro, which has enjoyed a very good season in terrain racing. For 2014 there will be a singular Nytro ($9,999) in black alongside the off-trail Nytro XTX 1.75 ($11,699) also in black and equipped with 6-degree tip up rails on its 144-inch slide rail suspension.
Phazer 500cc model updates center around the new Phazer XTX. The Phazer RTX ($8,599) gains a taller windshield and is updated with the Tuner skis controlled by Fox Float shocks.
Two-up and utility sleds sees the departure of the Venture Lite, which has been blended into the Phazer-based Venture MP ($9,799) added last year and now equipped with rearview mirrors and graphic enhancements. The premium two-up touring Venture GT ($12,799) and utility-oriented Venture TF ($12,799) with 151-inch track both add Tuner skis for even easier steering from the standard equipment electric power steering. The carbureted Venture soldiers on with addition of Tuner skis.
Little changes in the powder segment. Both the Nytro MTX 162 ($12,899) and 153 ($12,499) now come in all black and see the return of Yamaha's "powder" skis.
While Yamaha for 2014 makes some changes to its "traditional" line up, the real news comes from the re-introduction of the Viper name and its launch as a lighter weight, feature-laden series of five models. While this may not be the first time a snowmobile company has collaborated with another, Yamaha's move is bold and will certainly wake up internet forums with all kinds of chatter. More importantly it's a bold move that Yamaha certainly hopes will wake up sled sales and visits to Yamaha dealers.
Related Reading
Yamaha To Supply 4-Stroke Snowmobile Engines to Arctic Cat
2013 Yamaha FX Nytro XTX 1.75 Review – Video
2013 Yamaha Apex SE Review – Video
2013 Yamaha Vector "Trail" Review
2013 Yamaha Venture MP Review – Video
2013 Yamaha Nytro Boosted