Women Snowmobilers Unite for the 15th Annual Ladies Ride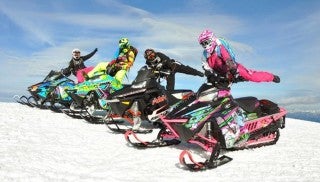 We send a new mountain rider to Oregon
With the smell of snowmobile exhaust and the sound of braap echoing throughout the sno-park, I prepared to embark on not only my first Annual Ladies Ride, but also my first time exploring mountain terrain on a snowmobile. I couldn't think of a better group to start this experience with than a group of fellow women riders who at some point in their lives had been in the exact same position that I found myself in.
Weeks before I prepared to embark on an Epic Snowmobile Adventure to explore the big mountains of the Western United States, I sat at my computer researching and perusing pictures from previous ladies rides. This year marked the 15th anniversary of the event, created by sponsored freerider, Brandy Floyd. The annual event is held in the small town of Halfway, Ore., and serves as an opportunity to highlight, encourage and support women who enjoy riding snowmobiles.
From the moment I announced in the online group that I was going to travel from Ontario, Canada to the Ladies Ride, I received nothing but positive support and encouragement. Several seasoned Ladies Ride participants reached out to welcome me, and others provided me with some helpful thoughts and advice on how to pack and what to expect. I decided to keep an open mind, because as I have come to learn, anything can happen at the Annual Ladies Ride!
Top 10 Things New Mountain Riders Should Know
My steed for this adventure was the Pink Hawk. This is a customized Polaris Pro RMK that was part of the 2013 Sledchix build, where eight women and two girls built the snowmobile in the span of a two-day period. The pink snowmobile is adorned by pictures and signatures from women riders across North America. It was graciously loaned to me by Ladies Ride participant, Liz Van Amburg, and was the perfect vessel for me to ride at this event.
Despite warmer than seasonal temperatures this year, everyone remained positive about the weather. I quickly learned that while the event was focused on women riding snowmobiles, there was just as much emphasis on camaraderie both on and off the mountain.
Rocky Mountain Power Teaches Winter Safety Skills
Stephanie Santeford and I departed from Washington and made it to Halfway on the evening of February 18th. Tired from a long day of travel, we stopped by the Pine Valley Lodge to meet some of the women who were still up. Right away, I received a warm welcome from the small group of women, who I now refer to as the welcoming committee. We stayed up a bit past everyone's bedtime, getting acquainted and chatting about the days to come.
At the crack of dawn the next morning, Stephanie and I were up and ready to get out on the mountain. Driving through the small town, I immediately noticed red Valentine hearts hanging on lampposts with various notes on them. I later found one that was made especially for the Ladies Ride participants, and I realized then what an impact the event had not only on the women who were a part of it, but also on the town that hosted it.
We certainly transformed the town that weekend. The array of trucks, trailers, and colorful snowmobiles parked along the street made for quite the sight, and the parade to and from the sno-park each day was something I looked forward.
Make Your Snowmobile Powder-Worthy
We headed out riding on the Thursday; my first day on the Pink Hawk, on a mountain, and on the Ladies Ride. It was a bit overwhelming, but it was also a very humbling experience. There was no doubt that I faced some challenges that first day. I learned about muscles I never knew I had, and I figured out quickly how to avoid having a sled land on you when it rolls (a few times with the sled rolling onto me was enough!). Throughout that day, Stephanie and a few other women stayed by my side, teaching, encouraging, and supporting me as I overcame some challenges and learned how to navigate the terrain at altitudes of over 6000 feet.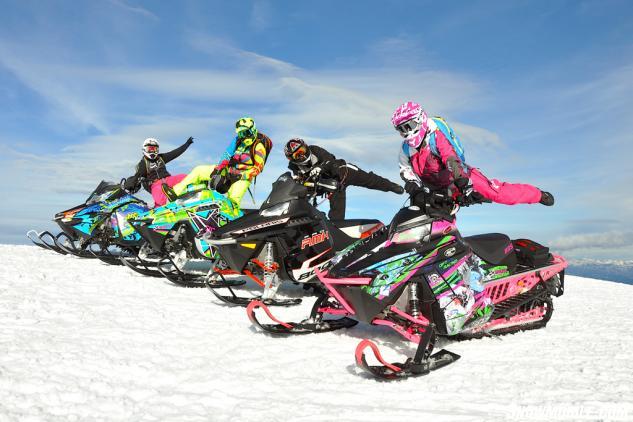 At the end of the day, I was exhausted. However, that didn't stop me from joining the other women to socialize over a campfire and chat about our adventures that day. Over my four days spent at the Ladies Ride, I met women of all ages, from across the Western United States and Midwest. Many of them were newcomers to the event, and several had just started riding in the last few years. I met nurses, business women, students, tradeswomen and more, many from very different backgrounds, but all with the common love and interest for snowmobiling.
The event was attended by 53 women and raised over $2000 for the Pink Ribbon Riders, while also supporting the local food bank. At the end of the weekend, I felt empowered by the women I had met. I realized that there was nothing stopping me from buying a sled, loading it up on my own, making my own repairs and modifications, and just enjoying the opportunities and experiences that life has to offer.
Thank you to all of the women who welcomed me, shared their stories, and contributed to my first time at the Annual Ladies Ride. I can't wait to return next year to continue building on the lifelong friendships I started, and to further developing my riding skills.