A Quick Guide to Backcountry Safety – Video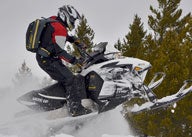 How to stay safe and survive in the steep-n-deep
As much as we love this sport, it has its hazards. Snowmobilers are not immune to injury and possible death. To that, roofers, long-haul over-the-road (OTR) truckers, water skiers and even golfers have their fair of occupational and recreational injuries.
Since my first year as a snowmobile journalist, I've given backcountry steep-n-deep snowmobiling my respect. We all should. At Snowmobile.com we are protective of this sport and of our snowmobiling neighbors – you. We can't control your backcountry riding decisions, but we can give some knowledge that we hope will lead to safe backcountry snowmobiling.
Time and time again when a backcountry rider dies in an avalanche, I often hear "At least he died doing something he loved." I reject this as nonsense. That which we love should not kill us. Knowledge is power and protection.
Provided for your use is some avalanche, medical, hypothermia and winter survival knowledge that we hope will motivate you to learn more, do more and be aware more. There was a time we would write throughout a winter season a multi-part series on avalanche awareness and backcountry survival, giving great detail and "how-to" direction.
Now, with the 'net, YouTube, blogs and riding clinics, we can serve you better by pointing you to the correct website, YouTube keyword or clinic that can best serve your needs.
Avalanche Awareness
Before embarking on a mountain adventure, go to these Forest Service and Avalanche Center links to learn about snow conditions near the areas you'll ride. Also, these websites have valuable avalanche information you'll need prior to pulling the rope on your mountain or crossover steed. These are our favorite websites:
For a main hub on avalanche awareness: http://avalanche.org/ For the Bridger/Teton area: http://www.jhavalanche.org/index.php For the Gallatin Montana forest area: http://www.mtavalanche.com/ For the Missoula, Montana forest area: http://www.missoulaavalanche.org/current-advisory/ For the Utah Avalanche Center: http://utahavalanchecenter.org/ For the Colorado area: http://avalanche.state.co.us/pub_bc.php
These web links are but a few that teach and educate. Additionally, each link has either a PowerPoint presentation on avalanche awareness or other training media that provide powerful information to help you be safe. We also enjoy the "Avalanche Guys," on YouTube, keyword this into the search window, or click here.
Ski-Doo is a forward thinking, safety-conscience manufacturer that seeks to inform all backcountry riders of avalanche dangers. To that end Ski-Doo has hired Mike Duffy to present "Avalanche Safety Awareness Seminars" across the Snowbelt, the Midwest and East. Ski-Doo's clinics are open up to all snowmobilers, free of charge. You don't have to be a Summit or Freeride owner to attend, all brand loyalists are welcome. Listed on Ski-Doo's Summit blog is a plethora of avalanche knowledge and its seminar schedule or read about it here.
Professional backcountry riders Dan Adams (Polaris), Bret Rasmussen (Ski-Doo), Chris Burandt (Polaris), Amber Holt (Arctic Cat) and Troy Johnson (Yamaha), as part of their riding clinics, teach in-depth avalanche awareness, and victim search and rescue. We highly recommend these clinics. Throw their names into Bing, Yahoo or Google and book a time.
Clothing Awareness
We believe what you wear is more important than what you ride. First, limit cotton to your briefs or undies only, and even then, if you can secure some water wicking shorts and T-shirts made from a blend of a poly and spandex, then wear those.
When sitting in a warm pickup cab, abstain from wearing a double layer of socks and your snowmobile boots. Not smart. If wanting to wear a light jacket in the truck, ensure its pit zips are loose; or shed the jacket while driving/riding. Basically, stay cool by reducing perspiration before you head out on your sled.
Layering is important. There are three layers: inner, mid and outer. Reputable companies, such as MotorFist and Klim, offer winter inner, mid and outer-wear that works for you. They have products that wick moisture away from the skin to pass off the sweat to the high-tech membranes in their outerwear, which is then transported out to the atmosphere. These membranes are usually Gore-Tex and eVent. These state-of-the-art above military-grade membranes also serve as barriers to keep wind and moisture from transferring into the body.
Wool, polypropylene or a combination of both are the best materials for inner- and mid-layer apparel. They are light, comfortable and moisture wicking. On both the Klim and MotorFist websites, you'll find helpful information on layering that gives more tools to build a good backcountry winter riding program. Yes, layering and proper clothing is more expensive than the mid-grade stuff. But, we have learned, often by miserable experience, it is worth it.
Boots, socks, gloves, helmet, balaclava and goggles should be carefully chosen with the same fussy attitude as your coat and pant. Boots and gloves should have the same moisture membrane as the coat and pant.
When choosing a helmet, look for the latest Snell and DOT ratings. Purchase a helmet that fits well to your goggles (if a snocross or motocross style helmet) and vice-versa. We are leery of goggles that are all flash and color and make bold claims on anti-fogging. Best case, have two to three reliable pairs of goggles. Stuff one in your gear pack and the other in your snowmobile goggle warmer (Cat / Ski-Doo). The goggles we have had the most success with are Klim's Radius, 509 Sinister and Aviator, and vented double lens goggles from Smith and Scott. Goggle fogging and icing lead to poor visibility, which reduces driver confidence and could lead to crashes. Not good. A mountain rider I've come to trust on goggles is Troy Johnson, Lincoln County Customs, Alpine WY. Johnson is hard on equipment and truly knows what works and what is off his favored list; go to http://lccwy.com/, or call 307-654-MODS (6637).
Essential First Aid and Rescue Equipment
We lean on Adventure Medical Kits to supply us with what we need. This is just us. There are other suppliers and you may have other products you believe in, but the medical and survival kits should be complete to handle wintertime injuries and survival. There was a time we assembled our own medical and survival kits. You can do that, but we've done our research and have chosen Adventure Medical Kits' SOL (Survive Outdoors Longer Hybrid 3), Mountain Medical and Origin kits.
We also like the Redi Lite FirePuffs for fire starting. These fuel impregnated cotton puffs can be easily started with the kit's supplied ignition source. Go to https://firepuffs.com/ to learn more. We also carry these in our survival backpacks.
Avalanche Air Bag
Choose one, love it, care for it, test it and ride with it. Several companies have the "avy" bags for backcountry riding. We've used two of the major three, ABS and BCA. Snow Pulse is another and is, like the other two, a highly reputable product. Several aspects to consider when choosing an avy bag: 1) does it have room for a probe and shovel; 2) can the discharge canister be easily recharged; and 3) is the trigger system made to be easily reached and pulled with a gloved hand.
Here is some wisdom, just because a snowmobiler wears an avy bag, does not make her/him stronger, smarter or invincible. Avy bags do not lend permission to be stupid in the big country by taking more risks.
Search and Rescue
If you should tag along and ride with the Snowmobile.com Mountain Team, you'll be required to have three basic tools: beacon, probe and shovel. For us, if you do not possess such, then your ride consists of sitting and waiting in a pickup (or cold vehicle of your choice), or riding with some other group of uninformed snowmobilers.
Seriously, "That which we love should not kill us." Having the rescue equipment to find a friend, or perhaps you, is paramount. We use a beacon, probe and shovel from BCA. We have other good brands, but have come to rely on BCA because this Colorado-based company is a one-stop shop. On BCA's website is an online tutorial on avalanche search and rescue, go to: http://www.backcountryaccess.com/education-research/learn-about-av-safety/.
Many other reputable avalanche rescue equipment companies have dependable products, such as Ortovox. To learn more about its products, and to receive avalanche education through an online tutorial, go to http://www.ortovox.com/.
Food and Hydration
Alcohol is a no can do. It makes snowmobilers stupid and it lowers their body temperature. A lost and drunk snowmobiler on a frigid night is a bad combination.
You should also know that high caffeinated energy drinks are not a good choice to carry and drink on long strenuous rides. These are a diuretic and make one discharge more urine – hydration – and lead to more thirst. Best is water, or a product with a proper ratio of carbohydrates and electrolytes.
Jerky and endurance protein energy bars are good to carry in a backpack. You can read more about what we haul in our backpack here.
Consider This
Several years ago, Editor Jerry Bassett sent me off to interview a father who lost his son in an avalanche. The avalanche that took this boy's life occurred mid-January; his body was located two weeks after the incident (the search and rescue team included Snowmobile.com Sr. Test Rider, Kevin Allred), but could not be extricated until late March that same year.
This father said to me, "My wife waited four months to bury her son." Then he asked me, "Matt how do you think that made her feel? I couldn't comfort her." Then the final question, "How would you have felt?" The deep sadness to this story is the avalanche that killed this young 20-something man was triggered by his brother, who unwittingly tripped a heavy snow laden cornice when he eclipsed a mountaintop. The two brothers were best friends. No one in this group had rescue equipment.
"That which we love should take care of us."