Discover a New Hobby with Vintage Snowmobiles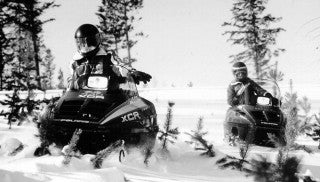 A fun way to survive the non-snow months
What to do now that the snow is gone? Golf? Go fishing? What?
How about sticking with snowmobiling and venture into the world of vintage snowmobiles or fixable older sleds. Don't get too modern, it's the fixer-uppers that give you an excuse to spend time in your garage or shop and play with all those nifty hand and air tools you've accummulated over the years. You could even share your garage time with a youngster.
Since most modern sleds, like modern cars, tend to encourage module replacement and require digital and electronic assistance, you'll find old sleds with carburetors and such things actually require hands-on tinkering that let you contribute directly to improving performance. Don't get us wrong, when it comes to spending a long day on the trail, we prefer a modern, low maintenance sled that generally requires nothing more than adding fuel. Older sleds are fun, but we prefer being within a tow-able distance to a trailer or garage when we ride them.
What we're talking about here is checking into the vintage scene and getting a new hobby. If you like to tinker and feel that personal sense of achievement that comes from actually fixing something or building something, well here's your chance. Salvaging an old sled can be therapy. Of course, they told me that golf was therapy – or, was it if you played golf you'd need therapy? I forget.
We've had some old sleds that were fixer uppers – and one still is. Currently we are tinkering with old fishing motors, the two-stroke kind, but we haven't forgotten that old 1960s snowmobile sitting under an aging cover up in our shop.
Why go with an older sled? You can opt for a new one, but if you already have a newer, modern sled with electronic fuel injection, long travel suspensions and conveniences, how much tinkering can you do? You can change to a new track, swap shocks, upgrade storage and such. But with an older sled that will be a hobby fixer-upper, you can take your time putting it right. Maybe you aren't interested in creating a show piece, you simply want to get it running so you can ride it a couple of times a season at vintage or collector sled events.
You don't have to spend a lot of money on a fixer-upper, especially if you find a popular older brand such as a Polaris Indy, a Yamaha Phazer or a 1990s Ski-Doo or Cat. Many of the sleds from the 1970s featured common components like JLO engines, Salsbury clutches, Walbro carburetors and such. Plus, with the growing popularity of vintage sledding, you can find knowledge and carmaraderie at various events. Don't forget to let your fingers do the keyboarding as you go online to search for parts and information. The information is out there.
If you are new to shopping for a fixer-upper, we offer a few suggestions. If you have a friend who is a collector or knowledgeable about small engines, ask his advice. He can help you get started.
You should also accept your limitations. If you have a desire to fix up an old sled but are new to sled mechanics, brush up on what you may need to know. Visit a library and ask if they have any old snowmobile repair manuals like those from Clymer, Haynes or Intertec. We like Clymer's Collection Series for vintage snowmobiles. These manuals assume you have basic motor skills and are written for the do-it-yourself enthusiast. You can find an assortment of old Intertec snowmobile manuals on line as well. But we suggest checking with your local librarian to help run down specific titles.
Even though many of the discontinued brands may seem inviting, you'll want to check out the availability of parts before falling in love with a specific model. We'd suggest focusing on a currently existing brand if this will be your first attempt at fixing up an old sled.
Since this will be a hobby, prepare to deal with it as a long term project that may require much patience. You don't have to purchase a fixer-upper and have it running the next weekend. Some of the fun in restoration comes in the hunt – for parts, experience and seeking knowledge from other hobbyists.
When you do go on the hunt for an old sled, you may want to borrow a friend's expertise in checking it out. There are basics and past experiences that he can share, hopefuly saving you from a sour purchase.
When you decide to make the purchase, consider what you're getting into. Some fixer-uppers require simple tuning, not a total rebuild. If it's going to be a total rebuild, be realistic about your involvement and true desire to fix it up. Carb rebuilds, igniiton tune-ups and such should be simple enough, but do you want to tear apart an obsolete engine and rebuild it from the crank up?
Start simple and add experience then move on to more involved projects. An older sled that runs, but that needs a little loving can be a good start. Don't get caught up in the idea that fixing up a sled means restoring it to like new condition. You can earn a trophy at a vintage sled meet by simply getting the sled to run and leaving it in "as-is" condition. That gives you a sled you can use at vintage rides.
When we get frustrated because our tinkering hits a rough spot, we remind ourselves that these older sleds have quite basic needs – fuel and ignition. Unless the engine is locked up and won't turn over, chances are that you can fix it. Refer to your old sled manual and you'll see that troubleshooting centers around ignition or fuel issues. Solving those issues and getting the engine started is the main battle. That's all covered in your manual.
Waconia Ride-In Vintage Snowmobile Event
Now you're ready to get the sled moving. If the clutching is bad, you can hunt for a replacement at a swap meet or check if a CVTech PowerBloc or Comet Duster clutch might work. Maybe you'll want to switch from the original Tillotson or Wabro diaphragm carburetor to a Mikuni slide type. These are all updates you can make.
You might find that tinkering with a fixer-upper sled is just the right therapy to get you through the no-snow months. It gives you busy hands and serves as an opportunity to discover new and interesting friends who share your interest in snowmobiling.