Waconia Ride-In Vintage Snowmobile Event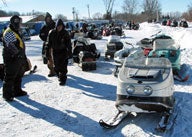 Suddenly it was the 1970s!
I looked down at the snowmobile suit I was wearing. It had Gore-Tex and the latest FXR styling. The trucks parked around my Ram were all very 21st century. But everything else around me looked and sounded very 1970s. It was like I had been swallowed up in the Polar Vortex and dropped back into the 1970s. Or, at least the 1980s. Sleds of the Seventies and earlier are noisy. They're smaller and lighter than modern 2014 models. And they were all the rage at the 24th Annual Waconia Ride-In, which for 2014 celebrated Yamaha "and Yamaha powered sleds" as the "featured snowmobiles."
A Dad on his vintage model led the family sled pairing with Mom sitting uncomfortably zipped and buttoned-up astride a Stingerette as her helmeted son peered wide-eyed through orange goggles. She braved the negative 25-degree wind chill in a knitted hat and you knew that this Mom, like many Moms of the 1970s, was here for her family. She might never be a diehard snowmobiler, but her son well might be.
As we strolled the ample lakeside area outside the Lake Waconia Event Center, some 30 miles west of downtown Minneapolis, we witnessed the controlled chaos of more than 700 antique, vintage and modern snowmobiles coming to see what was going on the weekend of January 24-26. Outside the event center temperatures crawled above zero, but winds whipping the expanse of the lake's 1600 acres created potential skin-deadening chills. Inside you needed to de-layer and unzip as the crush of snowmobilers created a humid warmth typical of a fine spring day. And a fine day it was as you literally bumped into old friends, rubbed snowsuits with sledding legends like Eagle River Derby champions Wayne Trapp and Bobby Donahue, and had the chance encounter to chat sleds with snowmobile executives from Yamaha, Polaris or Arctic Cat. Historic Yamaha snowmobiles sat center stage, as this was their weekend to be remembered and embraced. Rider gear announced a group who had ridden to Waconia – "or Bust" – on vintage leaf spring sleds. There were those in one-piece snowsuits of the 1970s deemed old by time, but actually coming back in vogue as some winter apparel manufacturers, including FXR and HMK, bring back the concept with modern fabric technologies.
Read about The First Annual Wahkon SNOW Film Festival
The Waconia Event Center was packed on the Saturday as folks sought refuge from the lake surface bluster, but only after more than 700 snowmobiles rounded the lake for one of the world's largest vintage trail rides. If you broke down, there was an official "Dead Sled Drop" where towed-in sleds could be gathered up. Officials "get it" at this event and plan ahead.
While this was the 24th annual such event, plans for the silver anniversary 25th event already call for a special raffle of a "Charity Sled," with proceeds going to Make-A-Wish Minnesota. Arctic Restoration Specialties of Rice, Minnesota, is donating the sled, a restored Arctic Cat King Kat.
Company owners Jerry and Bill expressed great enthusiasm for the Make-A-Wish project, noting that it is a great experience to help generate support for the charity. Jerry noted that the company, which he co-founded with friend Bill, actually started out as the result of a personal sled restoration project he had undertaken with his son. It didn't take him long to realize that there were few central or organized places to find parts if you wanted to restore a sled. Based on his experiences rebuilding his project sled and the questions he got from other people doing the same thing suggested that there was a need for a specialty business that sold old or fabricated sled pieces. Today Arctic Restoration Specialties offers parts primarily for Arctic Cats, with some "generic" and specialty pieces. His company can supply motor mounts, windshields, rubber velocity stacks for Tillotson HR carburetors and even fiberglass hoods for some 1970s Arctic Cat or Polaris models.
Arctic Restoration Specialties hangs out in the vast swap meet acreage of the Waconia Ride-In and is actually just one of the many trailer or pickup truck beds laying out new and old pieces for all kinds of sleds. You can purchase everything from almost-never-heard-of-vintage sleds to junker engines to used bogies or skid frames (for the more modern vintage models). But there are also new kid-sized "120" replicas available. Stuck off at an intersection of old and used swapper aisles was Phil Little Racing's Polaris RXL oval replica, which started out as a Polaris 120 Indy but gained Phil Little Racing's Mini 120 RXL hood in retro-Midnight Blue complete with graphics. For specific information about the conversion and costs, contact Phil Little Racing.
Read about Snowmobiling's International Hall of Famers
This three-day ride-in event draws snowmobilers from around the region, some of which ride in on nearby groomed trails and others who trailer sleds from the Dakotas, Iowa, Michigan or Wisconsin. While there are sleds on display and there is an official awards ceremony to present requisite trophies for best in class for restored, unrestored and such, this event is less about pristine rebuilds and more about enjoying the sleds of the sport's past.
As in the old days, you will walk along the parking areas outside the event center or near a portable potty and come across a cluster of sleds, gathered by brand, in some pre-politically correct age when Ski-Doo's didn't mingle with Arctic Cats or Scorpions with Polaris. The 1970s were simple and direct.
You'll also find that as the snowmobilers gathered for the mid-day trail ride, they rode as groups of friends who could tease about the other guys' brand, but would stop in an instant to offer assistance if a sled developed a problem. This is how it was back then – and remains even now. Snowmobilers helping snowmobilers.
As one vintage sled rider told us, it wasn't about the sleds. It was about the camaraderie. He explained that he actually had more fun on a 20-mile run with his vintage sled-riding buddies than he did riding 200 miles on his modern machine. He said simply, "We stop, we laugh, we have fun."
Read about Northern Ontario's Incredible Gold Rush Tour
The Waconia Ride-In centers around what was once the site of the Paradise Nite Club. Built in 1933, the historic landmark got folks through the Great Depression with weekly dances. A popular nightspot, the original building was destroyed by fire in 1971. Rebuilt 3,000 square feet larger and modern, the center eventually became part of the 130-acre Lake Waconia Regional Park, which is the site of the ride-in.
In keeping with the 1970s atmosphere of snowmobiling, this event brings families together to enjoy the sport. Of course anyone younger than 35 wouldn't have experienced the sounds and fury of bogie-wheeled snowmobiling, but event organizers imparted a sense of that bygone era with a Sunday afternoon "Loud Snowmobile Contest." There were six degrees of loudness that included three for tuned pipes and three for old-fashioned megaphones and straight pipes. Ouch!
You didn't really need to go to that contest. You would get a sense of it by listening to the Saturday drag races or Sunday afternoon oval competitions.
Event organizers offer something for virtually any snowmobiler at the Waconia Ride-In, which accounts for the thousands of people who attend all or parts of the three-day vintage fest. Old sleds, old suits, old-fashioned snowmobile fun in a 21st century sled fest.