How to Find the Best Headgear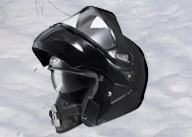 A very opinionated guide to selecting snowmobile headgear
When it comes to snowmobile helmets and goggles, there is no best answer. After decades of snowmobiling, we've reverted to basics in that we wear what works best for us.
As a snowmobile writer for the top publications in the sport, we've gotten some of the latest technologies known to snowmobiling. Much of it is darn good. But not all of it works 100 percent of the time. It isn't the fault of the technology. Simply stated, as veteran snowmobilers know all too well, conditions can — and often do — change from ride to ride. Heck, conditions can change from hour to hour in some situations.
Some snowmobilers ride without helmets, choosing to wear a knit hat and goggles. That outfit will provide one aspect of a helmet's utility — keeping your ears warm. But if you high side your sled and get tossed off, that knit cap won't be much good protecting your skull when it bounces off an icy trail. That should be your primary reason for wearing a snowmobile helmet. In an earlier article (Sizing Up Your Helmet) we discussed getting a proper fit. Now we'll discuss which type of helmet is best. Or not!
As noted, there is no simple answer. When we raced cross-country in events, we wore a motocross type helmet with goggles. And sometimes we wore an open face helmet and goggles, combined with a flip-up shield. Now that our racing days have long since passed, we generally bring a choice of helmet options along with us when we begin a trip. If the days are going to be warm, as they tend to be in late winter and early spring, we'll opt for the open face design, goggles and a shield. If it's going to be very cold during our planned trip, we automatically opt for the extra face protection of a motocross style helmet and goggles. We'll also grab an enclosed helmet with flip-up shield and breath deflector to have as an option.
Please note that we have absolutely nothing against enclosed helmets. Most of our riding buddies use them for the coldest days. Unfortunately, once we seal up for the ride, we overheat way more than the average person. Yeah, we're a virtual sweathog. That narrows our helmet choices. Plus, we have a certain amount of claustrophobia that kicks in if the helmet shield and breath deflector doesn't sit just right. Okay, we're a freak!
Nonetheless, we can appreciate the exceptional technology we've seen in modern snowmobile gear. The snowmobile manufacturers all offer premium helmets that should suit many riders. Ski-Doo's modular designs do work very well. Actually, we use our Ski-Doo modular helmets on cold weather motorcycle rides. But because we work up a greater sweat riding our sleds, we revert to a motocross style.
If you go for the closed helmet with shield, opt for a type that includes a close fitting interior design that lets in adequate cool air, helps deflect your warm breath away from the shield, and circulates air inside the helmet and out through either top or rear venting. All of the best full-face helmets should offer this capability. In addition, examine the helmet's shield to make certain that it is of a double-pane, anti-fogging design. You'll want the helmet to provide some amount of sunshade, so look for a helmet with a visor. The helmet vents should open and close, and ideally not be too susceptible to clogging from snow or trail icing.
Ski-Doo's BV2S modular helmet comes as close to a "fighter pilot" helmet as terrain-bound snow jockeys can get. This design features an adjustable masking system that fits most face shapes. There's an extra wide dual lens and an adjustable flip up sunshield that gives you a "Top Gun" look. Made of a polycarbonate composite, the helmet is rugged. Because these helmets retail around $500, we suggest you let a local Ski-Doo dealer fit you.
Of course, there are less expensive options, like Arctic Cat's TXi design with its three-way Vapor Control System. Another option is a design like HJC's IS-16, which offers lightweight polycarbonate construction with its own Advanced Channeling Ventilation System that is engineered to move the airflow from the front to the back, expelling body heat and humidity. It has a three-stage adjustable, smoke-tinted sun shield and an anti-fogging shield that offers ultraviolet protection as well as an anti-scratch coating. Both of these helmets retail for less than $300.
For a "trick" design, you can move up to HJC's IS-MAX, which features a shield and front chin guard that opens upward. This helmet also offers HJC's ventilation system but adds advanced silver anti-bacterial fabric as part of the interior's moisture-wicking design. If you want, you can opt for an electrically heated shield that will plug into your sled's auxiliary outlet.
While these are the "trick" designs for helmets, we are also of the opinion that lightweight matters. We've seen a new lightweight Ski-Doo design made of carbon fiber composite. This is a motocross style designed for the adventurous boondocker. It comes with moisture-wicking inner materials, plus 10 ventilation points — including the wide-open face area. This is a serious off-trail helmet with ample "breathability." It also carries a serious $500-plus price.
While most snowmobilers no longer utilize open face helmets, those options are generally relegated to the "beginner" and very low buck area of a dealer's accessory department. But, you can still find very good quality, premium open face helmets if you want one. We prefer something along the lines of Shoei's RJ Platinum with the visor, Arai's Classic or HJC FS-3 design. If you opt for an open face helmet, we suggest spending extra for the style that wraps around your lower jaw area. They look like the helmets that old time NASCAR racers wore.
Not only does the helmet technology provide the latest in moisture wicking, ventilation and protection against cold and crashing, but also what you wear under your helmet can make a difference. Companies like Arctiva offer the latest wind blocking materials for balaclavas and liners. We generally carry at least two spares with us whenever we ride. One style will be heavy and another of lighter weight material so we have options as the weather changes — or not.
When it comes to goggles, we always specify dual pane models with lots of ventilation. If you wear glasses, you can have your prescription fitted to your goggles. Over the years we've tried about everything. Those battery-powered turbo goggles actually work, but you may find that the circulated air dries out your eyes. We can vouch for the heated electric grid type of lens as well. For us, we've settled on finding and using top grade ski goggles. If you can find a set with gradient lens that change as the light changes, get them. They won't be cheap, but they mean you don't need to carry a couple of alternate shade lenses with you.
As for our shields, you'll find your choices limited. You want a dual pane, anti-fogging shield that slides up easily. If you can get one with multiple stops, all the better. While you can get extra long shields, we prefer the shorter style as they can be flipped up more easily.
If you can wear a full face, enclosed helmet and never have it fog, wonderful. We've tried that and settled on our own options. Even then we've gotten fooled. We've started out on bright, blue-sky days only to find that there would be enough humidity in the air to hold snow dust at head level — quickly icing up our shield. Other times, it all goes as planned. So, whether you ride inside a full-face helmet or behind an electrically heated shield, know that you can only get what works for you, as there is no single headgear solution for everyday snowmobiling. However, if you find one, let us know!
Related Reading Sizing Up Your Helmet