Exploring Snowmobile Helmet Styles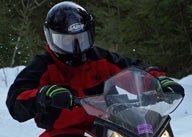 A heads-up on helmets
Snowmobilers, more than all other powersports recreational riders, tend to automatically wear helmets. If you're going out to ride, you virtually always pack a helmet in your gear. No questions asked.
When was the last time you saw a recreational snowmobiler riding without a helmet? There are always the lads in their "work brown" bibs riding to their icehouses wearing a classic tuque or ear-flapper trooper hat. But it's pretty rare you see a serious trail rider charging through the moguls without some head protection.
You can't say that about other power sports riders. In states without helmet laws, we're frequently amazed at how many "macho" bikers we see sans helmets. As one who knows firsthand the value of a helmet in a crash, and how quickly you can go from road rider to road kill, we simply don't get it. We've always worn a helmet when we've ridden a motorcycle – dirt or street. We especially don't get it when we see a young guy not wearing a helmet but insisting that his girlfriend passenger does. So he does see the potential for calamity.
As for snowmobilers, the near automatic reaching for a helmet along with snow boots and other sled gear seems understandable. Riding a sled is c-o-l-d. Riding a motorcycle can be h-o-t. So the sledder grabs a helmet for warmth as much as safety. We can't argue with that.
Since the early days of snowmobiling, especially racing, snowmobile racers wore helmets. Snowmobile companies that sponsored racers in those early days promoted the sale of helmets by offering designs that replicated what their top racers wore or, at least, matched the sled brand's colors. Ski-Doo was especially adept at this. Moving forward to 2014, all of the sled companies and many of the helmet makers have caught on and you'll find "signature" designs matching what the top racers wear.
Of course, ordinary trail riders and touring riders don't care about the top racers' latest style. They want to be warm. They want to enjoy fog-free riding with a minimum of discomfort from the winter environment. But they all wear helmets, including the youngest riders.
Over the years we have worn virtually every style of helmet you can imagine. We've tried all manner of helmet, face shield, goggle and glasses combinations. We even elected to undergo laser eye surgery to maximize our on trail experience, which improved some things but still left us dependent on finding quality shields or goggles.
We don't have a singular answer as to what works best. Depending on the ride, the weather conditions and our attitude, we can select one of three options that we've found work best for us.
We have a couple of the newer top-of-the-line full-face helmets with the so-called foolproof shields. These are pretty good, but not foolproof. Since we tend to overheat and body heat flows up to our helmet like smoke up a chimney, we experience fogging on a too regular basis. So, that helmet option gets relegated to third place.
When riding for our pleasure and with our friends, we opt in for a snocross or MX style helmet. We get a nice influx of air to vent body heat and moisture away. With this style of helmet we also get a sun shade that comes in handy when the sun sets low on the horizon at the end of the day and shines directly into our eyes. Of course, this style helmet requires that we find a good selection of goggles. To that end, we frequently pack a spare with different color lens.
For us, this combination works very well. But, we still reserve another helmet option for those "working" days when we need to carry a camera to capture new sled action or we're working on getting scenic images for a trail article. That's when we reach for our trusted open face helmet. We don't go cheap, we go for a model like the Bell Sport Mag, which has more of a chin wrap-around than the cheapies and comes with a visor. Or, we grab for our Shoei RJ Platinum-R open face that we bought to replace the one that was cracked in a motorcycle crash. See, that's why we don't cheap out when it comes to a helmet. You may never need it to wear it other than to keep you warm, but when you do, you want it to protect you.
For us, the advantage of an open face helmet centers on an ability to bring a camera to our eye quickly and conveniently. If we aren't shooting images, we tend to go with the snocross style. These two snocross or open face options let us use the same goggles. On truly cold days like we had this past winter, we also affix a moveable shield to our open face helmet for added warmth. The shield also protects us from clods of flying snow if we hug the back of a sled too closely.
So, yes, we have three options that we have tried and settled on based on decades of riding experiences and work needs. When working, we go for the open face with goggles and or shield. For our pleasure and play, we'll grab our motocross-style helmet with an assortment of goggles. And, occasionally we'll go with the full-face helmet. We'd probably use it more if we fitted it with an electric shield, but we just haven't gotten around to that yet. More and more sleds offer a standard plug-in for heated attire and shields, so we may start looking for an upgraded full-face helmet with a plug-in electric shield in the near future.
So, are snowmobilers smarter than other power sports riders? Probably not, as many older snowmobilers ride cruiser motorcycles in the warm weather months and choose to go helmet-less. We've noticed that the younger generation of snowmobilers, who have grown up wearing helmets when snowmobiling, also tend to wear helmets when riding on their high-performance bikes. Chalk one up for them!