Re-Entry Sleds to Consider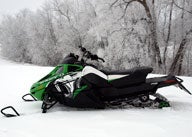 A used sled is a good way to get restarted in snowmobiling
One of the more insightful views coming out of the snowmobile industry's latest state of the sport review really caught our interest. While new sled sales may be struggling due to economic and weather factors, we agreed wholeheartedly with the idea that today's entry level sled may actually be yesterday's premium model.
If you consider what you would get if you bought a manufacturer's budget-priced snowmobile, it could be disappointing. You'll likely trailer off the lot with a low-powered fan-cooled model that will have good features, but not top line ones. On the other hand, if you shop carefully for a used model, you might spend about the same amount of money but get features close to the ones on today's top-priced sleds.
Now, a true entry level buyer would be wise to find a sled within their capability, which may mean a 50 to 80 horsepower sled with ample features. But a buyer looking to return to the sport after sitting out the birth and raising of a couple of kids, the return to some economic security and such might want a top-end model to keep up with his friends. But, the economy being what it is, financial maturity takes over and a realization sets in that paying the price for one of today's premium sleds may not be a good idea – just yet!
With that being the reality, today's re-entry buyer is in really, really great shape. Just as the economy and weather has short-circuited many consumers, it has slowed the snowmobile business as well. While innovation continues every season, it hasn't delegated those two, three or four-year-old sleds to the scrapheap. In fact, a careful re-entry buyer can find a really good deal in a used sled. You can start at a local dealership, check the classifieds or search online for a specific make and model.
You won't have to go too far back in time to find a good value. Depending on how open-minded you may be will go a long way to getting a good buy. We offer a couple of suggestions here in what will be an occasional review of sleds that we think might be good re-entry or beginner's sleds. For now we'll look at a couple of models that could suit a snowmobiler looking to rejoin his buddies on and off the trails. Keep in mind that not all riders buy new every year, so your re-entry bargain will fit right in.
Arctic Cat F-Series
The F-series of Arctic Cats have been supplanted by the new ProCross line, which should make the purchase of a used F-model a very good value. One of the most popular models you'll want to seek out may be the 2010 F8 Sno Pro. Now three years old, the 2010 F8 showcased a new breed of two-stroke power from Arctic Cat, an all-new high output 800cc twin. This engine redefined the 800 segment, as it was powerful at wide-open throttle but very trail friendly at partial throttle. It established the standard for today's 800 two-stroke motors.
In addition to its smooth transitioning from trail runner to mogul hunter, the 2010 Arctic Cat F8 Sno Pro features the Twin Spar chassis, which created some annoyance among Cat owners. Some felt it deviated too far from the older low-slung Firecat, but others appreciated its comfortable rider-forward positioning. What Arctic Cat referred to as Infinite Rider Positioning blended the forward seating position with incredibly easy and nearly infinite adjustability of the curved handlebars. The seat could be moved to accommodate different riding styles. Admittedly the seat could be stubborn at times, but it did move and it did provide unique capabilities for the rider not available on other sleds.
The Sno Pro versions were the sport sleds for 2010. The F8 Sno Pro augmented its handling with the Fox Float 2 shocks on the seventh generation of Arctic's Wishbone Suspension. Between the top of the line Fox shocks and the sway bar, the sled offered 9.5-inches of travel.
While the ProCross models have switched from AWS to a newer Arctic Race Suspension design with tall spindles, the older F8 shares a similar rear suspension design, the slide-action skid with coupling blocks. While the Polaris Rush and Ski-Doo with rMotion may be getting significant attention, the Arctic Cat rear suspension pretty much matches them in overall ride and handling comfort. We find it a bit odd that Arctic Cat hasn't done any direct comparisons of its rear suspension versus the competition as we find the Arctic design works exceedingly well…and has for quite awhile.
Anyway, if you were to re-enter the sport with a 2010 Arctic Cat F8 Sno Pro, you aren't going to be a laggard in the rough. The sled rides and handles extremely well.
The 2010 F8 powertrain tops 160-horsepower and is essentially the same as what you'd get in Cat's 2013 800cc models, minus the ACT Diamond Drive planetary gear case. There are those Cat riders who are sorry that Diamond Drive was replaced by a more direct connection.
The older Arctic Cat model will give you batteryless electronic fuel injection, push-button electronic reverse and one of the most comfortable handlebar set ups in all of snowmobiling.
If you are looking to re-enter the sport, you could do it in style with a sled with ample premium features and a bargain price. The 2010 F8 Sno Pro would be a good choice for Arctic Cat fans looking to rejoin the Cat race.
Ski-Doo Backcountry 600
For the 2010 model year, Ski-Doo reimagined its Renegade series as part stretch-tracked MXZ and short-tracked Summit powder grabber. The result was a sled designed for riders who liked to ride out of bounds, on the edge of deep snow areas. The 2010 Backcountry also featured two versions of Rotax two-stroke power, a 151-horsepower 800cc PowerTek twin or the newest ultra-efficient 600cc E-TEC twin.
Our choice for a re-entry stretch tracker would be the 600 E-TEC. We believe the latest Ski-Doo 800 E-TEC twin is decidedly more rider-friendly than the PowerTEK version. If you want a consistent off-trail companion, go with the 600 twin. Of course, you may be able to find a 2011 model with the 800 E-TEC, which was introduced that season and was an option to replace the PowerTEK.
The 2010 Backcountry borrowed the famed REV XP chassis and stretched it to fit the 16-inch wide by 137-inch overall length track with 1.75-inch lugs. For today's purposes, the 2010 Backcountry makes for a very good all-around on-off trail sled, especially if you like to break trail and explore unplowed back roads. But, truth is truth and we have to admit that Ski-Doo and the other sled makers have upped the ante in this category with better features for serious off-trail riders. We have no trouble suggesting the 600cc Backcountry for a rider looking to get back into the sport and owning a desire to poke around off-trail.
The sled sits on a dependable ride-forward XP chassis, which is still in the line up for 2013. It has been updated but it is still a relevant platform. The drivetrain continues with minor tweaks and the overall versatility of the model is essentially unchanged.
The Backcountry featured a powder strap; aluminum handlebars with J-hook ends, and ample footing for off trail adventuring. Standard features like the electronic reverse and gripper seat material came standard.
In recent years the Backcountry has been replaced by a more powder oriented Freestyle model, which drew inspiration from the Backcountry series.
If you are looking to save a few bucks and want a sled that has solid off-trail credentials with premium HPG shocks, deep-lugged track and a top line two-stroke, you owe it to yourself to check out the 2010 or newer Ski-Doo Backcountry.
Both of our re-entry level choices offer great value with premium features. The questions will be where can you find one of these choices, what will be the asking price and what kind of condition will it be in? But, if you are seriously looking at getting back into snow wars, either of these sleds will make your return a fun one.
Related Reading 2010 Arctic Cat F8 Sno Pro Review