2010 Arctic Cat F8 Sno Pro Review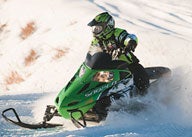 Add boosted power to an exceptional rear suspension
Make no mistake. It's taken us awhile to come over to the dark side. These spiffy black Arctic Cats with their new ride-forward chassis, gimmicky infinitely adjustable seats, handlebar and foot rests seemed just a bit too, well, er… gimmicky. C'mon! Arctic Cats of recent vintage have been about acceleration and handling not about cutesy features. And, more c'mon already! Arctic Cat was hardly first to the party with ride-forward or the gimmicks.
Fast Facts
Engine Type:Horizontal In-line
Cylinders:2
Engine Stroke:2-Stroke
Valve Configuration:Reed Valve
Displacement:794 / 48.4
Starter:Pull
Turbocharged:No
View Full Spec
Arctic Cat gained popularity because its sleds were light and quick. Arctic Cat's 700cc twin blew away the other guys' 800s. Its low-slung chassis handled corners better. Arctic Cat was performance, not cute gimmicks.
Apparently, as we enter the 2010 model year, Arctic Cat can be virtually all things to all riders. At least that was our "take-away" impression after spending some quality time with the 2010 Arctic Cat F8 Sno Pro. Gimmicky? Oh, yeah! Quick? Oh, yeah! Fun to ride? Absolutely! Surprisingly fun to ride? Abso—frickin'—lutely!
Memorable Sled
Before we get too deep into this review, let's address the Arctic Cat F8 Sno Pro handling and suspension. It was eye opening. It was impressive. It is one of two pieces that make the 2010 F8 Sno Pro so memorable.
We were with a group of other media types running up and down a particularly onerous, rutted out section of trail. Initially we were not on the Arctic Cat F8 Sno Pro. No, we were smart; we had commandeered the new Polaris Rush with its much ballyhooed rear suspension. We would tackle the brutish rough in style. Until, at the end of the first run through, we were shamed into surrendering the Rush for the Arctic Cat. Ouch, ouch, we imagined, before ever squeezing the throttle over the first deep mogul.
A wonderful thing happened when we did engage the throttle. That seventh generation wishbone front suspension immediately started soaking up the first mogul. The ride-forward positioning of Arctic Cat's Twin Spar chassis held us right in the sled's "sweet spot" so that when the front of the rear suspension took in the mogul, we were sitting just perfect to respond… if the mogul drove a hard hit back at us. But it didn't. The slide-action Arctic Cat's refined rear suspension absorbed the first mogul, passing it from front to rear via the complementing coupling that moved the action from the suspension's front arm to the rear arm.
Cat's Slide Action rear design proved much more responsive and quicker to reset itself than the Polaris Pro-Ride rear design could over that same series of deep and close together ruts. We will give the Polaris Pro-Ride its due in those major suspension soaking bumps, but Arctic Cat's rear suspension is the top of the game for making time and saving spines where the groomed trail ends and the roughest, most rutted out sections begin.
Major Upgrade
This revelation shouldn't have been so mind intensive. After all, we knew a year ago that Arctic Cat engineering had made major upgrades in handling and ride. The sportiest Cats were among the best cornering in sled biz after Arctic engineering worked its collective tail off to get the front end to bite like a rabid… er, cat! While we acknowledged the work that went into the new rear skid frame, we didn't push it. Until this year when we found ourselves literally in the rough trail equivalency of the deep end of the pool. So, we sucked it up, pushed in the throttle — deeper and deeper — and motored faster and faster over the rough test section.
What impressed us most was not that the suspension was up for the ride, but how it managed it. There's an under appreciated suppleness in the Cat's slide-action that comes from the combination of the 2-inch diameter rear arm shock working within the coupling geometry and maximizing the action of the adjustable torsion springs. On this same outing we tried the race-bred Ski-Doo XRS with its stiff rear suspension set up. We came away thinking that of the sled's we tried in the rough trail test section, the Arctic Cat F8 Sno Pro felt the most versatile. It wasn't the most hyped. It wasn't the stiffest. It wasn't the plushest. It just worked the best overall.
More Power
Part two of our paean toward the 2010 Arctic Cat F8 Sno Pro centers on that new Arctic Cat specified, Suzuki built motor. Measuring 794cc on the displacement scale, the 800 High Output twin makes quite an impression on those of us predisposed to 120-horsepower 600cc motors. We prefer the 120 class of engines because they tend to be more rider-friendly in terms of usable power bandwidth. But this revamped Arctic Cat 800 gives you the rideability of the 600 class with the strength of the 800-plus motors. It's an impressive engine to have under your throttle thumb.
In updating the 800, Arctic Cat engineering managed to drop five pounds of excess weight while gaining a modest claim of 10 horsepower. We say modest claim, because while Arctic Cat officially states an increase to 150-hp from last season's claimed 140-hp, an independent dyno facility easily ran the engine to 160-hp. Regardless of the output, and we would expect the higher number to be more accurate based on our test rides, the engine has the docility of a Shetland pony combined with the broad power of a Clydesdale. You should expect the engine to hit close to maximum power around 7200 revs and stay there well past eight grand. The torque curve stays steady but moving upwards from 5000 rpm to 7000, peaks and then drops down again just before nine grand. It all works to give you an amazing sense of easy power. Compared to competitive 800s, the latest Arctic Cat big twin is devoid of power spikes, leaving you with the light and responsive throttle performance more characteristic of a 120 class motor.
Much To Like
There's a great deal to like about the 2010 Arctic Cat F8 Sno Pro. Our two favorite aspects of this latest Arctic Cat sport machine may center around its terrain-quenching suspension and new broad power, but let's not forget the fact that this sled retains its rider-friendly "gimmicks" as well. There is that IRP (Infinite Rider Positioning) adjustability built into this model of seat, handlebar and foot rests. You might opt for a taller midheight windscreen, although the low screen does offer more protection than most "showroom appeal" windshields. Of course, what's a top line sled without a multi-function gauge package of digital/analog speedometer and tach? Include the convenience of electronic reverse on the new 800cc twin along with the "diamond drive" direct drive system.
In addition to the power and ride, you'll find a sled that suits the most demanding sport rider expecting handling excellence along with many "nice-to-have" features. But, as we've pointed out, take away the gimmicks, the add-ons and you're left with the pure basics of an outstanding snowmobile. Superior ride and handling with 160 of the smoothest horses you'll find in 2010 mark this Arctic Cat F8 Sno Pro as one of the best sleds for any serious snowmobiler to covet.
2010 Arctic Cat F8 Sno Pro Specs
Engine
Arctic/Suzuki 794cc, 2-stroke, liquid-cooled, twin; 46mm throttle body, electronic fuel injection
Horsepower
150 (claimed)
Drive
Arctic rpm-sensing drive and roller cam secondary ACT drive system
Front Suspension
Arctic AWS VII A-arm suspension; Fox Float shocks; sway bar; 9.5-inches of travel
Rear Suspension
Arctic slide-action parallel rail slide with 2-inch diameter Fox internal floating piston gas shock on rear arm; coupling blocks; adjustable torsion springs; up to 13.5-inches of travel
Length
118.0 in
Width
47.25 in
Ski Stance
43.0
Track
15 x 128 x 1.25
Fuel Capacity
12.6 US Gal
MSRP
US$11,199 (C$13,699)
Related Reading
2010 Arctic Cat Z1 Turbo EXT Review
2010 Arctic Cat Sno Pro 500
2009 Arctic Cat F1000 Sno Pro Review
2009 Arctic Cat F6 Sno Pro Review
Everything Arctic Cat on Snowmobile.com