2010 Mountain Sled Report Card – Part One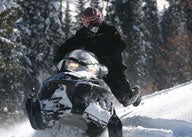 Our findings after a season in the steep & deep
We have written extensively about Snowmobile.com's five 2010 mountain sleds: Yamaha FX Nytro MTX SE (162), Polaris RMK 700 (155) and 800 RMK Dragon (163), and Arctic Cat M8 Sno Pro (162) and M1000 Sno Pro (162).
By now, you should have read the Mountain Team's two part evaluation reports on these sleds. If not, click here for Part One and Part Two. In these reports, we have provided information on tip over angle, fuel and oil consumption, turning radius and overall times for two distinct uphill speed runs. These mountain sleds were returned to their respective dealers with close to 800 miles.
Prior to Snowmobile.com's two-part Powder Sled evaluation and this two-part long term report, we also delivered a mid-season report on the five snowmobiles.
Not to belabor the matter, here are our conclusions.
Polaris RMK 700 – Overachiever
This mountain sled delivered basic slam and bam performance without being high priced; this 700 believed it was an 800. Unfortunately, for 2011, this consumer best buy mountain-specific snowmobile is not on Polaris' build list.
Of our five sleds, this was the snowmobile we beat the most. In spite of the flogging we put it through; we (and it) experienced no mechanical failures – the motor and chassis held tough. The short-stroke Clean Fire Injected (CFI) Twin, a 140-plus horsepower two-stroke motor, was quick out of the hole, and stumped our larger 800s for the first 100-yards of a one-quarter mile or more speed run.
The 700 RMK uses Polaris' deep-powder specific IQ front suspension and spindles. Out back, the Series 5.1 track with 2.4-inch paddles kept the 700 RMK assertive in the deep snow. The Ryde FX shocks bolted on all corners provided good control for a budget shock.
The RMK was built with superb ergonomics and balance, though it weighed more than its 800 RMK Dragon 163 sibling (and as much as our M1000 162 Sno Pro). On the good side, its balance defied its weight – it truly handled like a much lighter sled.
For the buyer who is looking for a new non-current starter mountain sled, or an excellent used starter mountain sled, the 700 RMK 155 is choice one.
Kevin Allred Impressions:
The RMK 700 stole the show, as mentioned in our mid-term report, it is "The 700 that thinks it an 800." This RMK became quite popular with Team Allred this winter. For me, I had confidence the 700 would take me where the 800s went. In fact, the 700 turned a few heads. The IQ Polaris chassis is an easy chassis to handle in the steep-and-deep. The small-bore Twin 700 built Rs quickly and had predictable throttle response; for the season we experienced no mechanical or warranty issues. Unfortunately, the 700 is now orphaned in next year's line from Polaris, yet we have much good to say about this sled. If you are in the position to buy a new sled for next season and can't afford a 2011, look up a non-current 700 RMK, and you will not be disappointed.
Jake Allred Impressions:
The 700 RMK is a great sled with great power; however, its weight was greater than what I cared for. The RMK would be a lot easier to boondock if it was lighter, extra pounds are easily noticed. The RMK 700 has a great all-around suspension, and it handled the deep snow smartly; simply the 700 is a no frills snowmobile that just plain works. The 700 had a stiff throttle pull. Also, on cold mornings, it was hard to yank the pull rope to kick into life. As the year went on, the 700 RMK became my favorite of our two Polaris snowmobiles (the other an 800 RMK Dragon).
Yamaha Nytro MTX SE – Four-Stroke Muscle
Yamaha provides to the mountain snowmobile buyer the best option for four-stroke power. The motor delivered all the power and torque that Yamaha said it would. The big three-cylinder fuel-injected power plant was strong and reliable.
We think the 162-inch track was more rubber than what the snowmobile could spin; the big tread often labored down the MTX in deep and sticky and snow. Our conclusion here is if the MTX was mated to a 153, it would spin the track faster and would not tax the motor.
Yamaha did build a dependable, rugged and reliable product for our use, and yours. We never asked the attending dealer to fix or repair the vehicle.
Over the season, here is what we noticed that was bothersome. The running boards, though comfortable, were too wide — they would hang up the chassis when the snow was ultra-deep. The rear suspension is solid, but it is one that required attention when snow conditions changed – limiter strap adjustments were often needed. For the smart suspension tuner, this is good, as the rear suspension has a wide range of adjustments; this is its design.
The Fox Float air shocks came to us in an overly-stiff setting. Air shocks generally are stiff, and these too needed dialing in. In perspective, this holds true for an M8 Sno Pro.
As we have written before, the MTX SE is a fine looking mountain buster, it received many complements for its fine styling and Batman-esq color. Also, Yamaha's attention to detail and its fine quality control were evident on Team Allred's MTX SE.
Kevin Allred Impressions:
Excellent throttle and engine response comes to mind when I think our Yamaha MTX SE 162. The four stroke three cylinder 1049 cc with 41mm fuel injected throttle bodies had strong delivery and usable power that built its "Wow" factor. This is all accomplished with an added bonus of the MTX being stingy on fuel and the consumer not having to purchase expensive two stroke oil. Our MTX SE finished off the season in typical Yamaha fashion – no problems to report. Fit and finish, and reliability were second to none.
We put the Yamaha MTX in the mix with the 800cc two strokes for the entire season, All-in-all, the MTX held its own. I am not saying it was always first to the top, but it was always there. The MTX with its horizontal steering is something I have to adapt to; some riders prefer this, some do not.
In deep snow, the MTX seemed to struggle, but was not willing to give up. The question one has to ask, when considering to purchase an MTX, is weighing-out four stroke power, to operating costs (which are low for the MTX), reliability (which is high for the MTX) to a little less performance in the deep snow (than of lighter two-strokes). That's for the consumer to answer, but it's a very strong argument.
Jake Allred Impressions:
The 2010 Nytro MTX is greatly improved from the 2008 and 2009 models. The first time I rode the 2010, I instantly noticed its lighter weight, which was and is, appreciated. The Nytro MTX is fun to ride when the conditions are right. Why do I say, "when the conditions are right?" The MTX's track, I believe, trenches and has the least flotation when compared to other mountain tracks. For 2010, Yamaha made great improvements on the Nytro MTX's tunnel, but its running boards are too wide – they create a pivot point when sidehilling and it pulls the track out of the snow. The Nytro MTX is great on bumpy trails, but in the thick trees, where a lot of side hilling is required, I would rather ride the Nytro's big brother, the Apex (which is no longer in Yamaha's product line).
Arctic Cat M1000 – Best Big Bore
When Cat launched the M1000, we were excited about a large-bore Twin. Since its inception, we have had one in our stall. For this season, its reliability held true. We experienced flawless performance.
With lightweight 800cc snowmobiles ruling the mountain climbing world, deftly so, the M1000 stands out as a heavy snowmobile. Remember, the M8 and M1000 share in entirely, the same chassis, the weight difference is in motor only.
Now the 800 Sno Pro and M1000 Sno Pro share the same horsepower, power-to-weight favors the M8, but tough brute torque favors the M1000. And that, my good friends, is what makes the M1000 the sweetheart it is. We have stated, with its merciless torque throughout the RPM curve, a rider must be off his game – totally – to auger in this big Twin.
Like the 700 RMK, this was the Team's other snowmobile we challenged beyond stupidity; we pummeled it like a drill sergeant stomping a new Marine recruit.
No mechanical failures or hiccups from the big shaky Twin M. Ergos and telescoping handlebars allowed us to throw the M1000 into tight and sticky situations without a worry.
For this author, and I have hollered this before, of all the snowmobiles I have evaluated, the M1000 remains my fave. Oh not by a large percentage, as I have favorites scattered throughout my career just as we all have favorite songs or movies, but this is my baby. Since Cat introduced the HCR, I secretly hoped a HCR 1000 153 would have rolled off Cat's build line. If the M1000 ends up a dinosaur in 2012, taps will be heard in Team Allred's campground.
Kevin Allred Impressions:
Still a favorite, the big shaky Twin that belches out insane bottom end torque soon after clutch engagement is my choice for steep tree covered slopes, where one has to back in and out of the throttle in order to survive. In my opinion, that is where the M1000 really shines. This year's M1000 was only available in the Sno Pro 162, and was one we have really enjoyed. The big M seems to be more refined than the ones we've had in the past particularly in the areas of fuel mapping and clutch calibration. Fit and finish, and handling were improved as well. The only issue we had was a blown belt at around 750 miles, but in reality that's probably all the life a belt can claim from the motor's wretched torque; no other mechanical or warranty issues.
Jake Allred Impressions:
The M1000 is a power house.  I have heard so many people say "Why does AC even make the 1000?  The 8s will do every thing that the 1000 will do."  I smile and say, "I know why it is still here. There is a place for the 1000 in this world that is dominated by 800s.  When storm systems constantly roll through and we are left with nothing but deep, deep snow, the M1000 is what I want to be on – the 8s just don't have enough power in these situations."  When I jump off of an M8 to the M1000, I instantly notice the weight, but I remind myself it weighs as much as a 700 RMK. Because of its weight, it requires a little more rider input from the driver compared to an 800. Is that bad? No. The torque and the bottom end grunt of this engine is worth it.
Related Reading 2010 Mountain Sled Evaluation – Part One 2010 Mountain Sled Evaluation – Part Two Mid-Season Powder Sled Report 2010 Arctic Cat M1000 Sno Pro 162 Review 2010 Polaris 700 & 600 RMK Review 2010 Yamaha FX Nytro MTX SE 162 Review