Add a Trailer Winch For Convenience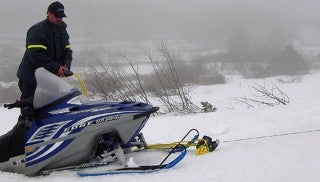 Personalize your sled hauler by making it more user-friendly
Summer is an ideal time to update your snowmobile trailer. When winter comes along, you're not interested in tweaking your sled hauler. You want to ride. Now's the time to invest in timesaving, back-saving, convenience-oriented mods for your snowmobile trailer.
Obviously there are the critical things to consider like servicing the axle, tires, bearings and such. We're talking about doing things that add to overall convenience.
Quite honestly, we've always found trailering a necessary nuisance. After all, you don't add horsepower to a trailer and make it go faster. If you have an open sled trailer you're limited to how unique you can make it look. But, you can personalize it with features that make loading and off-loading your sleds easier. We've incorporated some of these add-ons to our own trailers to make our trailer life more convenient.
If you are like many of us powersports enthusiasts, your wintertime sled hauler finds added duty in the summer as an ATV, motorcycle, garden equipment or utility hauler. Since our single place sled trailer frequently doubles as our ATV hauler, the add-ons we've made benefit us year around.
One of the first things we added was a winch. Yes, you can drive your sled onto the trailer, if your sled runs just fine. But, what do you do when you need to take a sled to the dealership because it doesn't run? Unlike a wheeled ATV, you can't readily roll a tracked sled over to your trailer ramp and up onto the trailer bed. That's why we added a boat-style hand winch. Unlike a boat trailer, most sled trailers don't come designed to accommodate a winch. You'll need to find a winch post that works with your winch.
Locking Down Snowmobile Trailer Security
Whether you call them a winch post or winch stand, one of the first places we'd suggest to look would be a local trailer parts and accessories dealer. Or, you can let your fingers do the keyboarding, enter some keywords and hunt down online accessory retailers. If you know the names of some trailer accessory brands or web sites, such as Fulton or etrailer.com, your web search will be short and effective.
Etrailer.com is not the only trailer parts online retailer, but we've found this site extremely useful because it carries a wide assortment of brands and accessories. A strength of the site is its hands-on do-it-yourself video demonstrations of the products it recommends. The product information tends to be very good and the support of DIY videos relieves newbie angst about tackling an update project.
Now as for adding a winch to your sled hauler, there are a couple of options to consider – do you want to go with a manual or a powered winch? We went the less expensive route and added a manual boat-style winch. Finding that style of winch is easy as many marine and sporting goods stores carry a selection. What may be harder to find is that winch stand.
Years ago when we added our winch, we located a winch stand at Eastern Marine (easternmarine.com), which bills itself as a trailer parts superstore. But other suppliers carry this part as well and we quickly located a CE Smith winch stand that would be suitable. The stand clamps to a two-inch trailer tongue and has 14 mounting holes that allow you to adjust the height of your winch to accommodate various mounting options.
If you choose a galvanized steel stand, consider priming and painting it. Since hot-dipped galvanized steel parts are usually stamped from a sheet of steel, the edges of the galvanized parts can lose their zinc coating during the stamping process. Over time the post's edges, which remain exposed, can begin to oxidize and rust. Priming and painting it offers added resistance to corrosion, plus you can match your trailer's paint finish.
The Practical Guide to Enclosed Snowmobile Trailers
The CE31013G 12-Gauge, Galvanized Steel Winch Stand by CE Smith measures 30 inches in height and two inches in width. Available through various retailers, the CE Smith stand retails for less than US$50.
As for the winch, we prefer the strap type as opposed to the steel rope type. We went with a simple, but effective medium duty pulling winch built for multipurpose hauling and lifting operations. One such example is made by Dutton-Lainson and retails for about US$70. But there are less expensive ones available.
This winch has high carbon steel gears, permanently lubricated bearings, and a reversible ratchet with ergonomic handle grip. The Dutton-Lainson DL15337 winch includes a 20-foot long strap and a rating for up to 1,400 lbs. This winch is typical of what you'd find on a small fishing boat or pontoon trailer.
Another option would be Fulton's XLT14ZB301 High Performance Trailer Winch. It also handles 1400 pounds and is fitted with a 20-foot long by two-inch wide strap, but is more smartly styled. Of carbon-steel construction and Z-Max 600 finish, this winch should provide increased strength, durability and corrosion resistance. The winch's internal parts are lubricated with oil to make its operation smooth and efficient. The winch shell adds extra protection, plus gives a nice clean look. This winch has a safety stop and a 4.1:1 gear ratio, which simply means for every 4.1 full turns of the handle, the hub rotates one full rotation.
Of course, maybe you're thinking of total convenience and powering up your winch option. That's when you look at a full-on powered winch from manufacturers like Warn, Superwinch and others. The only thing to seriously consider here will be the power source. In most cases you don't simply plug one of these winches into your pickup or SUV's trailer plug. You'll need a special connector or quick disconnect kit, which is available at extra cost from most power winch makers.
Both Superwinch and Warn Winches offer extra towing power, which may be overkill if all you need to load is a 500-pound snowmobile or a free rolling wheeler.
How to Improve Your Snowmobile Trailer
Warn offers a variety of winch options as well as uniquely configured mounts for trailers and even two-inch trailer hitch mounts. Available with 3500-pound capacity and more, the Warn powersports and utility options feature all-metal gear housing and a permanent magnetic motor. This type of winch usually includes up to 50 feet of synthetic towrope, hood, corded remote, and mini-rocker control switching. You can find these winches at various outlets, but for direct information, check out http://www.warn.com/ or http://www.superwinch.com/.
Superwinch offers a versatile Winch In A Bag designed for portable winching for when and where you need it most. You could use it to load a recalcitrant sled onto your trailer or take it along on your sled. Available in 2000 or 2500 capacities, this Winch-In-A-Bag is convenient for unloading or loading your ATV, motorcycle, dirt bike or snowmobile.
Handy and ready, Superwinch's Winch-In-A-Bag Plus is a complete winching solution that includes a winch, a Teflon winch rope guide, 40 feet of 3/16-inch wire rope with latch hook and rope thimble, plus an eight-foot remote control for operating the winch at a safe distance. The kit is completely portable requiring zero installation nor a winch mount. It can be carried from vehicle to vehicle and is designed for fast setup and usage.
Convenient options and time to plan ahead is what summer offers the serious snowmobiler, especially if you want to make trailering life easy breezy this winter.