Wisconsin is Snowmobile Central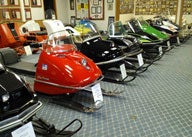 Wisconsin lays claim to much snowmobile history
When it comes to defining "sled central," we all have a bias, usually based on personal history. To conclude that central Wisconsin may be sled central means that we all – except proud Wisconsinites – have to swallow a bias or two. But the area in and around Eagle River certainly can lay a claim to being the threshold of snowmobiling. And, with apologies to J-Armand Bombardier, it could be the actual birthplace of snowmobiling.
Having a bias toward New Hampshire and its snowmobiling history, this writer takes joy in the knowledge that his birth state's snowmobile association managed to establish a viable snowmobile museum and history experience within a State Park.
Snowmobile Events To Put On Your Bucket List
One of the three biggest snowmobile races in the sport of the late 1960s and early 1970s was held on an iced and snowy oval in Lancaster, New Hampshire. The race's prestigious Kilkenny Cup went to the race winner. That Lancaster race was one of three major snowmobiling events to draw full-fledged factory racing teams filled with stars like Polaris' Bob Eastman, Ski-Doo's Yvon Duhamel, Arctic Cat's Charlie Lofton and others. The Lancaster event along with Boonville, New York and Eagle River ran as the Big Three of oval racing until the mid to late 1970s.
Those races no longer draw the international attention they once did, but Eagle River's World Championship Derby remains "the" event to win among snowmobile racers. While the town of Eagle River has grown around it, the Derby track retains the same aura for modern day racers as it did for the likes of Eastman and Duhamel. The tight, banked turns still pose a challenge, made more imposing by the sheer speed of today's racing sleds.
It wasn't always that way. Venture 21 miles northeast from the Derby Track to Sayner and you will come across the earliest days of snowmobiling history. Displayed in a narrow side room off the main floor of Eliason Lumber & Hardware sit various models of Eliason and FWD snowmobiles. The original 1924 Eliason resides in a display case as a prized artifact at the nearby Vilas County Museum & Historical Society.
Minnesotans won't care much about the Wisconsin claim to legendary snowmobile history. After all, both Polaris and Arctic Cat were born there. But we suggest that snowmobile history buffs take a serious look at the 1924 Eliason before casting aside the Badger State's claim to sled central. Carl Eliason, builder of the original that bears his name, essentially created the blueprint for all snowmobiles that followed – at least the successful ones. He spent two years solving the mysteries of over-snow travel. His hand-built original featured a primitive slide rail, gear drive and even a liquid-cooled powertrain. Evolving this basic design, Eliason produced fewer than a dozen sleds a year, meaning that larger orders could not be fulfilled. With order requests from Finland and a need by the US Military for use in World War II, Eliason forged a relationship with the Four Wheel Drive Auto Company (FWD) of nearby Clintonville.
By the mid-1950s Eliason's K-12 model would be the last of line, the original patents were expiring and the K-12 would serve as the basis for other builders, including Polaris. But, from the late 1920s through the mid-1950s, Eliason Motor Toboggans were the snowmobiles of choice.
2014 Eagle River World Championship Snowmobile Derby Report
The Sayner-Eagle River-St. Germain area in north central Wisconsin indulges a great deal of snowmobile pride. It legitimately can be considered Sled Central. In addition to being the arguable birthplace of snowmobiling, this area hosts much snowmobile history. There is the Eliason display at the Eliason family's lumber and hardware store in Sayner. Down the street at the Vilas County museum is the original Eliason. In addition to the original you'll find other snowmobiles of note, including unique Fox branded models, a wooden-skied 1960 Ski-Doo, early Arctic Cats and Polaris Sno-Travelers. Motor heads will enjoy a display of antique and vintage outboard motors. Remember that outboard icons Mercury Marine, Evinrude and Johnson were Wisconsin-born. There is also an interesting display of early chainsaws. But, we're about sleds.
On the way back to Eagle River's Derby Track, you'll pass by the snowmobile racing hall of fame in St. Germain. There you can see some of the actual Eagle River Derby winning race sleds and artifacts from their famous drivers. You'll also pass by the homes of groomer equipment manufacturers such as Arrowhead and Sno Boss, both based in St. Germain. Back in Eagle River and next door to the track is the World Snowmobile Headquarters, home to the International Snowmobile Hall of fame, the Antique Snowmobile Club of America Snowmobile Museum and the World Championship Derby Hall of Fame.
All of this snowmobile history resides in a very compact area replete with miles upon miles of excellent snowmobiling. You could easily make this area a destination stop for a week or long weekend of snowmobiling. And, we didn't even mention the Rhinelander area to the southwest, which was home to the famed Hodag races. Or, Three Lakes, the birthplace of "Snow Goer Susie" Scholwin, founder and editor of the sport's oldest national snowmobile publication.
Lowell Swenson: The Man who made Arctic Cat
Despite any regional biases, we have to give credit to Wisconsin as "Sled Central." The sport's history traces its roots to the Sayner-Eagle River-St Germain area. Check it out this winter and see for yourself!