2017 Arctic Cat XF 6000 CrossTrek ES Review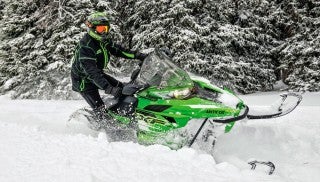 A premium adventure sled
When Arctic Cat builds an "adventure" sled, riding is the adventure. Maybe we should think of the CrossTrek "6" as an extension of Cat's ZR 6000 Sno Pro ES, but with more off-trail grip and more rider-friendly features.
Fast Facts
Engine: 599cc 2-stroke twin
Power: 125 horsepower
Track: 15x137x1.6 Camso Cobra
MSRP: US$12,499
View Full Spec
If you do a quick comparison of specs, the XF 6000 CrossTrek and ZR 6000 Sno Pro appear similar in some ways. But that 137-inch track that comes standard with the CrossTrek is the Cobra design with more aggressive lugs than the ZR's stock Ripsaw II track with its 1.25-inch lug height. Simply stated, the CrossTrek is expected to be ridden by riders who know how to use that extra lug height for breaking a path off trail. Similar sized tracks, but totally different attitudes.
That may be the most gratifying aspect of Cat's CrossTrek models. The "adventure" niche seems to have gotten a bit gentrified with pieces suited to long haul solo touring and not so much true snow adventuring. Cat engineers don't pussy foot around when it comes to their idea of on-snow adventure. Their concept is to build in performance first. Add comfy features later.
The CrossTrek chassis derives a race track heritage that demands durability. This same thinking that allows Team Arctic racers to pound the holy crap out of its aluminum ProCross chassis is the same thinking behind this on- or off-trail mogul banger. To suit its riders, the CrossTrek chassis angles the footboards in a bit to allow riders a better perch when challenging backcountry snows. The high-performance seat will let you stand up for rough sections and sit comfortably when you hit a groomed trail section. Think of the CrossTrek as an action-adventure sled.
Of course, Cat designers like their creature comforts, too. That's why you'll find the CrossTrek fitted with the popular 11-inch tall mid-height windscreen instead of the racer-low screen of a Sno Pro model. Since you'll have the CrossTrek out for a full day of adventure, Cat designers added a tunnel bag and side mounted saddle bags to carry supplies like snacks, water, spare mitts and such. Electric start comes standard and there's even a 12-volt outlet, sport-styled front bumper and set of rearview mirrors as standard equipment as well.
That's all nice to have, but what makes the CrossTrek an Arctic Cat is its on- and off-trail capabilities. Don't be fooled by the "nice to haves." The CrossTrek can pound the snows with the best of today's performance sleds thank to its racer-tested suspensions.
Up front the CrossTrek shows off its unique tall spindle Arctic Race Front Suspension that keeps its Procross 6 skis planted for precise cornering. Eating up bumps, big or small, over the design's 10 inches of travel are Cat's internal floating piston gas shocks. These shocks consist of a hard-anodized aluminum body with an aluminum internal piston.
The rear suspension is Cat's Slide-Action design. Developed for racing, this set up has been evolving since the early 2000s and rates side-by-side with the "trick" rear suspensions from Ski-Doo and Polaris. There are no external articulating shocks or fancy runningboard-mounted suspension adjusters. The Cat system features a rear transfer block and a U-shaped slot to let the front arm transfer for grip or go. Hard on the throttle and the suspension lifts a bit under acceleration, but slam on the brake and the suspension settles in for full bite at deceleration. You'll find Cat's IFP shocks in use on this design with the 1.5 on the front arm and a stouter IFP 2.0 controlling the rear arm. Total suspension travel is 13.5 inches.
For model year 2017, the CrossTrek series comes with four engine choices. The XF 6000 CrossTrek is one of two two-stroke versions available. The other two-stoke model is the XF 8000 CrossTrek, which houses a Suzuki-built 794cc twin and offers up substantially greater power for about US$1300 more. The two four-stroke versions are the 1049cc XF 7000 and 998cc turbocharged XF 9000, both three-cylinder Yamaha motors. The move to a 180-plus horsepower XF 9000 adventure will up your base price by almost US$4,000.
In our estimation, the XF 6000 and XF 8000 versions offer the best bang for the buck. Frankly, unless you are thoroughly committed to fast off-trail excursions, we think the "base" XF 6000 CrossTrek is a great value. Yes, supposedly its down a few horses to the 1049cc XF 7000, but that version gains weight due to the needs of its three cylinder and its four-stroke design. For what it's worth, we feel that on the trail the XF 6000 CrossTrek is the measure of the larger displacement XF 7000. Of course, that four-stroker should offer an advantage in mileage for both fuel and oil consumption.
Still, though, Arctic Cat's cleverly designed C-TEC2 6000 series twin uses a unique injection to maximize fuel efficiency and minimize oil consumption for a two-stroke. With a few years of on-snow history, the C-TEC2 has proven reliable and durable.
Paired with clutches from Cat's collaboration with Team Industries, the powertrain has become a strong suit of the most recent Cats. This effort alleviated the heat and reliability issues associated with Cat's own drive set-up prior to partnering with Team. The two-stroke enthusiasts that we are like the quick revving and quick hitting aspects of the C-TEC2 drive system. Of course, that smooth, turbine-like buildup of the all-new 998cc turbo XF 9000 CrossTrek is other worldly and should be experienced at some point in a snowmobiler's lifetime. Nice, but not worth the nearly four-grand premium for the thrill. Maybe you could bribe a dealer for a quick squeeze across a lake with the money you save by opting for the XF 6000 CrossTrek.
When it comes to this genre of snowmobiles, the CrossTrek stands apart as the one true action adventure model. While Ski-Doo's Enduro 900 ACE is very nice and similarly priced, that version has less power and a more on-trail/less off-trail orientation that includes an air ride suspension. The Polaris 600 Switchback Adventure is similarly priced and may have more comfort features and a Cobra type track, but with shorter lug profile. Still, though, we feel that Cat's XF 6000 CrossTrek offers the most adventure for a serious on- or off-trail rider. In our estimation, this sled is an off-trail capable Sno Pro with more nice to have features, but the same full-on Arctic Cat ride-hard attitude.