2017 Polaris 600 Switchback Assault Review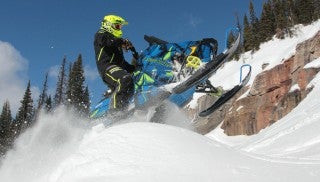 Where assaulting mountains and trails is 600 times more fun
We felt like a Jedi Knight as we blew up and down trails near West Yellowstone, Mont. on a 2017 Polaris 600 Switchback Assault. And we felt like a high-tech hillbilly boonie masher when we took our Star Fighter off trail and began ripping through trees on planet Mambu Zambu.
The 600 Switchback Assault in its standard 144 length is too fun and this fun must be hollered loud and high.
Fast Facts
Engine: Polaris Cleanfire 599cc
Power: 125 hp+
Track: 15 x 144 x 2.0 Series 4
MSRP: $12,199
View Full Spec
As guys in the high-mountain hunting camps, we love to harass the backcountry on deep-powder designed crossover snowmobiles. For example, Ski-Doo's Backcountry X, Cat's XF High Country 8000 and Yamaha's X-TX tape grins on us that stay glued on for days. In the past, we have crooned about Polaris' previously-built Pro Ride Switchback Assault 800 with Series 4 mountain track. We've pushed this snowmobile beyond its engineered mission and it responded by delivering 1960s hippy fun.
You mountain fellas and gals ought to spend some time hunting down the boonie ravines on these deep-powder crossovers.
When we took to ripping-and-snorting on this blue Switchback Assault in Polaris' AXYS chassis, we assumed it was an 800. Dang oh-mighty did it sprint down the trails. After cutting a few sidehills, zig-zagging around trees, blowing up and through some gullies and ravines, I mentioned to fellow test rider and brother Kevin Allred that this "Switchback is one snappy 800." Though I could not see his confused look through his goggles, I distinctly remember him saying, "Uh Matt, that's just a six." I threw down my B.S. flag, looked at the tunnel and hood for identification then lifted the hood thinking Polaris pulled a fast one by placing its H.O. 800 into a dressed-up 600. I was wrong, Kevin was right; it was all 600. Just to be sure, to squash my doubts, I pulled out my ride and evaluation schedule, and sure enough: "Sunday PM, AXYS Switchback Assault, 144, Blue." Blessed be, for five hours, this is mine.
What then is the conclusion from 6,000 feet? The 2017 AXYS 600 Switchback Assault 144 is stupid fast, ridiculously quick, and crossover smart. We can only imagine how greyhound like it would be at 1,000 feet where the air is thick. We would take one of these amped-out baby 800s with us at every opportunity. If this 600 works so well, how would the 800 be? After this ride, a 600 would be just fine.
Let's get to the tech speak.
The 600 Switchback Assault 144 is an AXYS-chassis Switchback Assault – a crossover designed to case over trail moguls to smooth out the ride, provide some powder flotation when off trail, provide ample storage for those long hauls (accessory-equipped), and give the owner/operator plenty of suspension adjustments when load and snow conditions change. With a claimed dry weight of 456 pounds, Polaris boasts that this is the lightest crossover snowmobile on the market and it is fully-loaded with amenities for crossover play.
The 2017 AXYS Switchback Assault offers a balanced 50/50 weight distribution for the rider, which makes it flat when powering through the corners. The balance enables the rider to move back to lighten the front end when climbing or harassing moguls.
Delivering snap to the track is a 600cc CleanFire engine that is a twin cylinder two-stroke motor that is liquid-cooled. It uses Polaris' semi-direct injection (SDI) – fuel injection – for its throttle response. This motor is snappy and sassy. Its on-board fuel delivery system automatically adjusts fuel load as temperatures and elevations change.
It has Polaris' new Ideal Geometry-X (IGX) 144 rear suspension, designed for the AXYS chassis. This uncoupled rear suspension provides RMK-inspired off-trail nimbleness with smart trail ride capabilities. Track pitch is controlled with 43% more front torque arm travel; all this translates to minimal bottoming out and reduced off-trail snow drag. As a 144, its length is proper for a crossover snowmobile; no other longer or shorter chassis lengths are available for the AXYS Switchback Assault, be it this 600 or an 800.
Like the Pro-RMK, it comes equipped with PowderTrac running boards, which are modified for use. These boards are a hybrid between the RMK and 600 Switchback Pro S. These are designed for crossover riding where the platforms are wide and flat in the front for comfortable sitting, and better positioning when standing up. The PowderTrac Hybrid running boards have 56% more open space for greater snow dump.
For the driver's bun, it has the AXYS Performance Seat that is rich in correct density foam. It is narrow at the fuel cell to enhance rider maneuverability. For us, it was complementary to the whole AXYS Switchback Assault package.
The front suspension is the AXYS front with Walker Evans compression adjustable piggyback needle shocks; front travel is 9.5 inches. Skis are Pro-Steer. The rear suspension is the IGX and uses the same shocks as the front; rear travel is 16 inches. The in-season track is the 15-inch wide 1.35-inch Cobra or the RMK-style Series 4 powder track with 2.0-inch lugs – our preferred track. This vehicle we evaluated spun the 1.35-inch Cobra track, and it was all "woot woot."
Handlebar swing is from a vertical post which makes it wholly compliant for powder boondocking. The bars on the Switchback Assault lack a center-pull mountain strap like the Pro-RMK, which for this application, is just fine; the AXYS chassis is so well-balanced the need for extra leverage is not there, however, and just-in-case, the ProTaper bars feature at each bar end (L&R), mountain J-hooks for that extra pull when corner diving or sidehilling. The bars are fixed bar with a 3.5-inch riser.
Being it is a crossover, it has wide runningboards (PowderTrac Hybrid), as mentioned earlier, unlike the Pro-RMK, which gives riders room to tuck in their boots and have the acreage to move a foot forward and back, or up into the toe wells when taking a hot deep dive into a right- or left-snake turn.
Its Cobra Attack track was not as adept to biting the powder as the optional Series 4 mountain track with two-inch paddles. However, for trail bite and when drifting the tail out oh-so-slightly from a corner's mid-section and lining up the gun sights for the next straight shoot, the Cobra track worked very well. For us, though, we would work with our fave Polaris dealer and stuff under its tunnel the two-inch paddle track; this 600 can handle the lug height. With the paddle track, hyfax heat is not a problem as it has ample bogie wheels. But for mid-west and eastern riders, the Cobra track is spot on.
The 600 Switchback Assault 144 came with a handlebar bag and tunnel bag, similar to those offered on Spring-buy Pro-RMKs. The bags, we believe, did not take anything away from its athletic look. In fact, it broadcast a message it was a rider's long-haul companion. However, it comes factory-built with Polaris' "Integrated Rear Seat Storage" that was developed exclusively and along with the AXYS chassis.
For your tech-geek info appetite, the AXYS Switchback Assault has a new for 2017, Polaris Message Center Gauge. This instrument pod has a large LCD – Liquid Crystal Display – screen that is 4.3 inches wide, an increase of 25% from previous message centers. This message center allows the driver to scroll through all the engine and trip vitals.
To give heed to what lies ahead, the Switchback Assault is equipped with LED headlights, which delivers best lighting for snowmobiling applications.
This particular 600 Switchback Assault had a custom blue and black wrap by ArcticFX. This Arctic FX wrap, along with the added storage bags really set this 600 off as a serious crosser. The wrap this 600 wore was not standard equipment, but an example of what customers can purchase for their AXYS snowmobiles from Polaris.
With its heated handlebars and mostly economical 600 two-stroke EFI motor, going from one lonely farm town to the next will be pleasant riding that is both comfortable and fast-aggressive when needed. This is not a two-up geezer cruiser, it is you and the Switchback Assault and companion pals or gals on their own snowmobile.
We will not have a long term report at this season's end on the AXYS 600 Switchback Assault 144, though we surely would like to have the opportunity to be a Jedi Knight for the season, taking on ol' raspy-voice Darth and his stooges. The 2017 AXYS Switchback Assault 600 144 is one heckuva light saber.