Arctic Cat's 700cc C-TEC4 for Snow and Dirt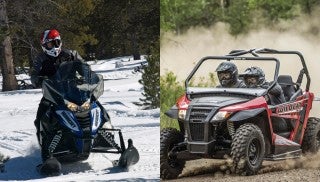 Wheeled or tracked, Cat's 4-stroke twin provides a high fun factor
Having ridden and evaluated new model sleds for a long, long time we've been handed truths, half-truths and outright fabrications of truth. It's enough to make a person skeptical. Over those years we've learned to let the product do the talking. Interestingly, the product rarely lies.
Fortunately, now that we are down to only four snowmobile manufacturers that no longer rely totally on snowmobile products, as each has expanded into other businesses, the snowmobile business has become more honest in its product offerings. After all, who's kidding whom as each brand knows the strengths and weaknesses of each competitor. As the snowmobile industry has matured, sled makers concentrate on building brand identity that showcase reliability, durability and value as much as a high fun factor. There's really little room for disingenuous product claims. What with the advent of social media and such, word of mouth has gone from telling your sled buddies to telling the blogosphere and beyond. We're finding snowmobile makers about as honest as we've ever seen in our many years of reporting on the latest sleds.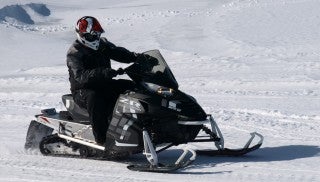 2017 Arctic Cat ZR 3000 LXR Review + Video
That's not to say that a sled maker's minions won't challenge new model reportage, because they do and have. That's expected. But we were impressed when chatting with a top snowmobile company executive recently. He said that he understood that sled reports might not always be favorable of all his models, but he understood and accepted that reporting as the evaluator's position. He noted it was his company's job to work hard to manufacture the best products it can.
We can say unequivocally that the quality of today's snowmobiles is vastly superior to that of 20 years ago and reflects the focus of the modern snowmobile manufacturer. The underlying truth is that there are no bad snowmobiles, just ones that we might prefer more. Vintage sled collectors can attest to how far the sled industry has come.
While we've been handed half-truths over the decades, sometimes sled makers underestimate their own products. This may be the case of the Arctic Cat ZR 3000 LXR. If you read our report, you know we appreciated its value.
Having ridden last year's 2016 Pantera 3000 and now the 2017 ZR 3000 LXR, we sought to learn more about its 700cc Arctic Cat 3000 C-TEC4. Spec'd out by Arctic Cat but built by Kymco, the 3000 Series C-TEC4 700 engine first appeared in snowmobiles as the driving force behind 2016 Pantera and Bearcat models. This season, the engine powers a trail sport ZR. It also is the power behind Arctic Cat's popular Wildcat Trail side-by-side.
As you may have noted in our recent article about Arctic Cat's ZR 3000 LXR, we liked it. No powerhouse, for sure, the sled's 65-horsepower four-stroke twin proved much more capable than we expected. We got to thinking. If the 65-hp Kymco built twin is fun on a tracked Cat, what's it like in a wheeled Cat?
Let's simply say that the electronic fuel injected 700 twin in the Wildcat Trail was much more than expected. It's tuned for mud churning low end grunt. It snaps through its TEAM ATV clutching to readily get to 50-plus miles per hour down short lengths of fire roads. And there's more on tap if the runway is long enough.
Arctic Cat gave Kymco the specifications it needed to maximize performance for the sled as well as the side-by-side Wildcat Trail and Kymco complied with the 3000 Series C-TEC4. As it would cost millions of dollars in research, development and manufacturing for Arctic Cat to go it alone on such a four-stroke project, Cat followed the example of BMW and Kawasaki in working with Taiwan-based Kymco, an OEM engine manufacturer and one of the world's largest scooter makers. In 2008 BMW chose Kymco to source the engines for its G450 X Enduro motorcycle. In 2013 Kawasaki and Kymco joined in a partnership to manufacture the Kawasaki J300 scooter for the European market.
Like the Cat/Yamaha engine arrangement, the Kymco deal saves Arctic Cat cash that can be used to develop other projects like the announced SVX 450 snow bike.
Saving some dollars pays off here as the Kymco-sourced four-stroke works very well in both tracked and wheeled Cat models. We were truly impressed with just how terrifically the Wildcat Trail performed. Obviously wheels are easier to turn and offer less friction than a 15-inch wide track. Just the same, though, the 700cc twin in the Wildcat Trail pushes double the weight of the ZR. Cat doesn't provide weight statistics for its sleds, but a similarly outfitted Ski-Doo MXZ Sport 600 ACE weighs a claimed 459 pounds. Cat claims the base model Wildcat Trail weighs in at 996 lbs.
A major difference between the ZR 3000 LXR and the Wildcat Trail power units comes in the clutching. The sled features Cat's own drive while the side-by-side comes with TEAM's Rapid Response clutches. While not totally fair, we felt that the wheeler reacted quicker than the sled. But, it's spinning Carlisle 25×8-12 Trail Pro wheels not a 15-inch wide by 129-inch long Ripsaw track.
Regardless, the 3000 C-TEC4 offers more than enough power for most sport trail riders thanks to its seamless electronic fuel injection. Acceleration on both the wheeler and the ZR proved consistent and smooth. The wheeler's power unit never faltered even when churning up a couple feet of mud-infused water. Seeing that wave come over the hood like a dirty mini-tsunami on a cold 45-degree Minnesota day got our attention as we went full throttle to the floorboard to ramp up the mud hole's side. Plentiful power!
We suspect the ZR 3000 LXR claims similar power output to the Wildcat Trail, but due to its TEAM clutch setup, seems more responsive. Propelling either Cat's wheeled or tracked toys, the 3000 Series C-TEC4 is a revelation in modern powersports usage. We say that based on the recent past when Cat first decided to get seriously involved with four-stroke power. Comparing this new ZR 3000 LXR to the original circa 2000 Yellowstone Special with its 660cc power is simply unfair.  Modern four-stroke sleds like the ZR 3000 are much more efficient in every way and vastly better geared and clutched for sport riding.
Now, being skeptical evaluators and fully recalling that woefully anemic ATV-sourced four-stroke twin that Polaris put into its unlamented Frontier model, we were reserved about Cat's new 3000 C-TEC4 to be used in the Bearcat and Pantera models. But, after riding both of those 2016 Cats, we embraced the idea of fitting a trail sport model with the new engine. It works very well while offering reliability, durability, value and a big upside of fun.
Of course, we're only offering unsolicited speculation, but we suspect Polaris is keeping a close watch on how well Cat's 700cc powered sleds do in the market. Remember, Polaris is the only snowmobile manufacturer without a four-stroke in its line. If Arctic Cat successfully incorporates this "wheeler" power system to tracked use, then maybe Polaris will as well. Looking at Polaris' wheeled portfolio we see horsepower ratings right in the same sweet spot as Cat's 3000 Series C-TEC4 and Ski-Doo's ACE designs. That conversion would make us all forget Polaris' Frontier.
Where once we were skeptical of what sled makers tried to have us believe, now that we listen to what the products themselves tell us, we're less skeptical and have come to believe that sometimes the sled makers underestimate just how good some of their products really are.