2016 Arctic Cat Pantera 3000 Review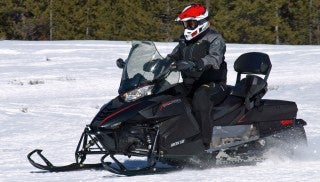 The base Catillac is designed to be quiet, smooth and comfortable
Arctic Cat stepped up its game with last year's reintroduction of the Pantera, handsomely styled on an all-new touring chassis. As you might expect, last year's Pantera 7000 gives rise to several newer versions for model year 2016. In addition to the extended track Pantera 7000 XT, Cat designers created the nicely outfitted Pantera 3000 with an all-new four-stroke engine tuned specifically for trail touring.
Fast Facts
Engine Type:In-Line
Cylinders:2
Engine Stroke:4-Stroke
Valve Configuration:OHV
Displacement:700 / 42.7
Starter:Electric
Turbocharged:No
View Full Spec
Please don't think of the Pantera 3000 as a cheapened touring sled. Matter of fact, when we first heard about the Pantera 3000, we figured it simply might be a cheaper version of Cat's top line luxury touring sled. On the contrary my friends, Cat stands by the Pantera identity of "Catillac" by making certain that this 65-horsepower version meets and exceeds touring rider demands for ride, handling, and on-trail comfort through excellent ergonomics and attention to rider needs. Obviously a 65-horsepower sled won't have the speed and overall performance of the 1049cc four-stroke triple, but we enjoyed how the new 3000-Series C–TEC4 managed power from drive off through midrange. Yes, the top end won't compare well to the Pantera 7000, but then, that sled has twice the power!
Where the Pantera 7000 relies on a Yamaha-sourced four-stroke of about 135 horsepower, the new Pantera 3000 features a 700cc parallel twin built to Cat specifications by Kymco. If you drive a Cat Side-by-Side, you might recognize this engine as the power source for the Wildcat Trail. The Kymco-built fuel injected twin features four valves per cylinder to maximize intake and exhaust. This all helps explain the surprisingly spirited performance of this engine.
Out of the sled, the Pantera 3000's engine stands tall, but is placed low and centered in the Pantera ProTour chassis' engine bay to give the sled excellent stability and smooth handling in tight turns.
COMPARISON: Read our review of the 2016 Arctic Cat Pantera 7000 XT LTD
Usually we can't say much positive about 60-something horsepower, as snowmobile performance generally isn't much fun under 100 horsepower. By comparison Ski-Doo's 600 ACE generates similar power to Cat's Series 3000 twin. The Cat power delivery is quite good and feels stronger than the 600 ACE. That may be the difference between Cat's use of more traditional snowmobile-style clutching. This Pantera uses the Arctic six-post rpm-sensing drive clutch combined with a 10.4-inch roller cam driven. Ski-Doo's 600 ACE features the proprietary eDrive2 set up. Neither sled will light a fire on the trail, but we felt the Cat was stronger from idle to midrange.
We've come a long way with four-stroke drivetrains. The early four-stroke snowmobiles were about as responsive as a kid's Briggs & Stratton powered go-cart. But, since most modern snowmobile companies also manufacture all-terrain vehicles, those days of clunky performance are gone as the sled makers have learned how to smooth out power delivery from four-strokes feeding into CVT-style clutching. That knowledge makes today's four-stroke powered sleds feel as responsive as most two-strokes.
Power aside, the Pantera 3000 benefits greatly from ProTouring chassis development. It first appeared on the 2015 Pantera 7000 and broke from the ZR and ZF mode of sport chassis by featuring a more relaxed linear platform on which to place a bench seat for rider and passenger. Retained, of course, was its aluminum construction that Cat pioneered back in the 1960s. Even though the ProTour platform is light in weight, it has the proven chassis toughness of a Cat big bump sled, just flatter and longer than a sport model.
COMPARISON: Read our review of the 2015 Ski-Doo Expedition SE ACE 900
While you might expect the Pantera 3000 to be a "decontented" version of the original, not to worry. The sled's styling gives away very little as it blends into the Pantera line with similar paint and graphics. While there are similarities between the Pantera 3000 and the Bearcat 3000 LT, the Pantera clearly stands apart from the utility model. Both feature Cat's ARS front suspension and Slide-Action rear design with travel controlled via Cat's IFP shocks. Both spin a long 146-inch track. But there are major differences here.
Up front the Pantera's ARS uses trail-specific six-inch ProTour skis on an adjustable ski stance that can be set from 42 to 43 inches. The Bearcat adjustable stance is notably more narrow at 35.5 to 41.5 inches. That 146-inch track? The Bearcat adds a 1.35-inch lug height for off-trail grip. The Pantera 3000 features Cat's Quiet Track with trail-smooth one-inch lug profile. The patented Quiet Track uses raised inner moldings to substantially reduce track noise and on-trail track vibration.
Designed to be quiet, smooth and comfortable, the Pantera 3000 sends a trail comfort message with its ProTouring seating, passenger footrests, adjustable hand warmers for both riders, and adjustable rear backrest. For enhanced comfort, the seat is heated. Of course, Cat riders expect easy adjustment of the curved handlebar.
Cat engineers took into account what Cat touring riders expect from a touring sled. This Catillac comes standard with a 17-inch mid-height windshield, but adds passenger wind deflectors as well as standard body side wind deflectors. A visor plug-in for an electric face shield as well as push button reverse, electric start, a 12-volt auxiliary outlet for a GPS, and a rear compartment with 1500 cubic inches of storage are all included in the MSRP of US$10,799.
COMPARISON: Read our review of the 2015 Yamaha Venture MP
If all that basic gear on the base Pantera 3000 isn't enough, you can add an auxiliary 4.3-gallon rear fuel tank, goggle holder, locking detached storage cases, or any number of storage bag options.
How do you improve on the 2016 Pantera 3000? Well, for next year, we might ask Arctic Cat engineering to find a way to include that nifty wide range WR3 three-speed transmission that comes on select Bearcats. Why? What if we like our Pantera 3000 overall, don't want to step up to the 7000 series or a Bearcat, but want the ability to tow a cutter with the grandkids or a sleigh full of wood for our getaway cabin? A multi-speed tranny could come in handy and Cat engineering did a terrific job with the WR3. Its top gear replicates the equivalent of normal sled operation, but the two lower gears run the gamut from an optional low range to a Super Low granny gear for ultra-serious hauling. But, hey, this basic Pantera 3000 remains a great deal as is. We're just saying, we'd be interested in that WR3 as an option in 2017!
2016 Arctic Cat Pantera 3000 Specs
Engine
Arctic Cat/Kymco 3000-Series C-TEC4 700cc, liquid-cooled, 4-stroke twin; 76.9×75.3mm bore/stroke; electronic fuel injection
Horsepower
65 (claimed)
Drive
Arctic 6-post rpm sensing drive with Arctic roller cam driven
Front Suspension
Arctic Race Suspension (ARS) with Arctic Cat internal floating piston coil-over-shocks; sway bar; 9.5-in maximum travel; ProTour 6-in wide ski
Rear Suspension
Arctic Cat parallel rail Slide-Action suspension; coupling blocks; adjustable torsion springs; torque-sensing link rear arm; Arctic Cat IFP shocks; fiberglass overload springs; 13.5-inches of travel
Length
127.0 in
Width
48.0 in
Ski Stance
Adjustable 42 to 43 inches
Track
15 x 146 x 1.0 Quiet Track
Brake
Hydraulic disc brake
Fuel Capacity
10.7 US Gal (87 Octane)
Features
Standard: ProTour platform; electric start; gauge with digital tach & speed readout; 12-volt accessory outlet; sport front bumper; heated ProTour seat; passenger footrests; 17-inch windshield; adjustable handlebar; visor plug-in; rearview mirrors Optional: auxiliary 4.3-gal fuel tank; locking detachable cases; storage bags
MSRP
US$10,799