2019 Polaris 850 Pro-RMK Review + Video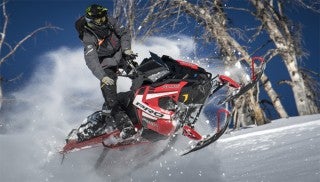 The 2019 Polaris 850 Pro-RMK receives a power boost thanks to its new 840cc Patriot engine. This improved power makes an already great sled even better.
Fast Facts
Engine Type:Horizontal In-line
Cylinders:2
Engine Stroke:2-Stroke
Valve Configuration:Reed Valve
Displacement:840 / 51.2
Starter:Pull
Turbocharged:No
View Full Spec
With its new 850 Patriot engine leading the way, the 2019 Polaris 850 Pro-RMK should stop anybody from ever again saying Polaris is underpowered.
Honestly, we don't, and never have, understood this, especially as power-to-weight favors the AXYS Pro-RMK. Look at the results from the 2018 Jackson Hole Snow Devils' World Championship Hillclimbs. Polaris and its Pro-RMK, be it a 600 or 800, dominated stock, improved, modified and open classes. The smaller 600 Pro-RMK competed in the 600 and 700 classes and won, be it stock or modified. The larger 800 Liberty-powered 800 Pro-RMK competed in 800, 900, 1000 and Open classes and, you guessed it right, won. Not only won, but claimed all King titles and the coveted King of King title.
Win on Saturday and Sunday, sell on Monday.
What was that, again? The Pro-RMK is underpowered? Refer again to the opening paragraph.
Be Patriotic
For model year 2019, Snowcheck Select purchasers can opt in for a Pro-RMK with Polaris' new 850 Patriot motor. This motor is not a punched out Liberty motor; it is all new. Polaris spent four years developing, testing, breaking, and testing again and again this motor to assure it is strong enough to meet mountain rider demands. In discussing this motor with several Polaris insiders, the field-test engineers subjected the Patriot Pro-RMK to every conceivable condition mountain riders toss their sleds into: sub-zero days, hot days, thin air elevation days, humid days, dry days, and no snow riding-out-in-the-pasture days. We first wrote about this motor in a March 05, 2018 article titled "2019 Polaris Snowmobile Lineup Preview."
There's much 850 Patriot motor information on Polaris' webpage that there is no need to repeat it here. But, we want to discuss some points about this motor that impressed us. First, the motor was designed to manage – dissipate – motor vibration harmonics that affect fuel droplet size. The motor is built such, with is lower inertia as compared to the Liberty motor, fuel delivery and droplet size is stable, uniform and consistent. This motor incorporates fine technology from the automotive industry to assure unswerving fuel delivery.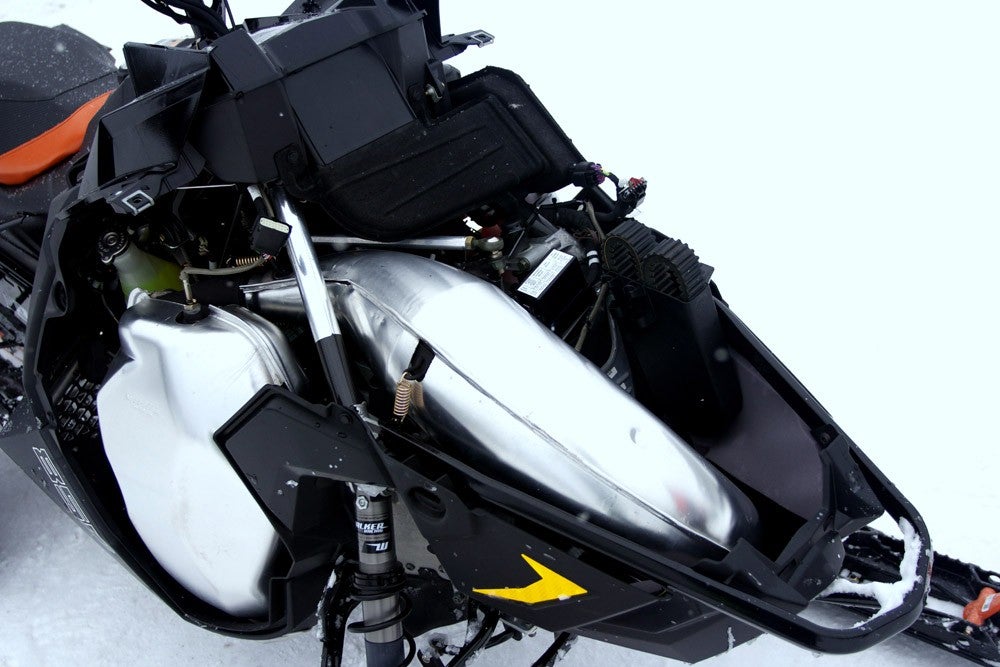 The motor is made to run cool. It has a 100-degree thermostat. Nice.
The motor's pistons are single ring pistons. Oh how this caused much social media scuffling. The ring material, which is steel, has a unique automotive coating called PVD (Physical Vapor Deposition) which decreases wear in highly-charged gasoline engines – which reduces friction losses that occur between the ring and the cylinder running surface. An abstract on this patented-technology reads: "A piston ring for an internal combustion engine is made of steel and has an outer contact surface that is nitrated and coated to no more than 70 μm (micrometre) with a protective coating comprising nitrides of aluminum and/or silicium and/or zirconium in a matrix of chromium-nitride based material." In layman terms, the ring is smooth and runs friction free.
This PVD technology is used in some diesel engine applications and some high-performance luxury car brands. The Patriot's single, albeit wider, piston ring provides better wiping of the motor's fuel-oil mixture and helps the engine run cool.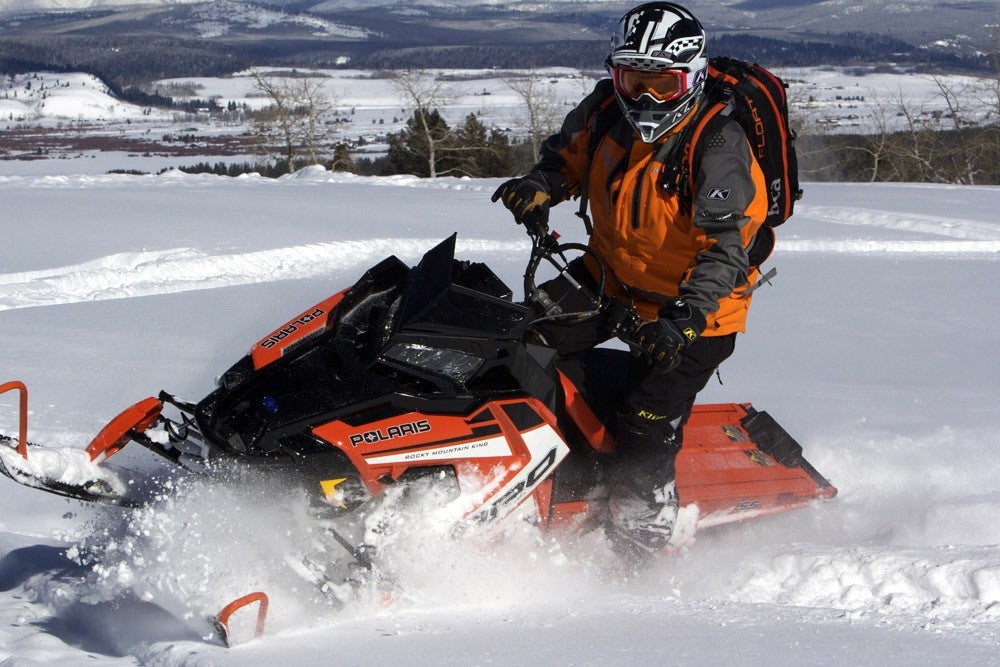 The motor's specific-made V-Force reeds, along with its exhaust valves, throttle bodies, fuel rail, and crankshaft, provide its improved pep. This is an over-square motor, where its bore is larger than its stroke.  Yes, it's a large-bore stroke motor. Not massive over square, but just right. Bore is 85 mm and stroke is 74 mm; displacement is 840.
By seat of the pants, the motor has a strong mid-range and a fat beefy hit out from its mid-range revolutions to peak RPM. When we first rode the Patriot, the Liberty motor and the new Patriot, launched out from the hole the same then the Patriot overran its Liberty brother. Yet, as Polaris finalized its calibrations for 6,000 to 8,000 feet and beyond, the Patriot 850 launches much harder, treating the Liberty 800 like the Liberty 800 treats the Liberty 600.
The 850 Patriot motor is heavier than the Liberty motor, but with is low inertia ratios (13% less rotating inertia than its closest competitor), increased horsepower (9% more than the Liberty H.O.) and torque, the Pro-RMK remains the power-to-weight master.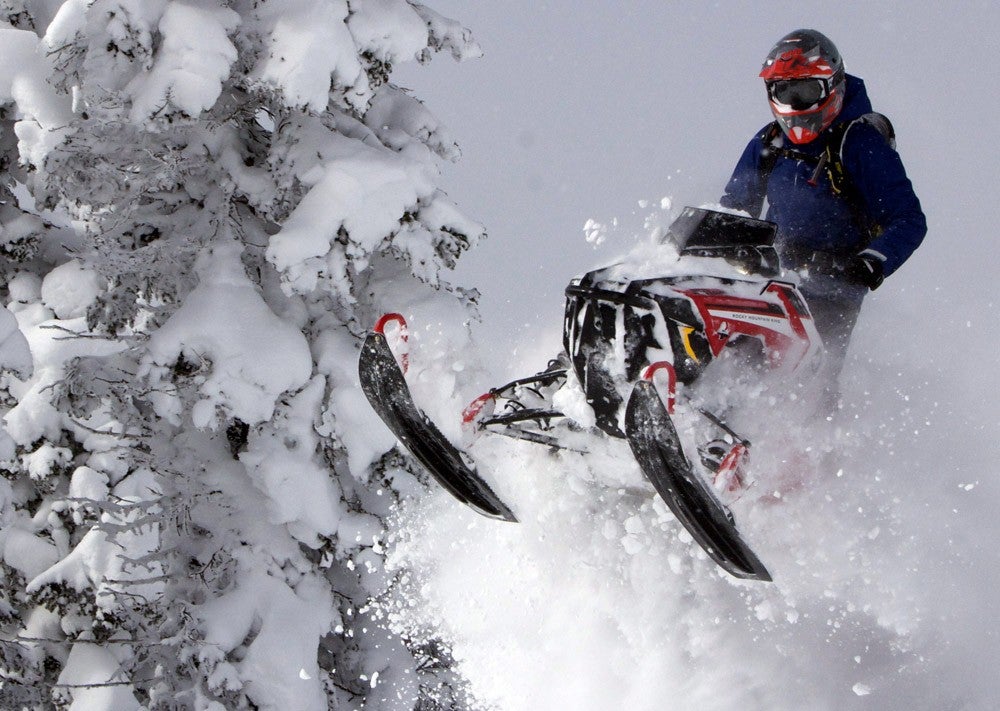 We are not going to speculate on Ready-to-Ride (RTR) weights for the 155, 163 and 174 (the 155 with belt drive weighs 415, according to Polaris' tech info), and final production horsepower for the 850. But, what we felt from four-days riding in deep snow at high elevations near West Yellowstone MT, the 850 Patriot-powered Pro-RMK for 2019 is Polaris' greatest achievement in mountain riding.
Lastly, with the narrower front end (36-, 37-, or 38-inches), paneling out on a wicked horizontal sidehill run – which was not a problem with the Pro-RMK before – will be far, far and away from any conscience thought; the narrow stance tucks the skis behind the lower AXYS panels.
The Pro-RMK comes equipped, as with all Pro-RMKs: gripper skis, PowderTrac runningboards, Pro-Lite Seat, PERC (electronic reverse) and Pro Taper handlebars; choices for interactive instrument pod and Walker Evans shocks are available. Track lengths for the Pro-RMK with the 850 Patriot motor is 155, 163 and 174, with for the 155 and 163, choice of Series 6 track (2.6-inch paddles) and Series 7 (three-inch paddles). The three-inch paddle track relies on a chaincase, whereas the Series 6 relies on the Low Inertia Quick Drive belt drive system.
We look forward to more riding time this coming season on an 850-powered AXYS Pro-RMK 163 and 155, and we will report long-term evaluations and shootout results from full production models.
Out Front
The Snowcheck Select 850 Pro-RMK comes with a new and narrow front end. The front end is set from the factory at 36 inches, but can be stretched out to 37 or 38 inches. This front suspension from Polaris is labeled React Front Suspension.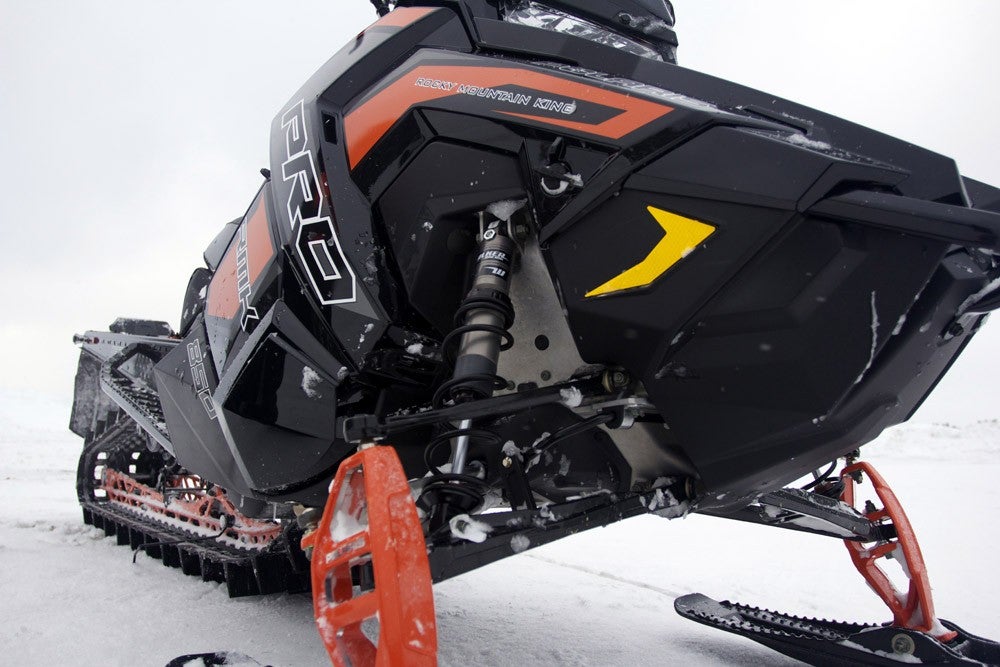 When the Pro-Ride RMK and the AXYS Pro-RMK came to be, it was "flickable." Then time ticked away and Ski-Doo with its G4 Summit X and Arctic Cat with its Mountain Cat and its new Alpha One Mountain Cat, created highly "flickable" snowmobiles as well. Throughout our shootout this past season (2018), we began to learn the AXYS Pro-RMK started to feel, well, "planted." This was a most unusual thought rattled about by the Snowmoible.com Mountain Team, as the "Pro" was the flick-it-there champion for many years.
The React Front Suspension delivers simple, effortless and precise handling; handlebar flips (counter steer) with little pressure from the arms and hands, and minimal downward force to a runningboard, sets the Pro-RMK on edge. It has eclipsed the 2018 Pro-RMK in initiating sidehill cuts.
According to Polaris, this new front suspension has a new sway bar to deliver predictable handling, and new forged A-arms and forged spindles that are optimized for strength and durability. To the unknowing eye, it looks similar to a 2018 model, or a non-Snowcheck 2019 model, but it is not. In summation, after four years in development (not just a facsimile to an aftermarket narrowing kit), the new React Front Suspension makes the AXYS an all new AXYS.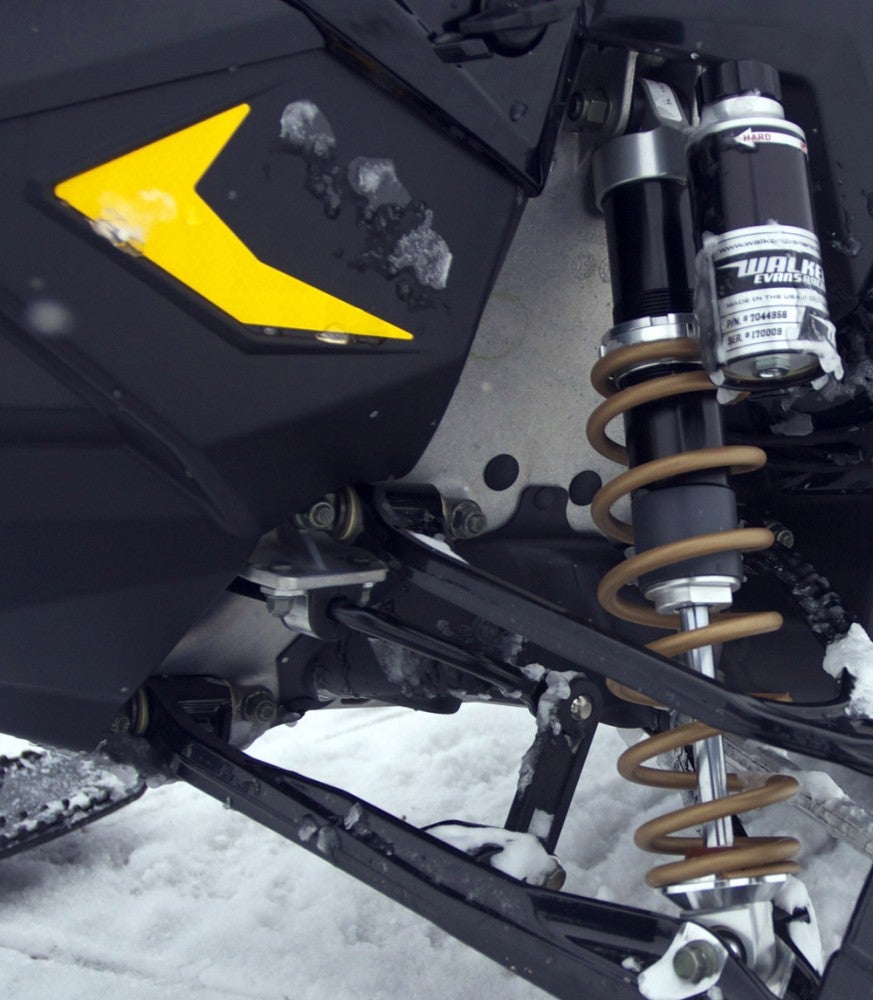 To compliment the new React Front Suspension is a coilover spring package for the Walker Evans shocks. The "SLS Shock Springs" features a "patent-protected, proprietary technology that allows the steel springs to be durable yet light – lighter than titanium. These springs are three pounds lighter than previous RMK springs and provide a rider with enhanced agility and responsiveness." Did you pick up on that? Steel that is "lighter than titanium." We're in. For modelyear 2019, we hope to evaluate this shock with these springs.
Overall, the new React Front Suspension proved to us as being smart and light through the bars.
From The Seat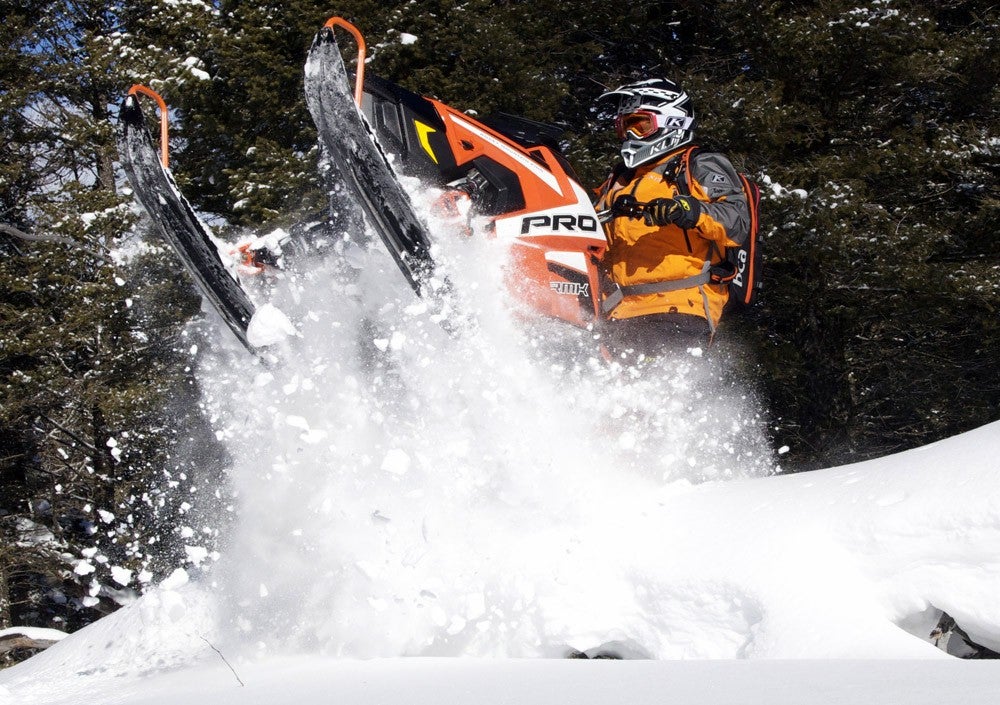 Snowmobile.com test rider, Brent Burton, reports: "Polaris answered the mail with the new 2019 AXYS Pro-RMK with 850-power. There were primarily two complaints with the existing AXYS lineup, the first being the chassis, while extremely capable in technical terrain, felt somewhat "planted" compared to the narrower competitor models. Polaris chose to keep its ski stance the widest among the mountain sleds and that came with a penalty of having to use more counter-steer technique to get the sled on edge. The newly designed front suspension allows the 2019 models to sport a narrow ski stance and with it a positive consequence: much improved ability to get the sled on edge with less rider input. The refinement works very well, so – first problem solved.
"The second criticism was a need for more horsepower.  Although the existing 800 in the AXYS is an extremely responsive motor, it couldn't boast the same HP numbers the Ski-Doo or Arctic Cat mountain sleds could. The new Patriot 850 solves this problem and the seat of the pants feel from this motor is very impressive.  It feels like a torque monster and performs extremely well from bottom to top end.  The AXYS chassis is unrivaled as the side hill king and the new motor – designed for durability – should keep Polaris' customers happily on top of the extreme-terrain category that Polaris originally claimed in 2016 when it released the AXYS chassis."
From Sr. Mountain Test Rider, Kevin Allred: "As we enter into the fourth year on the AXYS chassis, we see a host of new changes, mostly the all-new 850 Patriot engine. Polaris boasts this is the most powerful and also durable engine it has ever produced. I was anxious to grab a handful of throttle on the new power plant from Polaris.
"Right off the get-go I knew there was something different, a much smother different sound. But ya, much better throttle response. Now I must admit, the throttle response on the Liberty 800 was great, but seemed to fall off a bit on the top side. Yet, the Patriot 850 pulls hard all the way through mid range, continues on and holds strong through the top end. I don't want to make it sound like it is head-over-heels different, it's 45 cc larger, but it has muscular power all the way through its RPM scale; it's what we've been hoping for from Polaris.
"Also to complement the AXYS chassis, is a redesigned front end. The React Front Suspension is two inches narrower, has a new spindle design, which in no-doubt, makes the AXYS Pro-RMK easier to initiate a roll into a sidehill; and in typical RMK fashion, it holds a sidehill line very well – with confidence.
"Polaris listened to its customers and dealers, and the company responded – a great sled just got better."