2017 Ski-Doo MXZ Sport 600 Carb Review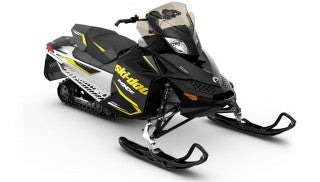 A performance sled at a value price
There are definitely options to getting a new sled for about the cost of a good used one. Of course, you will not come away with all the latest upgrades and features common to those top of the line models, but it will be new and its cost won't overwhelm you. That's the case with the 2017 Ski-Doo MXZ Sport 600 Carb.
With a suggested retail price more than US$1500 lower than the price of a similar MXZ Sport 600 ACE, the carbureted version is also both lighter and more powerful. Of course, it does all that with "old" MXZ technology.
Fast Facts
Engine: Rotax 597cc
Power: 100 hp at 8100 rpm
Weight: 420 lbs
MSRP: $7,399
View Full Spec
Unlike the Sport 600 ACE, the carb version relies on the previous generation REV-XP chassis, not the revised REV-XS platform. Is it a big deal? Not really, especially for the price. You'll find both the Sport XS and XP models showing off nearly identical dimensions and components. They both share the familiar SC-5 rear suspension that predated the popular rMotion design. Not to worry, the SC-5 will be quite adequate. It manages nearly 10 inches of suspension travel controlled via proven Motion Control shocks. Our opinion is that these stock shocks will better server the 600 ACE powered Sport as you'll be rambling down the trail with only 60 horsepower, not the 100-plus of the 600 Carb version. We figure a 600 Carb rider most likely will push the sled harder than a 600 ACE rider. Under those circumstance we expect the shocks could fade sooner.
The Motion Control shocks are basic gas shocks with coil over spring assists and are specified for both rear and front suspensions on the Sport models. There is some adjustability, but not the wide range common to higher priced shocks like those on the more expensive MXZ models.
When the REV-XP first appeared it was the state of the art chassis and carried all REV models ahead of the competition with its rider-forward positioning. Now there is the GEN 4 REV chassis and the "XP" is showing its age. Still, the Sport 600 Carb at a claimed 420 pounds manages exceptional on-trail performance.
The front end utilizes an early version of Ski-Doo RAS-type front end that offers very good ski grip when pushed hard. The SC-5 rear unit handles groomed trail rides with ease and you can count on very good on-trail agility. Are the newer suspensions better? Yes, but you'll pay thousands more, nearly doubling your initial investment if you opt for the top line MXZ X-RS.
For the price of admission, the MXZ Sport 600 Carb is a pretty choice deal. The engine is not the latest E-Tech two-stroke, but it also holds an advantage over that direct injected twin. Since it comes with twin 40mm Mikuni slide carbs, it can be readily adapted to aftermarket upgrades if you want to go in that direction. Frankly, this is one of the reasons this engine/sled combination exists; to allow customers aftermarket changes. This MXZ Sport model is one of the last models to come with this twin. Every other MXZ features either the four-stroke ACE or E-Tech two-stroke.
Don't shy away from the carbureted 600. It works very well, and has for a long time. It's simply that the E-Tech is cleaner and more fuel efficient, making it a better solution to meeting environmental demands.
We do – well perhaps did is the operative verb here – enjoy the Sport 600 Carb. We can recall when it made its first appearance at the annual snowmobile tests and how at the end of some days we'd take one out of the Ski-Doo paddock and just go for a quick and unencumbered ride. No camera. No notebook. No recorder. No politics. Simple seat of the pants enjoyment on a sled that we truly enjoyed for its handling and overall rider friendly personality.
The current 2017 Ski-Doo MXZ Sport 600 Carb retains that personality and if you are looking for friendly, basic sledding, this is an excellent choice. Look at its features list of proven XP platform, versatile carbureted 597cc Rotax two-stroke twin, top of the line race-proven Brembo hydraulic braking system, proven ride and handling components like the SC-5 and double arm front suspensions.
The Sport 600 Carb comes standard with MXZ styling that incorporates a comfy REV-XP saddle with onboard storage. The aluminum handlebar comes a 4.5-inch riser and with J-hook ends for the times you want to tickle those TM 40 carbs for maximum go-power.
For the money, the Sport 600 Carb will prove hard to beat for value. You get a proven chassis, proven engine and nifty upgrades such as the Ski-Doo pioneered push button electronic reverse, an analog gauge with display and nice-to-have 15-inch tall windshield. If you want more, add electric start. Heck you can add studs to the 15×120 inch Ripsaw track for enhanced on-trail stop and go performance. You'll also discover that the REV-XP chassis can accommodate Ski-Doo's proprietary LinQ cargo and attachment system.
Don't lose sight of the fact that while Ski-Doo's MXZ Sport 600 Carb satisfies the demand for a 2017 value performance sled, not so long ago it was Ski-Doo's top of the line "600 class" model. All of the attributes that served it in that capacity have been retained, with a few upgrades to make it a serious choice as a hot value sled in model year 2017.
2017 Ski-Doo MXZ Sport 600 Carb Specs
Engine
Rotax 597cc; liquid-cooled, 2-stroke twin; 76×65.8mm bore/stroke; two Mikuni TM-40 carburetors; RAVE exhaust
Horsepower
100 (estimated) @ 8100 rpm
Drive
Ski-Doo/Rotax TRA III with QRS; 3800 rpm engagement
Brake
Brembo hydraulic disc brake
Front Suspension
Dual A-arm with Motion Control shocks with coil-over spring assist; 9 inches maximum travel; Pilot 5.7 skis
Rear Suspension
Ski-Doo parallel rail SC-5 suspension; Motion Control shocks; 9.8 inches of travel
Length
114.4 in
Width
47.9 in
Height
47.6 in
Ski Stance
42.4 in
Track
15 x 120 x 1.25 RipSaw
Weight
420
Fuel Capacity
10.6 US Gal (87 octane)
Features
Standard: push-button mechanical reverse; analog gauge with readout; REV-XP seat with storage; aluminum handlebar with "J" end hooks Optional: windshields; skid plate; mirrors; gear and storage bags; electric start;
MSRP
US$7,399