2017 Ski-Doo Summit X and SP 174 Review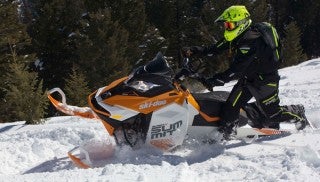 Long, lean and an XM 800
Ski-Doo is high atop the mountain with its Gen 4 REV Summit X and SP with 850 power. The new Summits, 154 and 165, are the new target the other OEMs are chasing. The competition may not admit it, but they are. Correction, two of the three are, Yamaha is all four-stroke in its business model, and chasing a lightweight two-stroke long track is not in Yamaha's mission statement. But, for Arctic Cat and Polaris, it is.
Fast Facts
Engine: Rotax 799.5cc 2-stroke twin
Power: 150+ horsepower
Track: 16 x 174 x 3.0 PowderMax FlexEdge
MSRP: US$13,749
View Full Spec
As we focus on Ski-Doo's Summit X and SP 174, know it has a new competitor from Polaris, the AXYS Pro-RMK 174 LE.
When we rode the new Gen 4 850 REV Summits in British Columbia, we spent most our time on the Gen 4s, thus not giving the 174 Summit much of a chance. Why is that? The 174 Summit X and SP for 2017 are simply, a 2016 Summit X and SP 174 with some minor performance adjustments – tweaks some folks call these. Throughout this story, we'll refer to the 174 Summit X and SP simply as "XM Summit 174."
Hence, if you are a mountain snowmobile aficionado, you'll know the 2017 Summit 174 is on Ski-Doo's XM chassis with 800R E-TEC power. No, it is not a Gen 4 Summit 174 with an 850 motor. The Gen 4 chassis, made the XM RS Freeride, the Renegade Backcountry X, and the 174 Summit orphans to their more powerful sled mates. But, these three powder players need loving too. In fact, speaking specifically about the 174, it should not be considered a non-starter for this season. The 174 Summit X, though an XM, is not antiquated. We like the long 174 XM X and SP, and can chase the other new Gen 4 Summits all day long. In fact, the Gen 4s may take a deep powder lesson from the 174 when the conditions are right. This 174 Summit is that good, but it is in the shadows.
When we spoke with Ski-Doo about the 174 not being a Gen 4 REV for 2017, it was candid. The new Gen 4 REV was such a departure from Ski-Doo's engineering thinking, it wanted more test and soak time on the longer chassis, to assure balance is correct. Does this mean for sure a 174 is set for a model year 2018 launch? We do not know. Furthermore, it could be the Gen 4 165 Summit X and SP are so good the need for a 174 may not be in Ski-Doo's marketing and build plan. We can only assume a 174 will come to be, but who knows. We'll learn more in late January when we meet with Ski-Doo, as tradition, about its upcoming model year offerings.
One more thought. Knowing the intense rivalry between Ski-Doo and Polaris, and knowing Polaris released its 174 Pro-RMK LE this model year, we've convinced ourselves, an 850 Gen 4 REV Summit 174 will come. No promises, though.
The XM Summit 174 relies on the Rotax 800 two-cylinder two-stroke, the 800R E-TEC. Good motor? Yes, an outstanding motor. The XM Summit 174 also depends on the trusty 16-inch wide PowderMax3 track sporting three-inch paddles and FlexEdge technology. As long as this snowmobile is, it will lay down some amazing side hill cuts, stop-and-start accelerations up a steep incline, and over-the-top mountain maneuvers.
The XM Summit 174 has Ski-Doo's Response Angle Suspension (RAS) 2 front suspension that relies on 12mm tall forged spindles. The tall spindles are light and contribute to the 174 Summit's light feel through the handlebars.
To keep the XM Summit 174 light for its length, it features a lightweight muffler canister and light idler/bogie wheels.
Specifically, the chaincase small sprocket has 19 teeth, the large sprocket, 49 teeth, and the track drive sprocket has seven teeth on a 7.20-inch diameter drive hub.
From Day One, Ski-Doo lengthened the chain case to reposition the XM's front driver. The driver is small, but by Ski-Doo engineers lengthening the chain case the geometry (approach angle) is correct. When looking at the front drivers, you will notice there is plenty of clearance between the front heat exchanger and track.
Make no mistake, with its increase in Western market share these past three seasons; Ski-Doo continues to take the fight to Polaris and its highly popular AXYS Pro-RMK. Since the XM Summit came to market, and now the Gen 4 REV, the race to be Number One in mountain snowmobile sales is a slugfest.
Though the XM Summit 174 is in its third year, 2015 being the first (as an "X" model only), we definitely believe Ski-Doo did its homework when it released the 174 in 2015; it performs as the Summit engineers said it would.
Let's go back in history, 17 model years ago to be exact, to the 2000 Summit Highmark X 151 700 that was the first ultra-long mountain snowmobile. When the 151 Highmark X filled our hands, 136-inch and 141-inch mountain sleds were the norm. In fact, 141s were considered freakish. With the 151, Ski-Doo outflanked the competition.
We had a model year 2000 Highmark X and after every weekend out tearing it up, we believed Ski-Doo found the fountain of youth and was the only company, we believed, that understood the mountain rider.
This is the 174. It lit a fire in the Ski-Doo faithful, and pulled others from Ski-Doo's competition.
Ski-Doo began flogging the mountains on prototype T3-equipped Summit X models, to include the 174, as soon as the XM Summit X hit dealer showrooms in 2013. The XM Summit 174 is thoroughly tested by Ski-Doo and by merciless customers.
Traversing a mountain on the 174, in waist-deep powder, is fabulously simple, especially when sidehilling and boondocking. You can dive off a mountain side, turn at its bottom third, point the XM Summit 174's nose forward to the top, and with partial or full throttle, launch the 174 up the hill with proud determination. With wrong foot forward, or with each foot planted on each respective runningboard, carving figure-8s on 30-degree slopes is math made easy.
At times, though, in all honesty, the XM Summit 174 can be tad bit ornery in hard pack conditions. The 174 likes deep powder, yet on hard packed, trenched up conditions, the 174 track bullied the Summit and its rider. Yet in ridiculously deep powder, sidehilling and ravine hopping is easy work.
The XM Summit 174 has a strong running 800cc two-stroke motor, the necessary mountain ergonomics, and a high-performing three-inch mountain track with FlexEdge tech. Add to this, a front and rear suspension that works in deep powder and provides a great trail ride. The XM Summit 174 maintains a very light operating feel, and has correct-sized track drivers and gearing to churn the long and tall track. With the proper approach angle to the snow, and low tractor-like gearing, there are little negatives coming from the 174.
The Summit X 174, at its inception in 2015, changed the mountain riding schematic. We like the direction Ski-Doo is taking with its Summit line and the company seems passionate and aggressive. We believe the new Gen 4 REV Summits to be what the manufacturer says these will be. However, we also believe the XM Summit 174 to be a premium and prized super long track mountain snowmobile. Do not pass the 174 Summit X and SP by; give these some consideration.