2016 Yamaha SR Viper M-TX LE 153 Long Term Review
Four-stroke smoothness, durable and playful, does it get any sweeter?
Now that we've wrapped up the Polaris SKS, we can do the same for our long term 2016 Yamaha Viper M-TX LE 153. We would take the Yamaha along when testing the more powerful, longer-tracked 800cc two-strokes. In fairness, the Viper MTX gives away power, but displayed a nature that made it fun to have along. It is a sweet sled, but that turbo option offered last season does help a lot over our normally aspirated four-stroke.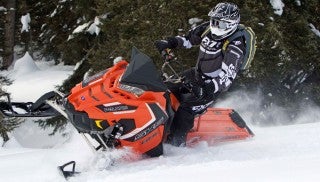 2016 Polaris 800 SKS 155 Long Term Review
When we ordered Yamaha's Viper M-TX LE, we chose the 162 with three-inch PowerClaw track. What we received was the 153 with three-inch PowerClaw. We thought, "What the..?" Well, "What the," was right. The difference between 153 and 162 is nine inches. Folded in half, that nine inches equates to 4.5 inches. Hence, the 153 has a foot print that is 4.5 inches shorter than the 162; not much to stress about.
But, where the "What the," came to be was how well the Viper M-TX 153 LE handled and played in the mountains: sweet, gentle and forgiving. Yes, it is heavy, as compared to equal-class 600cc two-stroke snowmobiles, but the Viper SRS chassis handles the engine's weight with ease. The swaybar-less front suspension allowed the Viper to roll up on edge with simple effort; almost two-stroke motor-light like.
The Viper's three cylinder four-stroke 1049cc motor is as forgiving as it is grunt-filled. Yes, it resides in the 600cc class two-stroke motor class, but by how it performs, in the SR chassis, the Viper M-TX LE behaves more like a 700 two-stroke.
With a chassis purchased from Arctic Cat, Yamaha drops in its Genesis motor and mates its own clutches – primary and secondary – to the motor. With the proper gear ratio for track and mountain in these clutches, smooth and predictable power is ever-present. That is upshift, RPM curve and downshift. Controlling track spin is as easy as controlling your car's speed on a smooth highway on a warm sunny day.
In our 800cc shootout reported last month, the Viper M-TX LE had to climb the same mountains and traverse the same sidehill mega slopes. There were times it faltered, becoming stuck, or having to hit a mountain several times to make it up and over, but the Viper M-TX is a very patient snowmobile; it delivers 700-class performance like a chocolate lab delivers love and adoration to its owner. We are not saying the Viper is a dog in a negative connotation. What we are saying is the Viper M-TX LE aims to please, and if its legs appear weak, it'll find a way to beat a different path to the hunting ground. Never underestimate a Viper M-TX's desire to succeed.
Here are thoughts and impressions from our test riders:
Kevin Allred
The geometry changes to the front spindles on the Viper M-TX are truly an improvement. But I must admit it took a bit of muscle-memory reprogramming before I truly appreciated the change. In other words, I had to learn it. But it was worth it. The Yamaha Viper M-TX LE carves turns and plays on the hill sides with ease. Our test Yamaha was shipped with the 153-inch long three-inch PowerClaw track. I've come to really like this three-incher. I thought the 2.6 PowerClaw was excellent, but the three-incher is incredible. I'm no stranger to the power of the 1049cc triple, as we've run the motor on several Yamaha snowmobiles. The motor has long, linear power that is user-friendly, which is in the 600cc two-stroke class. We pushed it hard in deep snow against the 800cc two-strokes. On one big hill climb, I had to make three attempts to meet up with the others, but it made it and played all day with the other evaluation sleds. This snowmobile with its four-stroke power has come a long way, and I believe there's more to come from Yamaha for the M-TX.
Roger Raymond
The Yamaha/Arctic Cat joint venture yields a product that fills a unique and important niche in the ever-changing snowmobile industry. For those seeking an ultra-reliable, long lasting, low maintenance snowmobile, the Viper M-TX is second-to-none. It provides a smooth-and-stable platform to access cabins and hard to reach locations with unprecedented comfort and style. The new spindles and A-arms make it more agile, and the incredible three-inch power claw track ensures the Viper is more mountain worthy than ever before. The Yamaha is especially impressive once it receives a turbocharger or supercharger. This is a possibility that doesn't seem to shorten the life expectancy like it its two-stroke cousins. While it may take a little more user input to negotiate technical terrain, many riders have proven it can be done and done well.
Mark Radford
The Viper would be much better in the mountains if it was turbocharged.
Wrap Up
The SR Viper M-TX LE 153 is a snowmobile I'd take anywhere in steep-and-deep land. Now, we know its limitations – it is down on horsepower compared to large-bore two-stroke motors, and we know it is heavier than the two-stroke snowmobiles. But armed with this knowledge, and if a driver is as patient with the Viper M-TX as it is with its driver, then mountain and dell – covered with deep-powder – can easily be managed.
If the M-TX LE we received had an MPI turbocharger hooked to its Genesis motor, then we'd be writing about taking on the 8-zero-zero mountain muscle sleds, which they do, but for now, the SR Viper M-TX LE 153 is about riding a confident snowmobile that delivers consistent power, is reliable, and is a snowmobile that, unfortunately, many overlook when they should not.
2016 Yamaha Viper M-TX 153 LE Specs
Engine
Yamaha Genesis four-stroke high-performance 1049cc; bore/stroke of 82.0mm/66.2mm; three-cylinder, liquid-cooled; 41mm electronic fuel injection system; dry sump lubrication
Horsepower
135
Drive
Yamaha YVXC drive clutch with Yamaha driven; push button electronic shift reverse
Front Suspension
Yamaha SRV-M tall A-arm with Fox FLOAT 3 Evol aluminum shocks; up to 7-in of travel; new semi-parabolic mountain ski
Rear Suspension
Yamaha Dual Shock SR 162 parallel slide rail; Fox Float Evol and Evol R aluminum high-pressure gas shocks; up to 15.5-inches of travel
Length
133.0 in
Height
49.6 in
Width
48.4 in
Ski Stance
Adjustable 34.5 to 38.5 in
Track
15 x 153 x 3.0 PowerClaw
Brake
Radial master cylinder hydraulic brake system with disc mounted on drive shaft
Weight
N/A
Fuel Capacity
10 US Gal (Regular fuel)
Features
Standard: heated seat, DC output, pushbutton reverse, digital gauge; rear storage bag
MSRP
US$13,999 — Canada $15,949