2016 Yamaha Viper S-TX 137 DX Review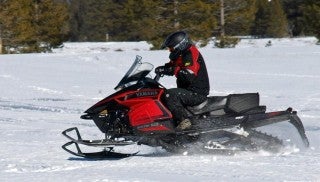 Yamaha's sweet version of an "adventure" sled
Riders looking for a sled that's a cut above the ordinary will find Yamaha's new for 2016 Viper S-TX 137 DX with 1.6-inch lug Cobra track to their liking. Sporty, yet versatile. Suited for cruising, but quite capable of cutting a quick, tight corner. Comfy for running groomed trails all day, but adept for playing in am unmarked field or breaking trail. The S-TX compares favorably with Arctic Cat's XF 7000 CrossTrek. Though it may mimic that Cat, the Yamaha has its own personality.
Fast Facts
Engine Type:Horizontal In-line
Cylinders:3
Engine Stroke:4-Stroke
Valve Configuration:DOHC
Displacement:1049 / 64
Starter:Electric
Turbocharged:No
View Full Spec
We could simply tell you to check out Cat's CrossTrek and you'd have the same experience with the S-TX. That's not really true. While they both come out of the same Arctic Cat manufacturing facility in Thief River Falls, Minn. and share fundamental underpinnings, they are different. That Yamaha four-stroke, which Cat refers to as its Series 7000 engine, delivers power to the 137-inch track a bit differently depending on sled brand. The Cat ties power to the track via its new Team partnership. Yamaha, as it has since the Cat/Yamaha partnership began, uses its own Yamaha YVXC clutching package. We expect both drives will be quite similar now that Cat partnered with Team. Up to this year we'd give the Yamaha's matched clutch set the edge in overall long-term performance and durability. Now we'd say they should be equal.
And, even though the S-TX and CrossTrek will prove to be similar in birthright, the Yamaha interpretation of a crossover "adventure" sled is aimed at what Yamaha knows about its owners. S-TX buyers most likely think of themselves as ahead of the curve when it comes to sled knowledge and what they need and want for capturing miles over a season. That Yamaha brand name means something to them. It means durability and long-haul reliability, not always a given with Cat, although this partnership definitely seems to be helping both manufacturers with product development in many areas. The Yamaha name also suggests reliability with strong dealer support, which most Yamaha riders count on, however infrequently they use it.
COMPARISON: Read our review of the 2016 Yamaha Vector X-TX 1.75 LE + Video
If you look to compare one against the other, you're doing yourself a disservice. If you are a Cat person, certainly go with the CrossTrek, but you Yamaha loyalists will want to stay true to the Yamaha brand and this latest on- and off-trail rendition of Yamaha crossover. Truly serious big bump bangers should stop reading right here and move to a report on the Viper X-TX. The S-TX is too civilized for you, but certainly nearly as capable. And maybe better equipped for how you really ride.
The S-TX 137 DX presents a somewhat confounding image of off-trail capability. With its 137-inch track it certainly has the track length to bridge niggling stutter bumps and add float in soft snow. And its aggressive 1.6-inch tall lug profile of this Cobra track will bite and chew to get you across unbroken snow fields. Yamaha specifies the Cobra 1.6 track as it offers cupped lugs to provide very strong straight ahead acceleration and braking grip in loose snow conditions. Yet with flexibility built into the design it maintains excellent off-trail grip as well.
With a footprint that measures 15 inches across and 137 inches in overall circumference, the Yamaha S-TX can bail you out of most back woods areas. Add in its 130-horsepower Yamaha drivetrain and you can feel confident on or off trail.
We do like the Viper's suspension system. The S-TX may not have a fancy-dancy exposed shock or runningboard-mounted adjustor, but it does have a suspension system that does exactly what you want. It provides controlled action front and rear that is consistent and comfortable. You get 10 inches from the tall spindle SRV front design and 13.5 inches of rear travel from the Dual Shock SR 137 rear skid.
Where the "hotter" off-trail models feature more infinitely tunable air shocks, the S-TX arrives with the latest Fox Float 3, three-way lever-action adjustable shocks. For us lazy riders who don't want to keep pumping up our shocks, the Float 3 is nearly perfect. There are three positions available. The settings represent a soft, cruiser setting, but don't assume an overly soft action. Think moderating action for a long ride over groomed trails. Literally move up a notch and go for the mid-level to get the setting that we think most riders will find best overall. Prepare the front end for a long run over bigger bumps and rutted out conditions by opting for the much firmer, almost racer-like third setting. Play around with the shock settings to prove to yourself that there are noticeable differences from one setting to another.
COMPARISON: Read our review of the 2016 Arctic Cat XF 6000 CrossTrek + Video
In chatting with various sled makers who have specified these Fox Float 3 shocks on some models, we realize that each sled maker specifies its own setting levels for its own models. If you want to make changes to the three settings in the original shock, you can, but you have to send the shock to Fox for that update. Check out the Fox website for specific information about what's involved in changing the valving. We expect that the Fox QS3 simplicity will bring more riders onto air shocks. While there isn't such a quick change option for the Viper's rear shocks, it would seem only logical that such a shock option might be in the works. After all, Yamaha likes its quick action settings and easy to grip remote action changes. We haven't seen it yet, nor has Yamaha or any other maker hinted at such an option, but don't be surprised if it comes along.
Overall the Viper S-TX offers more than adequate power on or off trail and has a variable ride quotient to satisfy long term Yamaha adventure riders, regardless of their on- or off-trail needs.
Of course, Yamaha adventure riders expect extras on a sled like the S-TX 137 DX. In addition to featuring the easy-adjust Fox front shocks, this sled excels in satisfying the rider on cold days or in areas where snow spray flies back into the goggles. The windshield is tall to divert wind, cold and snow spray. But it also offers a set of rearview mirrors as standard gear. Add in a heated seat and heated storage area for extra gloves or goggles and you have a truly civilized on- or off-trail ride. Since this is a sled with extras, there is the addition of rear-mounted semi-rigid zippered cases for extra storage. The standard rear bumper wraps around for added protection, as well as a mounting point for accessories like a rack or two-up seat.
We found the S-TX extremely comfortable thanks to its tapered seat that puts you in a tallish but commanding ride position. The handlebars, as you'd expect, fit back into your hands naturally with a height and curvature born of years of riding know-how. This sled is very friendly on the trail, especially when you learn how to manipulate its broad torque for maximum effect. The engine's electronic fuel injection responds instantly to your throttle thumb and lets you burble along at low speeds while off trail or moving up to top trail speeds on a cruise. Engine, clutching, handling and comfort combine to make this a very satisfying snowmobile.
COMPARISON: Read our review of the 2015 Polaris 800 Switchback Pro-X + Video
Styled in bright red with black, the Viper S-TX 137 DX may be a sled built by Arctic Cat for Yamaha, but it's been designed with Yamaha rider needs very much in mind.
2016 Yamaha SR Viper S-TX 137 Specs
Engine
Yamaha Genesis three-cylinder, four-stroke high-performance 1049cc; bore/stroke of 82.0mm/66.2mm; liquid-cooled; 3x41mm throttle bodied electronic fuel injection system; dry sump lubrication
Horsepower
130+
Drive
Yamaha YVXC drive clutch with Yamaha driven; magnesium chaincase and cover
Front Suspension
Yamaha SRV tall A-arm with Fox Float 3 adjustable shocks; up to 10.0-in of travel; Tuner 2 skis
Rear Suspension
Yamaha Dual Shock SR 137 parallel slide rail; aluminum high-pressure gas shock; up to 13.5-inches of travel
Brake
Hayes dual piston hydraulic brake system with disc mounted on drive shaft
Length
125.0 in
Width
48.0 in
Ski Stance
Adjustable 42-43 in
Track
15 x 137 x 1.6 Camoplast Cobra
Weight
NA
Fuel Capacity
10.0 Gal
Features
Dash-mounted heated goggle bag; heated seat; rear storage bag; digital gauge; push button reverse; electric start
MSRP
US$13,399 – C$15,599