2009 Arctic Cat Bearcat Z1 XT Review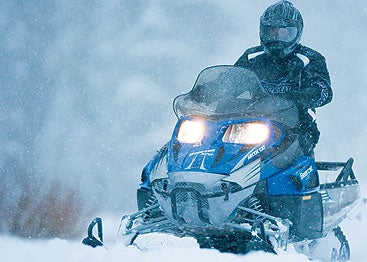 Arctic Cat creates a sporty design for the long haul
Calling the 2009 Arctic Cat Bearcat Z1 XT a performance utility sled seems oxymoronic in the way of the 'no comment' comment or deeply shallow. Be that as it is, the fact remains that Arctic Cat's decidedly utilitarian Bearcat comes into the season with a playful ability to take on some decidedly sporting sleds. This version of the Bearcat overshadows its predecessors in virtually all ways. Those forerunners were utility first and foremost. Frankly so is this one, but where you had to work hard to get any serious fun out of the older Bearcats, this one is ready to play at the blip of the throttle lever.
Fast Facts
Engine Type:Horizontal In-line
Cylinders:2
Engine Stroke:4-Stroke
Valve Configuration:OHV
Displacement:1056 / 64.4
Starter:Electric / Pull
Turbocharged:No
View Full Spec
The 2009 Bearcat is new. No, not refreshed and re-labeled as being new, but truly new. The 2009 Bearcat Z1 XT doesn't simply borrow the Twin Spar chassis design from Cat's sporting group, but actually amplifies it to maximize its utility. There are two triangulated box-aluminum spars incorporated into the steering supports and tunnel geometry. There is an added rigidity in its overall construction gained by the use of tight self-piercing rivets. This added strength and rigidity enhances the Bearcat's towing capability and long lasting durability. After all, this sled isn't aimed at the groomed trail rider but at the go-anywhere riders needing to get work done first, leaving a bit of play time after that work gets done. Ruggedness counts. Durability counts. Reliability is essential.
4-Stroke Power
Standard on the top of the line Arctic Cat utility model is the proven one-liter 4-stroke twin. Dual 48mm throttle bodies flow fuel for up to 125-horsepower. That's 12 percent more power than Bearcat owners received from the previous 660cc turbocharged 4-stroke. This stout twin lays down handsome torque, enough that Arctic Cat engineers revamped the drive clutch spider with widened cam arm pockets to allow the use of heavier cam arms. The engine's computer control box features programming aimed at maximizing low and midrange performance. The key to a strong performing utility sled comes from giving it useful and consistent performance through midrange for towing, slogging through unbroken snows and hauling cargo.
When you study the construction of the 2009 Bearcat against previous designs, you realize that Arctic Cat engineers took their job very seriously. The changes made in the 2009 Bearcat were made to advance this model a decade ahead of the previous design. Of course, the expectation is that what is seen in the 2009 Bearcat will be standard for years ahead. Utility sleds get updates to make them better, not simply cosmetic changes to initiate sales. The utility sled buyer seeks out long-term quality, not fanciful change.
Articulate Suspension
Check out the new Bearcat's articulating rear suspension used with the 20 x 156 track with 1.25-inch lug profile. This suspension concept has been around for a while, but is updated here to maximize its utility in the new Twin Spar chassis. The design allows the sled to ride up and over obstacles when reversing. Going forward, you simply tighten the leafsprings to put the most track on the snow, especially handy when towing heavy loads. There is a similar use of leafspring design seen on select Arctic Cat two-up touring models. That usage lets the rider stiffen or soften the ride for two-up or solo riding. The Bearcat design translates into maximizing traction.
Although the new Bearcat XT suspension features moveable springs, the overall design has 63 fewer pieces than the unit it replaces. Fewer pieces mean less weight, a more simple design for service and less opportunity for snow to build up and get compacted in the suspension.
Combine the revised rear suspension with a revised front suspension for all around better performance on and off trail. The front end provides 8 percent greater front arm travel. Overall the 2009 Bearcat Z1 XT enjoys 13 percent more ground clearance at the driveshaft, which simply means better mobility through deep snow and better clearance to get over obstacles like partially buried tree limbs.
Easy Steering
You'll find maneuvering off trail should be easier than before as the Bearcat gets its own eight-inch wide Bearcat-specific, saddleless ski for better flotation — thanks to a 14 percent increase in width. It also uses new single runner ski carbides that are also found on Arctic Cat's Touring models. You'll notice an overall improvement in cornering due to an increase in keel depth. The rear tip up of the skis is there to help when backing up the sled.
During our test rides, we were quite surprised at how easily this utility sled turned. Credit Cat's use of roller bearing steering along with the improved balance of the Twin Spar chassis in giving the sled significantly less steering effort than previous Bearcats.
There's much to appreciate in the 2009 Bearcat Z1 XT. In this genre of sled, weight savings is not as important as quality of build and ruggedness of design. Still Cat engineers used lighter weight components where they made sense. The adoption of the LED taillight from the M-Series and Crossfires offer a slim weight saving, but the main purpose is to cut through snow dust for better nighttime visibility. The oversize 17.5-gallon gas tank gives the 4-stroke twin a fuel range like few other snowmobiles.
Purposeful Style
When it comes to purpose and style, look to the front and rear of the newest Bearcat. The front bumper lets you break trail through the brush and trees without the fear of damaging the sled's bodywork. Plus, it affords a strong attachment point for an accessory winch. The rear bumper optimizes strength, providing extreme durability and strength for towing over rough terrain.
The Bearcat's seating suggests touring rather than utility and signals passenger comfort. It retains functionality as it converts from two-up to solo riding in seconds. Under seat storage allows ample room for spare belt, tools or accessories.
Rider and passenger comfort come behind a tall, very functional windshield. There are even standard mirrors. Of course, electric start, reverse and handwarmers for rider and passenger are standard. If that's not enough standard convenience or comfort, the Bearcat option list includes heated driver and passenger seat or even remote electric start.
When Arctic Cat engineers set about creating the next generation of utility sleds, they looked ahead a number of years and engineered a utility sled with a flare for getting the job done — regardless of what that job might be — while maintaining Arctic Cat's penchant for sporty handling and snow-ability. The 2009 Bearcat Z1 XT proves that Cat engineering successfully understood its mandate and that there is nothing oxymoronic about calling this Bearcat a performance utility snowmobile.
2009 Arctic Cat Bearcat Z1 XT Specs
Engine
Arctic/Suzuki 1056cc, 4-stroke, liquid-cooled, twin; 48mm dual throttle body, electronic fuel injection
Horsepower
125
Drive
Arctic rpm-sensing drive and roller cam secondary ACT drive system
Front Suspension
Arctic AWS VII A-arm suspension; hydraulic twin tube shocks; sway bar; 8.5-inches of travel
Rear Suspension
Arctic articulating parallel rail slide with hydraulic twin tube shocks; adjustable torsion springs; fiberglass overload springs; up to 13-inches of travel
Length
137.0 in
Width
48.0 in
Ski Stance
40.0 to 44.0 in adjustable
Track
20 x 156 x 1.25
Weight
N/A
Fuel Capacity
17.5 US Gal
MSRP
$11,299