2009 Arctic Cat TZ1 Turbo Touring LXR Review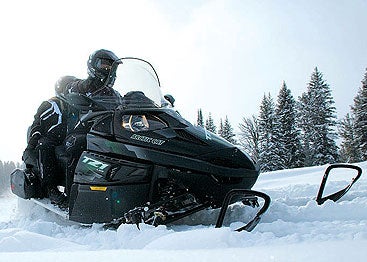 A two-up touring sled with serious attitude
My first experience with Arctic Cat's all-new turbocharged touring snowmobile left me speechless, breathless and all smiles. Holy Cats, the 2009 Arctic Cat Turbo Touring LXR literally takes your breath away!
Fast Facts
Engine Type:Horizontal In-line
Cylinders:2
Engine Stroke:4-Stroke
Valve Configuration:DOHC
Displacement:1056 / 64.4
Starter:Electric / Pull With Remote
Turbocharged:Yes
View Full Spec
The answer to what it takes to make me speechless is 177-horsepower. What's even more incredible about that power number isn't the enormity of it in a snowmobile, but how docile it can be — if you want to be docile around a sled with that much power. For you sport sled riders, think of this two-up, turbocharged-touring Cat as a Z1 Turbo for two, because that is what it is.
In some ways the two-up TZ1 Turbo Touring is more trailable than the one-place Z1 Turbo. The power may be the same, but the two-passenger version definitely grabs more snow thanks to its 144-inch long track and 1.25-inch lug profile. That's a foot more bite than the similarly powered Z1 Turbo trail ripper. When your right thumb pushes for power, the TZ1 lights up and moves out with 121 foot-pounds of torque. That'll move you and Mama down the trail right smartly!
Cold Protection
As much as we were impressed with the sled's 177 horses, we found ourselves glad to be onboard on a cold weather test day. The TZ1 Turbo Touring features heated seat cushions for driver and passenger. And we sat behind a smallish, but highly effective windscreen.
While Cat's engineering staff may have the latest in computer-assisted design technologies, we've become convinced that Arctic Cat engineers must actually test ride their concepts on a regular basis. This snowmobile company almost always manages to come up with showroom handsome models that actually function in winter without the consumer having to lay out extra bucks for tall windshields. You can opt for windshield choices, but in most cases, the stock windshields work just fine. The hand placements on the bars are generally well out of the coldest airstreams. Where some other sled makers design sleds strictly to look 'hot' in the dealerships, Cat makes an effort to combine hot looks with cool functionality.
High End Features
The TZ1 Turbo Touring LXR, as you would expect for a high end two-up sled selling for almost US$14,000, comes loaded with features. But, stripped down to its essentials, what you are buying is awesome turbocharged, 4-stroke power; a nicely evolved rider (and passenger) forward seating environment; a real gripper suspension/track combination; and incredibly friendly steering and front suspension grip.
There are, of course, the extra standard benefits. The digital/analog tachometer and speedometer set is to be expected in a sled this far up the food chain. But remote electric start exceeds normal expectations. Then there's the removable passenger seat that converts to rack storage. Looking for long distance travels with multiple overnights? Stow your gear in the three storage bags. Heck, about the only non-standard features with the TZ1 Turbo Touring LXR consist of the optional 2-way communication center, an engine heater and a hitch.
Think of those features as frosting on one nicely baked cake. Designed around Arctic Cat's Twin Spar chassis, the TZ1 handles like a much lighter and smaller sled. The rigid chassis design not only creates a strong platform on which to hang the latest Arctic Cat touring suspensions, but it provides a centered residence for Cat's Suzuki-built 4-stroke.
Twin Spar Turbo
When you see the new 1,056cc liquid-cooled twin outside of the sled as we did at Arctic Cat's 2009 model year unveiling, you appreciate how much room Cat engineers had to allow for this 177-hp powerplant. From crankcase bottom to turbo casing, the engine stretches out under the hood, seeming to leave little room for under hood cooling. Cat engineers got that under control as in all of our test rides of the new Cat turbo sleds, we never elicited a hint of overheating.
We compared our test rides of the all-new turbo Cats to our initial experiences with Polaris' first 4-stroke turbo models. Polaris had some issues early on that we have yet to see in any of our Cat turbo experiences. We're guessing that Polaris' teething problems with its turbo served notice to Cat engineers about what to avoid. Of course, turbocharging is not new to Arctic Cat and Suzuki. Remember that Cat only recently discontinued its T660 models, which relied on high-boost turbocharging to pull 110-horsepower out of a 660cc three-cylinder motor. The new Cat turbo motor came ready for a boost as its stout features should have served notice to astute snowmobile mechanics that the base Jaguar Z1 twin was destined for a power enhancement.
Trail Wise
Powerful as it is, what stands out for touring snowmobilers is just how amenable to trail touring the high-horsepower twin can be. Yes, it will spit snow and get you quickly past a fleet of rental sleds strung out on a trail. But, if you want to join that long line of sightseeing rental riders and dawdle along, rest assured that the TZ1 can handle it in stride. It won't overheat. It won't foul a plug. But, it will be boring and we know you'll only take so much dawdling before you jam the throttle in and feel the boost climb as those rental riders and your blood pressure recede.
Don't be afraid to make some quick time in the sweepers and the twisties. The TZ1 isn't just a long straightaway cruiser. Thanks to the latest AWS VII wishbone suspension you can steer into, around and out of tight turns almost as well as a single rider on a Z1 Turbo sportster. Outfitted with RydeFX shocks and a stout sway bar to handle body motion, the TZ1 not only corners aggressively but also can ease over moguls thanks to its 9.5-inches of front travel.
Driver and passenger enjoy the benefits of Arctic Cat's suspension history which began in 1966 with the design of the industry's first production parallel slide rail suspension for the two-up Panther. Continuous evolution led to today's slide-action rear suspension with 13.3-inches of travel. The TZ1 Turbo Touring rear unit incorporates coupling blocks to keep the skis planted in turns and the track level under acceleration. Add in a twin-tube front suspension arm shock and a two-inch diameter rear arm shock and you can rest assured this two-up touring sled will ride well all day long.
Good Time Cat
With generous power, sport-sled handling, all-day ride comfort and a plethora of standard features, the 2009 Arctic Cat TZ1 Turbo Touring LXR stands out as a special snowmobile for the serious touring rider with a penchant for performance, no matter how you define it. If my experience with this speedy touring machine is any indication, you're going to feel pretty darn good about trail touring this winter.
2009 Arctic Cat TZ1 Turbo Touring LXR Specs
Engine
Arctic Cat/Suzuki 1056cc, turbocharged, liquid-cooled twin; 46mm single throttle body fuel injection
Horsepower
177
Drive
Arctic drive with Arctic roller cam ACT driven
Front Suspension
Arctic Cat double-wishbone A-arms; RydeFX shocks; 9.5-in travel
Rear Suspension
Arctic Cat slide-action with coupling blocks; hydraulic shock front arm; hydraulic 2-inch diameter rear shock with fiberglass overload spring
Length
128.0 in
Width
47.0 in
Ski Stance
43.0 in
Track
15 x 144 x 1.25
Weight
N/A
Fuel Capacity
10.8 US Gal
MSRP
US $13,999
Related Reading:
2009 Arctic Cat Z1 Turbo Review