2009 Arctic Cat Z1 Turbo review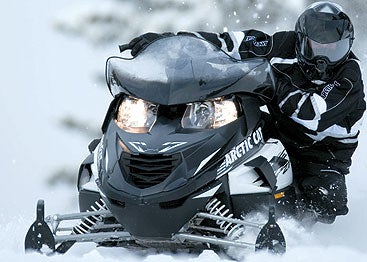 Arctic Cat brings something special to the trails next winter
Can a 177 horsepower snowmobile be an everyday ride for the average snowmobiler? Absolutely! The most amazing thing about the most powerful production snowmobile to ever hit the trails is just how versatile and adaptable it is. If you are a true Arctic Cat fancier then you would expect nothing less than what we found in the 2009 Z1 Turbo.
While we toil mostly on the snowmobile side of things here at the top online purveyor of all things powersports — Snowmobile.com and sister sites snowmobile.com, PersonalWatercraft.com and Motorcycle.com — we have firsthand knowledge of Arctic Cat's equally impressive Thundercat 1000 all-terrain four wheeler, having test-ridden it for snowmobile.com last year.
Arctic Cat's new sled and its new ATV have one thing in common — power! The 2008 Thundercat ATV boasts 188 pounds-feet of torque. The Z1 Turbo snowmobile boasts 177 horsepower. Brawny beasts they are, but totally manageable by any rider. Of course, the more experienced the rider, the more enjoyable the experience.
In past years snowmobiles like the high-performance Z1 Turbo would be limited to just those snowmobilers who demand all-out performance and had the time to devote to keeping such peaky beasts in tune. We believe, however, that any snowmobiler can happily co-exist with this Cat.
From what we can tell in our first two test rides of the Z1 Turbo, this sled is a simple turnkey machine. Put fuel into the ample 10.8-gallon tank, hop on board, twist the ignition key, slip in the throttle to engage the drive clutch and off you go. You can idle down the trail or push the throttle all the way to the curved handlebar for a literal rush across the longest lakebed you can find. The Z1 Turbo gives you as much or as little performance as you demand. Fortunately there's a big speedometer throwing numbers back at you. Check it occasionally as this machine is not simply fast, but smooth and fast, which means you could be moving a bit quicker than you might think.
4-Stroke Base
The Z1 Turbo powerplant is based on the 4-stroke twin that appeared in the 2008 Jaguar. Some snowmobilers wondered why the Jaguar engine seemed so overbuilt when it first appeared. Cat engineers smiled coyly as marketing types unveiled the Z1 Turbo to us at the 'sneak peek' this past January. The reason for the beefy twin was obvious. The Suzuki-built 4-stroke jumped from 125-hp in base trim to 177-hp with an intercooler turbo and nine pounds of boost.
Measuring the same 1056cc displacement as the Jaguar's non-turbo assisted twin, the Z1 Turbo powerplant retains features like Arctic Cat's electronic fuel injection and dry sump lubrication system. Although built by Suzuki, Arctic Cat engineers state that the base 4-stroke design is a collaborative effort specified by Arctic Cat. They make it clear that though they may have looked at various pre-existing Suzuki 4-stroke designs they felt it best to have an engine design expressly suited to the unique needs of snowmobiling.
Both Yamaha and Ski-Doo have taken a similar stance. Yamaha's Vector and Nytro 4-stroke engines are snowmobile-specific motors with three cylinders and ample torque for low through midrange performance. Ski-Doo's all-new Rotax-built 4-stroke triple was also designed specifically for snowmobiling. Like Arctic Cat, these companies have converted 4-strokes from other powersport applications to use in their snowmobiles with varying degrees of success. Arctic Cat borrowed a 660cc motor from Suzuki's mini-cars. Yamaha's original RX-1 borrowed a four-cylinder engine from its own R1 motorcycle. Both Ski-Doo and Polaris tried motors from their ATVs to power some sled models. It would seem that the results of these experiments convinced the sled manufacturers that 4-strokes designed specifically for snowmobiling make the most sense.
Z1 Turbo
Arctic Cat's Z1 Turbo performance levels demand more sophistication than the non-turbo 4-stroke version. You'll find dual 46mm throttle bodies for nearly instantaneous response reacting to orders coming from an all-new electronic control unit. Arctic Cat engineers carefully mapped this program to provide excellent all around performance whether you are trail riding in Minnesota lake country or busting powder at 10,000 feet in the Colorado Rockies.
To handle this 20-plus horsepower increase, engineers revamped the Z1 Turbo drive clutch spider. It now features wider cam arm pockets to accept the use of heavier cam arms. While the average snowmobiler will be more than satisfied with the out-of-the-box performance of the Z1 Turbo, serious tune-it-yourself riders may want to tweak the sled's overall performance and drivetrain efficiency.
If you step back and admire the Z1 Turbo on a showroom floor, you'll notice that its hood seems more aggressive than other F-Series Cats. Part of that comes from the serious black color, but some comes from the carefully placed air inlets that help give this Cat some serious attitude.
More Than Power
Make no mistake about the 2009 Arctic Cat Z1 Turbo. It is more than simple brute power. This machine rides and handles exceptionally well. Obviously Arctic Cat engineering was stung by previous negative comments about the F-series cornering and overall handling, upon which the Z1 Turbo is based. The entire litter of 2009 Arctic Cat F-series models feels all new as Arctic Cat engineers worked diligently on handling. On paper the changes seem quite minor. On the trail they are masterful and complete, resulting in a night and day change from 2008 to 2009.
Perhaps it was the drastic change from the low-slung Firecat to the tipped Twin Spar chassis of the F-series, but longtime Arctic Cat enthusiasts didn't welcome the change to 'ride-forward' seating. Many Cat fanciers took an immediate dislike to being seated up to a foot closer to the handlebars in what Arctic Cat calls a 'neutral portion of the machine'. The seat and handlebar were all new. The design actually placed the rider in the sled's 'sweet spot', but Firecat veterans refused to give up on the low, legs forward experience. If those Cat fans can't accept change, Arctic Cat offers the Crossfire R with seating similar to the older Firecat design. We'll take the F-series, especially now that they ride and handle so darn well.
The Twin Spar chassis gives riders a sled that is 46% stiffer than the Firecat design. Along with increased torsional rigidity come features that make it nearly impossible for a rider not to be comfortable. The seat is adjustable. The handlebar is adjustable. The footrest on select models is adjustable. If you can't get comfortable on this sled, you aren't trying.
We will admit that in test rides of various Arctic Cats with the seven-position adjustable seats, we found some versions much easier to adjust than others. That has to be a quality control issue in the manufacturing process. We suggest that Arctic Cat take a serious look at it, because when the system works easily it is a superb feature. When the system is recalcitrant, it is a major frustration. We found the handlebar and its 11-positions of adjustability worked simply and easily on the various test models.
We also enjoyed the heated seat cushion that comes on the LXR version of the turbocharged Cat. Simply hit the dash-mounted rocker switch for butt-warming.
Slide Action Suspension
Because this is a performance sled, Arctic Cat borrowed features from its Sno Pro racer's Slide Action rear suspension. The key feature here is the half-inch of sliding movement that effectively prevents the front arm from torque locking during acceleration. You will notice this design feature when hitting the throttle for full acceleration out of a corner. The skis stay planted. The reverse is true when braking hard into a turn. You will feel the suspension work with this sled. The engine's torque wants to kick the skis up and the suspension fights to keep them down.
Protecting your fanny from spine-jarring bumps is handled by the redone rear suspension. For 2009 the Slide Action suspension features a revised rear arm location. It has been moved back to allow not just an increase in top speed but an overall improvement in handling as well. This refinement led to changing the position of the rear suspension brackets and also relocating the mounting points for the rear shock pivots. Those changes required using a longer front arm shock and lengthening the front arm limiter strap. One thing truly did lead to another… and another.
Ride control was exceptional on our test Z1 Turbo as the Arctic Wishbone front suspension worked smoothly through its 9.5-inches of travel. There are 13.5-inches of travel available from the rear suspension.
We also liked the sled's smooth and easy steering effort. Some of that ease of operation may be the result of Arctic Cat's decision to use solid roller bearings instead of plastic friction bearings in the steering assembly. A progressive ratio designed into the steering gives you a sensation of having power steering. Combine the easy steering with great bite from the carbide-edged wear bar on the single runner skis and you have a sled that grips corners like a scared kitten on a cashmere sweater.
Bottom Line
Overall, the Z1 Turbo is much more than just a 177-hp power sled. It is a great all-around ride that can dawdle out to a weekend wienie roast or scorch the ice for a 100-mile per hour shot down the lake. Arctic Cat has created an instant classic in the Z1 Turbo. But if you have to share the excitement of a turbocharged Cat with the family, just remember that this same basic power package comes in a two-up version – the TZ1 Turbo.