2011 Arctic Cat Bearcat Z1 XT LTD Review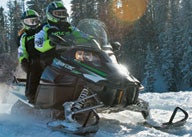 This Bearcat enjoys a split personality
When we went to visit Arctic Cat's "what's new for 2011" reveal in Minnesota last winter and then again at the West Yellowstone "photo/ride" session last March, we found that Arctic Cat spokesmen held their cards tight to the vest, not willing to give up much information about truly new sleds. Instead, the corporate spokesmen and engineering staff pointed to the slightly rejiggered models being offered for 2011, all the while smiling and hinting that things would be different for 2012.
Fast Facts
Engine Type:Horizontal In-line
Cylinders:2
Engine Stroke:4-Stroke
Valve Configuration:OHV
Displacement:1056 / 64.4
Starter:Electric
Turbocharged:No
View Full Spec
Oddly, even though most 2011 Arctic Cats seemed to have gained a season of technical upgrades in EFI mapping, shock and suspension settings and the obligatory BNG — bold new graphics — there were some real changes on the utility side of Arctic Cat's model line. The Bearcat line certainly won't set the sales charts afire, but nonetheless, there was action there. Arctic Cat spent some serious engineering time creating a very enterprising Bearcat Z1 XT Limited model, which is actually more tragically hip touring than solid workhorse. And, we liked it, a lot!
The nifty thing about the all-new for 2011 Bearcat Z1 XT Limited is the sporty platform that lies at the heart of this sled's charm. Even in its strictest utility guise as Bearcat 570, Arctic Cat engineering staff gave the relatively new design a sense of sportiness that puts the base line ahead of most other utility sleds. Make no mistake, this is a serious working chassis, but Cat engineering added a little spice in the handling department. It is a pleasant sled to ride. No, it won't replace the grand touring type models, but it can compete as a serious touring entry where you need to blaze your own trail.
The Limited is dressed up and can be taken virtually anywhere there's snow. First off, it's a handsome sled decked out in what Cat calls "Desert Red," a kind of burgundy or merlot red combination. The styling leads from the cab into a slash of color on the driver's cushion. The entire seating section stretches out long and wide to accommodate up to three passengers. Of course, the rearmost two sections can be removed if need be. Behind the rear cushion sits a special storage bag encased inside the wraparound bumper.
When you sit on the Limited, you'll note a couple of things right away. First, the seat sits higher than you'd expect. This gives you great legroom and allows you to sit upright like you would in an SUV. This reflects the fact that there's under seat stowage for things like towropes, come-alongs, a hatchet and such utilitarian necessities. You'll also note that the Limited's driver cushion is heated, which can flat out spoil you rotten. Yes, of course, this is overkill, but you'll take to it and then wonder how you got along without it.
Sitting upright behind the flattish bars, you'll enjoy the benefits of a wide and tall windshield that can block out a Thief River Falls, Minn. blizzard. Arctic Cat does big windscreens as well as any sled company we've ever seen. You'll have twin rearview mirrors to keep track of a tow sleigh or a caravan of sleds following you as the four-stroke drive system powers through unbroken snows.
The big twin cans of this Suzuki-built, liquid-cooled one-liter engine deliver excellent low end grunt, which is helped along with low gearing in the Arctic Cat engineered clutching. You'll find top end shy on this utility-bred model, but low- to mid-range running is excellent.
The fuel injected, twin 48mm throttle bodied engine puts excellent grunt to the 20-inch wide track. Measuring 154-inches in overall length, the Cat's paw print grips groomed or ungroomed snow with the claws of its 1.38-inch rubber lugs. This long and wide track spins around Arctic Cat's articulated dual rail slide suspension. The rear section of this suspension can maneuver up and over obstacles to help keep the sled from auguring into the snow when reversing.
The wide front end is a familiar look as it is Arctic Cat's seventh iteration of the company's double wishbone ski suspension. The stance can be adjusted from 40 to 44 inches in width. And the standard skis measure eight-inches for flotation. The ski suspension's hydraulic coil-over shocks control up to 8.5-inches of travel. The rear suspension features 13-inches of travel that is controlled via a two-inch diameter rear arm shock and adjustable torsion springs, plus a moveable fiberglass overload spring.
As with most of the modern Arctic cat snowmobiles, the Bearcat Z1 XT Limited, which was intended as a "spring only" purchase, offers ride forward positioning. The floorboards are wide and offer plentiful room for all three passengers.
This sled is devoid of pretensions even as it takes the base utility Bearcat a step into the touring world. There is a serious looking tow hitch that lets you know that at its heart, the Limited is a work sled, despite its good looks. But this is a work sled that we'd enjoy having as it offers all the bells and whistles of Cat's serious touring models. The heated seat, the push-button reverse, the electric gas gauge, complete electronic information gauge for trip metering and speed, sturdy protective bumpers front and rear, accessory plug-in, and the hydraulic disc brake all combine to make this model very special.
On the trail the sled tracks well, partly because this is a solid and weighty runner, but also because the suspensions work together to give you good on- or off-trail control. Your body leaning won't make a great deal of difference with this sled, but it tracks well so you don't need to throw body-English at it. The engine purrs and powers down long corridor trail lengths at speeds that will be fast enough to get you a ticket. It will also decelerate smoothly into a turn and power out easily as the fuel injection mapping works really well for on-trail running.
The 2011 Bearcat Z1 XT Limited is a unique animal in the Cat line and in some respects it can be a serious option to the two-up touring Cats. We couldn't help but wonder what adding in a turbocharged Z1 engine would do for this sled. Now that would turn this already nice kitty into a seriously unlimited one.
2011 Arctic Cat Bearcat Z1 XT LTD Specs
Engine
Arctic/Suzuki 1056cc, 4-stroke twin; electronic fuel injection with dual 48mm throttle body; CD ignition
Horsepower
125-130 (estimated)
Drive
Arctic rpm-sensing drive and roller cam secondary ACT drive system
Front Suspension
Arctic AWS VII A-arm suspension; hydraulic tube shocks with coil-over-spring; 8.5-inches of travel
Rear Suspension
Arctic articulating slide-action parallel rail slide with twin-tube hydraulic shock on front arm; 2-in diameter tube shock on rear arm; adjustable fiberglass overload torsion springs; up to 13-inches of travel
Length
137.0 in
Width
52.0 in
Ski Stance
40.0 to 44.0 adjustable
Track
20 x 154 x 1.38
Weight
NA
Fuel Capacity
17.0 US Gal
MSRP
US$11,999/C$14,499
Related Reading
2010 Arctic Cat Bearcat 570 XT Review
2009 Arctic Cat Bearcat Z1 XT Review
All Things Arctic Cat on Snowmobile.com