2012 Arctic Cat ProClimb M800 Review [Video]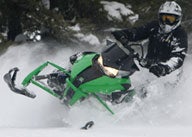 Reinventing the M8 and making it better in all ways
Everyone knew it was only a matter of time for the Arctic Cat M series to change. With the sales luster of the new Polaris RMK, the mighty "M" had to change. New is only "new" for 5 years, beyond that, luster fades and gives way to "old".
Fast Facts
Engine Type:Horizontal In-line
Cylinders:2
Engine Stroke:2-Stroke
Valve Configuration:Reed Valve
Displacement:794 / 48.4
Starter:Pull
Turbocharged:No
View Full Spec
Arctic Cat's M8 has a storied history of winning new riders into Cat's lair and winning on the Rocky Mountain Snowmobile Hillclimb Association (RMSHA) circuit. Even so, the M8 had become a mature snowmobile, and the target the other manufactures shot for (shall we call it, the standard), its rich life as the "M" came to an end when season 2010-2011 ended. But has the mighty M's mission ended?
A New M
Enter stage right Cat's new 2012 M8, very un-2011 M8 looking, but traditional M8-nimble and M8-balanced. Cat's new M8 is a product built on heritage and pride, where the engineers at Cat's mountain program did not forget what made its M8 famous. Before you dive to the next paragraph, you may not have picked this up from Cat's website, but the M6 is history. So, for the two-stroke world from Cat's mountain arsenal, M8 is your only choice.
Cat started with a clean sheet of engineering paper – to build a new rigid and balanced chassis. Then M8 project staff gathered all that was right with the 2011 M8 and inked these into the new 2012 M8 and christened the chassis, "ProClimb." Is it still an M? Yes? Is still an M? No. It is its own mountain Cat with plenty of "old" M8 DNA.
Was it easy for Cat to improve near perfection? Uh, no! From Cat's tales of sleepless nights and the fear of building a mountain sled that was not better than its existing product, drove the project leads to work hours without food and drink, they are stick figures of there once former selves.
Some Particulars
The ProClimb M8 retains Cat's dependable Suzuki 800 high output (HO), battery-less electronic fuel injection (EFI) twin cylinder two-stroke motor that growls out 160-plus horsepower. It also retains Cat's Powerclaw track with 2.25-inch lugs. It also retains the 2011 M8 weight. No, it is not heavier than the 2011, nor is it lighter. And that is good; it is a hard to promote a new mountain snowmobile that is heavier than the one it replaces.
Also of rider importance, is that Cat retained its 13-position telescoping handlebars mated to a vertical steering post, which was no easy accomplishment. This steering configuration is for the Sno Pro and HCR chassis only, not the Standard M8.
Two years prior to the ProClimb coming to fruition, we boldly told Cat, in candid face-to-face discussions in Colorado and Montana, that if they install a laydown (horizontal) over-the-motor steering post on its new mountain Cat, then expect to read about our dismay and disapproval. The laydown steering post was both a battle and reality for the ProClimb M8 Sno Pro, but in our mind at Snowmobile.com, that reality should not be real.
Arctic Cat proudly reported at the 2012 unveiling that it engineered into the ProClimb M8 Sno Pro a vertical steering post. Cat did say this came to be, mostly, because of Snowmobile.com's insistent pounding. That may be true, but we tend to think, mountain riders and Cat's many M series dealers did the same. As earlier written, the vertical system is only available on the Sno Pro. The standard M8 receives the laydown post.
As with all the snowmobile manufacturers, building a common platform is smart business thinking. Automobile manufacturers work from a common platform and build specifics from it. For the snowmobile world, our case in point examples include Ski-Doo's XP chassis, Polaris' Pro chassis and Yamaha's FX chassis.
To give the ProClimb M8 a low center-of-gravity (CG) – liken to the 2011 M8 with direct drive – Cat mounted the motor as low as possible into the bulkhead that a crossover jackshaft would allow. When capitalizing on centralized mass wisdom (drivetrain, rider position and steering), no room was available to stuff a steering post behind and under the motor. Yet, the ProClimb mountain team found a way, and molded a common cockpit piece the M8 and other ProClimb (and ProCross) snowmobiles could use. To that end, Cat did not forget what made the M8 Sno Pro a popular mountain sled with its flat (motocross bike like) steering rotation.
If you did not pick up what was written above, Cat nixed from the ProClimb M8 its Diamond direct drive system. For us at Snowmobile.com, that was a huge "Whaddup with that?" After hearing so much direct drive wisdom for years from the Cat mountain team, our bodies locked up in the ultimate ice-cream brain freeze. However, give credit where credit is due. After numerous winter seasons tracking and trending track dyno results, Cat learned of all things, the old school crossover jackshaft system was more efficient at delivering power to the track than its direct drive system, from three-percent to five-percent better. Now, if you have read our M8 articles of yesteryear, we pumped our fists at the direct drive's efficiency and utility. But at Cat, testing proved efficiency was not as efficient as originally thought. So, tried and true trumps new.
To reduce engine rocking and clutch misalignment under load, the ProClimb M8 has a torque sensing plate (a link system) that holds the motor and clutches (alignment) taut.
Also new to the ProClimb M8 is a new ski that is narrower than the 2011 ski. We hold opinion close to our shirt pocket on this new ski, as we have not had hours and days on the ski to fully understand its characteristics.
The new M8 has a unique look, with fluid sweeping lines that sweep back from nose to tail; its sculpture makes it look fast – moving forward. Cat's in-house design team, working with molding clay, computer graphics and artist renderings, landed on a design that, according to the other OEMs, is bold and crisp. One competing OEM, who wants to remain anonymous, said, "Cat nailed the M8's new design."
Up front, Cat moved the M8's A-arms up and gave the lower and upper arms a large gap between. With its tall spindles the A-arms are high above the ski saddle and spaced far apart from each other. The tall and fixed spindles give the M8 stability, and flat cornering that reduce ski lift.
If you've watched Cat's 600 Sno Pro raced by Tucker Hibbert, you can visualize Cat's ProClimb M8 and its front suspension – tall spindles. Be careful not to assume the ProClimb M8 is a stretched Sno Pro snocrosser stretched for mountain use, it is not. The ProClimb M8 is specific for its intended purpose.
The 2012 M8 is as nimble and as agile as the previous M8s, and we at Snowmobile.com have defended the M8's quick and light feet. However, with the installation of a crossover jackshaft, the 2012 M8 has a higher center of gravity (CG), so when applying muscle to roll the chassis into a hill, the new M8 quickly hits its sweet spot, but will dump over quicker than the former Diamond Drive equipped M8s (Diamond Drive Ms had a lower CG due to the direct drive's lower mass, near the track drivers); mountain sleds live in a world of compromises. So, if quickly nailing the balanced sweet spot is your want, then the ProClimb is your hammer. What does this mean? The 2012 M8 is more like its competitors than dissimilar; the chassis is quick, and very much a tree picker and tech runner.
From The Saddle
Foot placement, that is navigating the runningboards, is different – not wrong, just different. We learned to place our feet farther from the toehold wells than on the 2011, this only by two to three inches. Wrong foot forward riding also requires the foot being away from the toe hold wells. The ProClimb M8 has a touch of 900 King Cat flare with its crossover jackshaft CG.
If riding the Sno Pro or HCR, maxing out handlebar height is not necessary with the ProClimb's high CG; a mid-set or lower handlebar setting is best. Yet, this is also wholly dependent on body- and torso-height, and your technical-riding comfort zone.
The Standard M8, though we did not have seat time on one, will have handlebar rotation that is more car-like. Is this adaptable? Yes, but for the Standard, we can't give an opinion.
The new seat on the ProClimb M8 is tall and firm, but we found its squared-edge flat-top to be odd feeling when sliding from right to left and back. We believe a more rounded top would accommodate side-to-side movement better without the square edge separating the cheeks. And for me only, I like a rough and tacky seat covering. Unlike the 2011 M8, the ProClimb lacks seat storage. That was another Cat departure that left us tapping our head in wonderment.
Here is a snapshot that defines the differences between the Standard, Sno Pro and HCR. But first, the common features:
• 800 H.O. Suzuki twin two-stroke with battery-less EFI with 46mm injectors;
• Bore and stroke measuring 85mm X 70mm for 794 cc;
• Six-post drive clutch with a roller driven;
• Radial Master hydraulic disc brake;
• Powerclaw track measuring 15-inches wide with 2.25-inch positive and negative tilted lugs;
• ProClimb seat, tunnel, spindles and A-arms.
Standard M8
Black in color. Hoziontal – laydown – steering post with mountain strap; non-telescoping. M rear suspension with Tri-hub rear axle system, FOX Zero Pro (IFP) shock on front arm, Coil over FOX Zero Pro shock on rear arm.
Arctic Race Front Suspension with FOX Zero Pro (IFP) shocks; ski-width an adjustable 40- to 41-inches. Travel is nine-inches.
M8 SnoPro
Green or orange in color. Vertical, telescoping steering post with mountain strap. M rear suspension with Tri-hub rear axle system, FOX Zero Pro (IFP) shock on front arm, FOX Float 2 shock on rear arm. Rear Travel is 15.5 inches for the 153, and 16.5 inches for the 162. Only the Sno Pro is offered in a 153 and 162.
Arctic Race Front Suspension with FOX Float 2 shocks and sway bar; ski-width an adjustable 40- to 41-inches. Travel is nine-inches.
M8 HCR
White and green in color. Vertical, telescoping steering post with mountain strap. M rear suspension with Tri-hub rear axle system, FOX Zero Pro (IFP) shock on front arm, FOX Float shock 2 on rear arm. Ice-scratchers are standard.
Arctic Race Front Suspension with FOX Float EVOL shocks and sway bar; ski-width an adjustable 42- to 43-inches. Travel is nine-inches.
Short heat exchanger.
No More Rumors
The tall spindles should not be a worry. Through thick vegetative trees, I pushed the 2012 M8 HCR through crap I would have with a 2011 M8 Sno Pro. No problems. Remember folks, Cat was the first to offer mountain snowmobiles with A-arms – the company knows what it's doing. Also, many riders in our history had a hard time when Polaris, Yamaha and Ski-Doo moved from trialing arms to A-arms; it all worked out just fine.
The nixing of the Diamond direct drive is not a concern, though we have heard grumblings. The 2012 M8 with crossover Jackshaft works well. The M8 is fresh on the snow and pulls up out of the deep pow pow with fine fashion. The drive train is efficient.
Yes, the new Pro Climb M8s weigh the same as the 2011s. That is good news. The 2009 through 2011 M8s were light. Cat did not go backwards here. In our hands, Cat gives a light mountain sled.
In Closing
As written earlier, Cat did reinvent its M8. Through this, Cat did not loose the M8's personality. However, in one area they did improve – ride. The M8 holds a line on a trail, and floats the dips and moguls with control and comfort that knocks the former M8s off the grid. The ProClimb is a much controlled mogul masher. The ProClimb is a more rigid chassis, not giving in to body sway and yaw. The ProClimb M8 is smartly balanced. Now, naysayers will cry foul that the ProClimb is not lighter than its predecessor. To me, so…. it is not heavier. It holds a lightweight number where durability is built in. If you want to ride a light snowmobile, maybe lighten up the rider.
Cat did depart from the Diamond direct dive system, which is a shock for some. But, Cat would not have returned to it if the old school technology did not prove dependable, efficient and reliable.
I've heard and read some criticisms about the tall spindles and A-arms that these are going to hang up on tree branches and scrub oak. We call pooey on that. Tree branches and scrub oak is no respecter to height and snow levels. I've snagged hidden tree branches with all A-arms. The tree branch argument is a silly argument, really. When Polaris moved from leaf springs to trailing arms, many old schoolers bemoaned over the same issue. It became a non-issue.
The new ProClimb M8 is wicked looking. Its fit and finish eclipse the Ms of yore. The new mighty M is fluid and true to the M8's heritage of being bright, quick and smart.
In My Opinion— Sr. Test Rider, Kevin Allred
Arctic wraps up its successful journey with the original M8 and moves to a new chassis, the ProClimb M8. The past M chassis was a standalone chassis with parts not shared with Cat's fast trail sleds and cruisers (except for the Crossfire and CFR). After six years it was time for Cat to move a new chassis.
Given that, Cat has introduced a chassis that shares common parts with its trail and cruiser siblings; the main commonalty being the bulkhead, front suspension, plastic, fuel cell, and cockpit. Commonality helps keep manufacturing costs in check. However, the commonality concept concerned us at Snowmobile.com, simply because a mountain sled has very few things in common with its sister trail sled. Though other manufactures have successfully blended the "common chassis," we were anxious and nervous to see Arctic's version. In our opinion, not only did Arctic have to compete with other successful mountain sleds, they were competing with themselves, as the original M8 was a tough and proven competitor.
So how did Arctic do? What I found is that Arctic Cat simply and eloquently did an outstanding job. The ProClimb M8 maintains the necessary mountain amenities, including the proven and hard hitting 800 HO two-stroke power plant. Along with the motor, came a list of improvements over the current M8 such as much improved ride quality (thank you very much,) lighter steering, and improved rider ergos. Though our ride times on the M8 ProClimb Sno Pro and HCR were limited, I am confident in what I experienced. I torture-tested the new alloy in every malicious backcountry-riding situation I could find, and the ProClimb M8 took everything I dished out and didn't dish any torture back.
The ProClimb M8 Sno Pro and HCR hold on to the vertical style post along with the quick adjust height handlebars, which we came to enjoy on previous M8s. Another forward thinking feature is the tipped up gauge pod which gives the rider vital info when piloting in a stand up position. Also, Cat added a goggle-drying pouch by the steering post. Sweet.
There is a lot of speculation on whether the tall spindles will create sidehiling problems. Well for me, I picked up zero deflection; I was able to stuff the sled into a hill with ease.
All in all I feel Arctic Cat loyalists will be very happy with this sled.
2012 Arctic M 800 SnoPro 153 Specs
Engine
Arctic/Suzuki 794cc, two-stroke, liquid-cooled, twin; 46mm dual throttle body, batteryless electronic fuel injection
Horsepower
163-plus (on 91 octane fuel)
Drive
Arctic 6-post RPM sensing drive with Arctic roller cam driven
Front Suspension
Arctic ARS A-arm suspension; Fox Zero Float shocks; 9.0-inches of travel
Rear Suspension
Arctic M long travel parallel rail slide rear suspension with tri-hub rear axle; Fox Zero Pro shock on front arm and Fox Float on rear arm; up to 15.5-inches of travel
Length
126.0 in
Width
46.0 in
Ski Stance
Adjustable 40.0 – 41.0 in.
Track
15 x 153 x 2.25 Powerclaw (162 length available)
Weight
NA
Fuel Capacity
10.6 US Gal
MSRP
US $12,099
Related Reading
2012 Arctic Cat Snowmobile Lineup Unveiled
2012 Arctic Cat F1100 Turbo Sno Pro Limited Review [Video]
2011 Arctic Cat M1000 Sno Pro 162 Review
2011 Arctic Cat M8 Lineup Review