2012 Arctic Cat Snowmobile Lineup Unveiled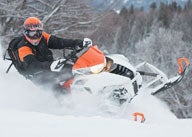 Bold new models built from scratch
A couple of years after leaving Polaris behind, Edgar Hetteen moved 90 minutes south of his native Roseau, Minn. to Thief River Falls where he introduced a new line of Arctic Cat snowmobiles. His 1962 launch built on principles learned as president and co-founder of Polaris. Now 50 years later, Arctic Cat engineers launch another significant set of snowmobiles built from scratch but showcasing lessons learned from parts of six decades of on-snow knowledge and experience.
The latest 2012 Arctic Cat models cover the top tier of today's performance spectrum — trail performance, crossover and deep powder. The more casual models for touring and utility are pretty much the same as before. But it's this top tier of performance Cats that will carry the load for 2012.
Right away you recognize these are not your everyday pre-2012 Arctic Cats. The styling is aggressively pointed with sharp angles. And, as if you could miss it, the newest Arctic Wishbone Suspension showcases tall spindles and skinny A-arms that sit further apart than any other set of upper and lower pieces in snowmobiling history. The front suspension shocks angle back slightly to maximize stroke to aggressively absorb bumps. As a result the steering feels light while lock-to-lock action is incredibly sharp. This Arctic Cat series carries shapely bodywork that belies clever engineering touches underneath.
Legendary Talent
Arctic Cat enjoys a legendary past where it's "Black Magic" once steamrollered racing circuits with drivers like Roger Jannsen, Larry Coltom, Brian Nelson and Kirk Hibbert. It was Arctic Cat that successfully brought the parallel rail slide suspension to snowmobiling. Arctic Cat was an early adopter of front-mounted engine placement, adding a bit of weight out over the skis. The early Panthers came with aluminum riveted construction. And right there to oversee this history from the early 1960s to today has been Arctic Cat's Roger Skime, who had started doing whatever jobs were needed. Today, Skime is Arctic Cat's legendary vice president of snowmobile research and development and his input into these newest models is everywhere.
As Arctic Cat engineers know, there is no off switch for Roger Skime, he is snowmobiles 24/7. He tries things that may or may not work — right away. He files away all manner of engineering ideas with the knowledge that something that might not work right now may work later when better materials come along.
One example of this thinking can be seen in the Torque Control Link, which is a plate that connects the power take-off side of the engine to the bearing housing of the jackshaft and is designed to keep consistent center-to-center distance and alignment. The idea comes from research done on a Firecat-based race sled years before. Incorporated into the design of the new ProCross chassis, the TCL helps improve belt life, allows quicker acceleration and more consistent overall performance.
As with many things in these new sleds, one change begat another. The torque linkage could only be used because Cat engineers went away from the planetary Arctic Cat "diamond" drive and replaced it with a more conventional but lightweight magnesium chaincase with changeable gears. The outer case cover houses the oil reservoir for two-stroke models and fits the oil tank for 4-stroke engined sleds.
New Chassis
The new chassis, called ProCross for the short track sleds and ProClimb for the powder-specific models, features a pyramid design frontispiece that mates with a unique two-piece tapered tunnel. Arctic Cat claims that this design adds rigidity to the sled's back end. The tunnel measures 15 inches across at the top but tapers outward to afford plenty of room at the runningboards. You'll note that the rearmost tunnel section is concave to give the heat exchangers ample flow of cooling snow.
The longer tunnel of the ProClimb models utilizes a modified version of the new front section that can accommodate the telescoping steering mechanism. The tunnel itself uses various stampings, forgings and castings to ensure rigidity with the added length.
Just as Polaris brought more of its race sled front suspension technology to the latest Rush-based Switchbacks, Arctic Cat borrows ideas gleaned from its racers. The new lower A-arms mount at a 30-degree angle from the chassis centerline, which provides optimal angles for cornering traction and a reduction in bump steer. The new A-arms are both thinner and lighter and made in one piece with ball joints to free up their movement.
You'll notice this change as a signature design of the top of the line 2012 Arctic Cats. As we discovered in test rides, the result is an effective, yet light feel with exceptional steering angles compared to Cat's Twin Spar models, many of which will continue into 2012.
New Nomenclature
Arctic Cat comes to 2012 with a new fleet of trail sports models and crossers. The short track ProCross models retain the "F" designation while the stretch track models will carry the "XF" designation. The mountain units with the ProClimb chassis will remain "M" models.
In addition to revised chassis and model designations, Arctic Cat's newest models come with only three engine choices. Deep snow riders lose the one-liter two-stroke but gain the 177-hp turbocharged 1100cc four-stroke in the new lightweight chassis. The 600cc two-stroker disappears to be replaced with the non-turbo 1100cc four-stroke twin, which develops more than 125-hp and 78-ft/lbs of torque. The popular and potent 800cc two-stroke remains and we'd imagine will be Cat's most in demand powerplant.
Arctic Cat expects the power-to-weight ratio of the F1100 or XF1100 four-stroke models to rival that of the old F-series and Crossfires that used the 600cc two-stroke twin. Versus previous year's models, Arctic Cat spokesmen said that the new F800 and F1100 are more than 50 pounds lighter, with the F1100 Turbo coming in at more than 60 pounds lighter than previous designs.
Mechanic Friendly
Simplicity appears to be paramount in this new breed of Cat. According to Arctic Cat mechanics, the new design is much easier to work on and key components can be accessed more quickly. Dealers and handyman consumers should like that.
What you'll find in these new 2012 Arctic Cats is a design conceived by an in-house Arctic Cat stylist that went from initial concept to finished design with only minor changes. The entire sled is designed to be both rider and technician friendly. New parts and designs were made to improve the rider's experience as a snowmobiler. The new hydraulic disc brake reflects "superbike" motorcycle technology as it uses a radial master cylinder and longer lever to enhance braking force. The driveshaft-mounted rotor is six percent lighter, but 12 percent larger than the previous brake rotor.
The rear suspension systems retain their inherent characteristics from previous models, but have been refined to fit the new ProCross and ProClimb chassis. You'll still have a slide-action rear suspension in the F models while you can get a Fox Float equipped rear suspension on Sno Pro versions of both XF and M series sleds for 2012. There's a new Tri-Hub rear axle assembly that is lighter and less complex than the two wheel assembly that was used before. The M models come with a new, lighter mountain ski with an increased keel for better cornering.
Top Market Segments
Arctic Cat's snowmobile general manager, Brad Darling, points out that the 2012 launch is designed to satisfy snowmobiling's top three market segments — performance, crossover and mountain. To achieve that goal, Arctic Cat engineers created underpinnings that with slight adjustments in tunnel lengths can meet the needs of serious snowmobilers looking to Arctic Cat as their performance leader. For 2012 there will a series of F-models using the ProCross chassis and available in Sno Pro performance or LXR sport/luxury attire. The stretch series of XF models and M-series will also offer Sno Pro packages as well. The powder set will get an aggressive HCR (hill climb racer) model with the 160-hp 800cc twin and Fox Float shock package front and rear.
In addition to the new for 2012 ProClimb and ProCross models, you can still find 2012 versions of the popular twin spar sleds such as the easy to afford and fun to ride fan-cooled F570. While most utility and touring models reflect graphic enhancements, Arctic Cat has taken the initiative to develop a unique trail groomer based on its four-stroke powered Bearcat utility model.
Aimed at clubs, businesses or organizations that groom narrow "feeder" trails, the 2012 Bearcat Z1 XT "Groomer Special" features an 1100cc 4-stroke twin that powers an extra-wide, extra-long 20 x 156 x 1.25-in. track. Unique features specifically suited for trail grooming include a front winch; a rear light bar with floodlight and beacon; an auxiliary radiator located under the seat; and a gooseneck or pintle hitch mounting designed to fit a matched groomer, sold optionally. Arctic Cat has already fielded many inquiries about this unit, indicating an underserved niche.
Arctic Cat's latest sled design will be available throughout the season at dealerships across the snowbelt, but special limited and 50th anniversary versions will only be available in an early ordering phase. Special models will include an XF Sno Pro High Country version that includes the M-series seat, skis and a 141-in track with 2.25-in Powerclaw lug profile. There will be limited editions in all black, orange and a special white with orange color scheme. You should check with your local Arctic Cat dealer for specific model and engine packages.
These newest models for 2012 promise to create a great deal of excitement among Arctic Cat enthusiasts as there is something fun and new for every riding style. Although pricing has yet to be announced, Arctic Cat noted that it would aggressively price its 1100cc non-turbo four-stroke models to compete with the competitions' comparable 600cc two-stroke models. Let that battle begin.
Having had a chance to see, touch and ride most of these new chassised 2012 Cats, we will admit to being impressed. The sleds we rode felt light and nimble, even the all-powerful limited edition F-1100 Turbo, which left us with an ear-to-ear grin and at a loss for family-appropriate words. We enjoyed one wickedly, hellacious ride. Fast. And it handled!
Don't take our word for it; head to a Cat dealership to check out what 50 years of on-snow experience and one very serious Arctic Cat vice president of all things snowmobiling has created for you. The only question you'll ask is, "Why did it take 50 years to get here?"
Related Reading
2011 Arctic Cat M1000 Sno Pro 162 Review
2011 Arctic Cat M8 Lineup Review
2011 Arctic Cat Z1 Sno Pro Review
2011 Arctic Cat CFR 1000 Review
2011 Arctic Cat F8 Review
2011 Arctic Cat F8 EXT Review
2011 Arctic Cat Sno Pro 500 Review
2011 Arctic Cat F5 LXR Review
2011 Arctic Cat Bearcat Z1 XT LTD Review