2016 Arctic Cat Pantera 7000 XT LTD Review + Video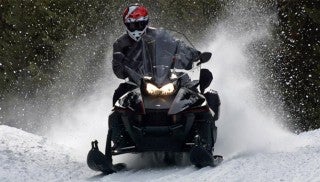 Extended Pantera adds greater utility
Arctic Cat figures that if its 2015 Pantera was a good thing, how about more of a good thing? For model year 2016 Cat introduces an extended version of last year's Pantera. It's quite a bit more in virtually every consideration.
Meet the 2016 Pantera 7000 XT Limited, the top of the line touring-utility snow vehicle that adds extra track length, an all-new three-speed transmission, an even more rugged base chassis and a boatload of standard features ranging from passenger hand warmers to side panel wind deflectors to an extra tall windshield and so on. But at US$15,399 you should expect a lot of sled for the money. Man, you get it.
First of all, what we'll call a TUV (touring utility vehicle) stretches 131 inches from nose to snow flap with a generous 50-inch width. This is a big sled, being at least five inches longer than the 2016 Pantera 7000. But this sled carries the DNA of both last year's Pantera touring unit as well as genes from the all-new 2016 Bearcat 7000. While it looks big and sits big, the Pantera XT Limited is surprisingly agile, like the Bearcat 7000. Admittedly the sled won't hug the trails and turn into quick tight corners like a short track RR, but it will motor impressively thanks to the 135-horsepower Yamaha triple under the hood.
Built on what Cat calls its Pro Ute utility chassis, the Pantera XT gives the underhood area plenty of room to house Yamaha's 1049cc four-stroke, a set of new-to-Cat TEAM drive and driven clutches, plus an all-new three-speed transmission. The joystick-like gearshift tells you that this is not simply a long haul touring sled, but a utility one as well. Matched to the engine's torque and the TEAM clutching set up, the Wide Range three-speed tranny goes one gear lower than any other sled in the business. The lowest range should give you incredible grunt for pulling a woodshed load of firewood or whatever you have in mind. The system is designed to give you a normal range, a low range and that super-low range, plus push button reverse.
By switching from its own clutches to the new TEAM drive and driven, Arctic Cat manages to cut drive belt heat, slippage and a myriad of other issues that haunted a number of Cat models in previous seasons, plus the new WR3 transmission works smoothly with the TEAM system. Of course, it should as Arctic Cat and TEAM engineers worked together to develop this new tranny and worked to eliminate belt skid that raises belt temps, diminishes belt life and reduces power to the track. This drive system is also standard on the Yamaha-powered Bearcat 7000 as well. So, let that provide some insight as to the real world use that Cat sees the Pantera XT meeting. This is a truly plush Bearcat.
COMPARISON: Read our review of the 2015 Ski-Doo Expedition SE ACE 900
At 131 inches in overall length, the inline bench seating accommodates three riders. Since this sled offers the automotive equivalent of third-row seating, we put the sled to the test by having three generous-sized riders test sit the XT. They probably wouldn't want to ride three-up from Maine to Vermont, but they could.
Making this ride palatable is a TUV-tuned suspension package. Up front is a touring version of the Arctic Race Suspension with its wide A-arm spacing and tall spindles. To control travel, Cat fits its own internal floating piston gas shocks to work through the suspension's nine inches of travel. The shocks are constructed of hard-anodized aluminum with a half-inch diameter shaft. Cat engineers upgraded rear end to a new Xtra-Action suspension package that allows rear skid articulation to better ride over obstacles, which is especially handy with a 20-inch wide by 154-inch long track. The XT rear suspension offers up to 13 inches of travel, controlled by internal floating shocks as well as adjustable torsion springs and fiberglass overload springing. With the extra-long track to bridge minor bumps and moguls and the touring-style tuning of the suspensions, the Pantera XT Limited proved quite comfy on the trail.
Although new for 2016, the Arctic Cat Pantera XT Limited does find competition from Ski-Doo's line of Expedition touring-utes. Both companies look more to Europe and, specifically, to Russia as the most likely territories for any significant sales. But, since new sled development can take upwards of three years to consummate, it would seem that what was a very healthy and growing Russian market when the XT was planned has stumbled some this past season as economics have fluctuated and sales are not as robust as in the recent past. When the market turns, Cat and Ski-Doo have products designed to meet that need.
COMPARISON: Read our review of the 2015 Polaris 600 Indy Voyageur 144
The Pantera XT Limited nicely combines the utility of the Bearcat with the nice-to-have features of the Pantera. The extra-long track, three-speed transmission and 20-inch track width will satisfy utility buyers. The long heated seat with adjustable backrest plays well for comfort-seekers. The Pro Ute chassis' single piece construction presents a flatter angle for the riders and gives them a wide and flat foot position that will be comfortable for extended miles on the trail.
Of course, what's good for the rider is equally good for the driver who can maneuver the stretch-tracked XT with the added leverage inherent in Cat's famed curved handlebar set. Equipped with mirrors, the XT lets you peer back when using the backup light as you slip into reverse. The windshield measures an impressive 19 inches of serious wind defection.
The Touring Ute Pantera XT Limited provides locking detachable side cases for saddlebag tours. If you want, you can even tow a trailer as the XT comes with a pivot tow hitch, which will likely get used to haul a portable ice house to an undisclosed secret fishing hole. The new for 2016 Arctic Cat Pantera XT Limited proves that utility can be functionally fun to ride. While we don't foresee a big US market for this sled, it is a worthy touring consideration that will take you just about anywhere you want to travel – groomed trails, ungroomed fire roads or back country routes to a favorite recreational cabin or fishing lake. The XT is incredibly stable, surprisingly agile for a 131-inch long sled and actually quite a bit of fun to ride.
2016 Arctic Cat Pantera 7000 XT LTD
Engine
Yamaha 1049cc, liquid-cooled, 4-stroke triple; 3x41mm electronic fuel injection
Horsepower
135 hp (claimed)
Drive
TEAM Rapid Response rpm sensing drive TEAM Rapid Reaction BOSS driven and wide range 3-speed transmission
Front Suspension
Arctic Race Suspension (ARS) with Arctic Cat internal floating piston coil-over-shocks; sway bar; 9-in maximum travel
Rear Suspension
Arctic Cat parallel rail Xtra-Action suspension; adjustable torsion springs; torque-sensing link rear arm; Arctic Cat IFP shocks; fiberglass overload springs; 13-inches of travel
Length
131.0 in
Width
50.0 in
Ski Stance
Adjustable 37.5 to 43.5 inches with dual skag 8-inch width ski
Track
20 x 154 x 1.375 Quiet Track
Weight
NA
Brake
Radial master cylinder with disc on driveshaft
Features
Standard: Three-speed transmission with reverse; electric start; deluxe digital gauge; accessory outlet; locking storage bags; adjustable curved handlebar; heated seat Optional: hitch; skid plate; gear and storage bags
Fuel Capacity
14.7 US Gal (87 octane)
MSRP
US$15,399