2015 Ski-Doo Expedition SE ACE 900 Review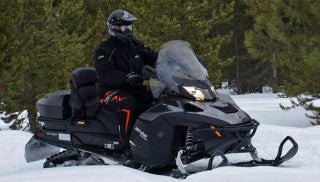 Taking the Grand Touring to extreme lengths
Amply featured and large framed describes Ski-Doo's 2015 Expedition SE 900 ACE. You probably thought we were describing a Kardashian. Sorry, we're just trying to keep up with the Ski-Doo models, which could be its own reality show.
Take the 2015 Expedition SE, depending on your outlook it could be described as the ultimate Ski-Doo Grand Touring or, more simply, the Grand Touring taken to extremes. Either way, the Expedition SE (for Special Edition) is the top of the multi-passenger, sport utility model line. For 2015 you'll find three variations starting with the value-priced Expedition Sport up to this no-option-left-behind "SE" version. The well-equipped Expedition LE sits between the Sport and SE, with whom it shares the wider and longer REV-XU "utility" platform. The lighter and narrower REV-XP chassis helps keep the price down on the Sport series. The Expedition SE starts out with a base price of US$13,299. You can add accessories and push the price up, but the "base" equipment is impressive on this 900 ACE powered model.
With 90 horsepower tops, the LE 900 ACE four-stroke triple manages to haul around the sled's 690-pounds quite well. We were impressed actually with this sled's overall performance. It gives you very smooth drive-offs and is geared to provide ample midrange performance. Don't expect scintillating top speed; it's not there. And it never was intended to have memorable top end.
COMPARISON: Read our review of the 2014 Ski-Doo Expedition Sport ACE 900
It was intended to provide excellent low-end grunt, which is made stronger thanks to the synchromesh two-speed transmission it borrows from Ski-Doo's Lynx sibling. It was Lynx (before Ski-Doo's acquisition) that developed the first syncro two-speed back in 1987. It evolved into a "go to" standard that's used on both Ski-Doo and Lynx backcountry sport/utility sleds. Other sled makers utilize a high-low gear setup, but only the Lynx version allows the smooth transition of a synchromesh design. Score one for the Expedition.
As is pretty much standard practice with a utility sled like the Expedition that is designed to haul people and cargo, the rear suspension not only accommodates a massive 20-inch wide by 154-inch long track, but articulates to allow the track to rise up and spin over obstacles when reversing. The feature also gives you improved go-ahead grip when getting underway with a sleigh in tow.
We didn't haul any sleigh loads of cut firewood, but we could have as the syncro tranny works very smoothly with the 900 ACE triple's torque, which engages at a low 2,200 revs. It's designed to peak at 7250 rpm, which is down substantially to the Rotax 600 ETEC's peak rev limit of 8100 rpm. But the Expedition model with that engine revs up to 3000 rpm before driving off from a standstill. This would certainly appear to be an "ACE" in the hole for the Expedition SE 900 ACE.
As a sport/utility sled, the Expedition must satisfy two worlds of expectations. As described, it has to be handy for chores such as hauling wood, corralling reindeer, bringing supplies to outlying overnight campsites, and transporting people back and forth from work sites or simply a remote fishing lake. The Expedition SE measures up.
But this sled also must provide a sense of "plushness" and that has been borrowed from Ski-Doo's world of touring sleds. Ski-Doo really understands the concept of touring and showcases it in the Grand Touring series. While the Expedition comes on a bulkier REV-XU utility and work chassis, it does bring aboard concepts from the wide body Grand Touring SE 1200 4TEC. For example, although the Expedition SE utilizes a more basic Motion Control shock package on its double A-arm front suspension, there is an air-controlled spring working on the articulated rear suspension. You'll also be able to set the steering in one of four comfort positions. The windshield sits 23 inches tall for excellent wind protection and heated handgrips afford a spot of luxury for the passenger. Add in an adjustable rear backrest and the Expedition SE makes getting away from it all more palatable.
2014 Arctic Cat Bearcat Z1 XT Limited vs. Ski-Doo Expedition SE 4-Tec 1200
Since this is the 900 ACE powered version, you get a few extra playthings. By pushing the console-mounted "mode" switch you give yourself three performance options from standard to Sport or Eco. The baseline setting makes the most sense for general riding, but you'll get longer shift holds with the Sport setting. The Eco mode may be worthwhile if you're in no special hurry and have a distance to travel with few gas stops along the way. That mode maximizes fuel efficiency.
And, while we aren't really a big fan of the "flip" throttle used on the 900 ACE equipped models, the ability to rotate the throttle around the bar and switch from a thumb operation to a finger operation may actually be beneficial in plowing through the backcountry with this sled. It allows you to be in a standing position and affords easier modulation of the throttle when weaving through wooded areas in deep snow.
As always, we find that Ski-Doo engineers understand the needs of snowmobilers as well as any snowmobile manufacturer in the business. Perhaps that comes from building light-footed snowmobiles since 1959 and over-snow vehicles since the 1940s. Whatever, the Expedition SE demonstrates its understanding of developing a sled for a specific niche of snowmobiling.
COMPARISON: Read our review of the 2014 Polaris Indy Voyager
Who's going to buy this sled? Certainly only a select few and they'll want it because it can track virtually any snow country. The Expedition SE can operate successfully in groomed, ungroomed, light snow or heavy snow areas. It runs on everyday 87-octane gasoline. It can operate in low snow or warm conditions thanks to its fan-cooled radiator, which kicks in to prevent overheating.  With its standard 650-watt magneto, the 900 ACE engine puts out plenty of juice for accessories. Under seat storage won't impact two-up ride comfort, but will definitely provide above average onboard stowage. With all the practical needs addressed, Ski-Doo engineers added those nice-to-have features like adjustable steering, air ride cushioning, two-speed synchromesh gear box with reverse, and ample suspension travel – 8.3 inches at the skis and 13.4 inches at the rear.
Not everyone will want or need the 2015 Ski-Doo Expedition SE 900 ACE, but those that do will find this sled a serious unit that offers everything that's practical and necessary for wilderness running. And more with touches of the Grand Touring added in as a plus.
2015 Ski-Doo Expedition SE ACE 900 Specs
Engine
Rotax 899cc, four-stroke triple; double overhead cam; liquid-cooled; EFI with 46mm throttle body; 3 engine modes (Sport, Standard, ECO); "learning" key; tuned exhaust
Horsepower
90 (claimed)
Drive
Ski-Doo/Rotax eDrive 2 with QRS driven; mechanical reverse
Front Suspension
Ski-Doo dual A-arms with spring over Motion Control shock; up to 8.3-in travel
Rear Suspension
Ski-Doo articulating SC-5U parallel slide rail with Motion Control center shock & Air Controlled Suspension shock at the rear; up to 13.4-in travel
Length
128.0 in
Width
46.9 in
Height
52.3 in
Ski Stance
42.4 in
Track
20 x 154 x 1.25 RipSaw
Weight
690 lbs (Claimed)
Fuel Capacity
12.0 US Gal
Brake
Hydraulic disc with stainless steel braided brake line
Features
REV-XU chassis; 4-position adjustable tilt steering handlebar with J-hooks; multi-function gauge; 2-up modular seat with under seat storage; 8-inch riser block; reverse; electric start; 23-inch tall windshield; mirrors; tongue type hitch; adjustable backrest
MSRP
US$13,299