1975 Polaris TC Vintage Review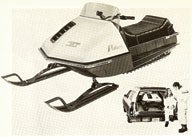 Small, compact and unloved by its target market
On a recent tour of the International Snowmobile Hall of Fame in Eagle River, Wis., we smiled as we walked past a very vintage 1975 Polaris TC. It caught our attention and we came back to it, noting what a nice job Brian Schiele of Eagle River had done in restoring this example of snowmobile history.
One of 30-plus sleds on display at the World Snowmobile Headquarters and home of ISHOF, the Polaris TC sat amidst much more powerful and much more successful models. But few can claim to be the first of a major sled maker's attempts at bringing snowmobiling to the mass of population located in the snowbelt's major metropolitan areas. The Polaris TC was specifically targeted at well-heeled, upwardly mobile junior executives who most likely had country club memberships but embraced powersports as well. Keep in mind, back in the early to mid-1970s Wall Street experts fully promoted the idea of a one million plus unit per year snowmobile business. But, as it would turn out annual sales of snowmobiles peaked in 1971 with annual sales of just under 500,000 units. By the time the Polaris TC was introduced in 1974, snowmobiles still showed annual sales of 435,000 units. Compare that to 2011 sled sales of about 130,000 units. Ouch!
Polaris marketers of the mid-1970s probably were smart enough to realize that the promise of million unit sales was untenable, but they hoped to move the sport a bit more upscale and into the suburban and metropolitan consciousness. The Polaris TC was not the only little sled of the time, but it was a serious attempt at downsizing a real sled to actually fit into a suburban station wagon, the minivans of their day!
What was Polaris thinking? Or, what were they drinking? Even in the 1970s snowmobiling was predominantly a rural thing. The outlying ruburbs and outstate areas were where snowmobiling had been born. Polaris itself sprang up in Roseau, Minn., a rural area that was closer to Winnipeg than metropolitan Minneapolis. The company's successes came from blue-collar small towns, not buttoned-down cities. But, Polaris executives and distributors sought new markets for expansion. They looked at the 40 percent of the 1970s U.S. population that lived in rural areas and compared that to the 60 percent potential of 22 million families that lived in the snowbelt's metropolitan areas.
Looking back at it, we can be dismissive now, but the executive-think of the early 1970s made sense. Why not snowmobiling? At the time the TC was born, there were nearly a million outboard motors sold in six of the biggest metro areas in the U.S.: Milwaukee, Minneapolis, Chicago, Detroit, Boston and New York City. That didn't even take into account other urban areas such as Salt Lake City, Denver, Seattle or Pittsburgh. Plus, Polaris and its distributors knew full well that metro buyers enjoyed off-road motorcycles and recreational powerboats. Why wouldn't the right snowmobile product appeal to these folks?
Also, keep in mind that the snowmobile industry through its lobby group, the International Snowmobile Industry Association, studied ways to encourage the growth of the sport. As late as 1984, a presentation made in Chicago to the ISIA on "How Changing Demographic Trends Will Affect the Snowmobiling Industry" indicated "…people have been altering their buying habits." The study indicated that shifting demographics could have serious implications for the snowmobile industry, but suggested responses for the industry. The study indicated the aging of the population into potential buyers. These buyers were probably too young and just starting careers at the time the Polaris TC came to market, negatively impacting success for the sled. But one of the key failures of the new concept may have been that no one offered a serious way to use the sled.
Although the 1975 Polaris 175 sold for a relatively "buy-able" US$699.50, the new owner had no local area in which to use his sled. Yes, the TC was designed to fit into a 1975 station wagon, but it still was only big enough for a single adult rider. That had to impact the family-friendliness of the sled. You'd need two sleds, which meant twice the price plus necessitated purchase of a trailer. Polaris and its distributors would gladly sell you two, but most country clubs were not snowmobile destinations as they weren't about to promote even these 10-horsepower sleds tearing around on their golf greens. So, where would a metropolitan consumer use the little sled?
One idea was creation of a snowmobile "marina," where a consumer could go and store his sled – or rent one like a TC for the day. The idea didn't really pan out. Not viable in 1975, the idea found some success later as some astute dealers like those in Old Forge, NY and other popular areas cater to metropolitan snowmobilers, who purchase a sled, have it maintained and stored at the dealership.
While history relegated the Polaris TC to the "tried, but didn't succeed" heap, Polaris marketers and engineers actually offered a pretty good product. The idea of a small, lightweight, low cost snowmobile has been tried off and on over the years. The Polaris TC came in 1975. The Yamaha Sno Scoot came about in the late 1980s, when sled sales were about where they are now. Ski-Doo brought out its low-cost, lightweight Freestyle in 2006. They too never achieved enough sales support to be called a success.
Like the Polaris TC, the Yamaha Sno Scoot and Ski-Doo Freestyle utilized proven and reliable technologies. The TC featured a steel chassis with a well-proven Polaris/Fuji Star single cylinder two-stroke as its power source. Weighing in under 300-pounds full of fuel, the 175cc could get the diminutive snowmobile to just about 30 miles per hour. With a power rating of 18 hp versus the 10 hp of the 175, the 250cc TC model could exceed that speed. Of course, the somewhat basic drum brake would make stopping an interesting proposition, but normal friction from the steel skis and 15-inch wide Goodyear rubber track would help almost as much.
The Polaris TC provided low and lean styling, finished off in a familiar Polaris livery of blue and white with red trim accents. The windscreen sat low, a racy look offset by a chrome handlebar. The headlamp was offset. The five-gallon fuel tank sat ahead of the rider. It all added up to a nicely styled machine that was completed with a race-styled seat with rear bun.
All in all, the 1975 Polaris TC was a soundly engineered sled that deserved a better fate, but so, too did the 1988 Yamaha Sno Scoot and 2006 Ski-Doo Freestyle. Those sleds all share a concept based on expanding the existing snowmobile market. As with the 1975 Polaris TC, what seemed like a good idea just never gained enough traction with non-traditional snowmobile buyers.
1975 Polaris TC Specs
Engine
Polaris/Fuji Star single cylinder in 175cc or 250cc 2-stroke; fan-cooled; Single fixed jet Mikuni carburetor (175cc) — adjustable jet Tillotson carb (250cc)
Horsepower
10 @ 5500 rpm (175cc); 18 (250cc)
Drive
Polaris drive and driven clutches with final chain drive
Front Suspension
Leafsprings
Rear Suspension
Bogie wheels — nine wheels on three shafts
Track
15–in width x 38-inch long Goodyear rubber with molded-in grouser bar design
Weight
275 lbs (claimed)
Brake
Polaris Drum
Fuel Capacity
5.0 US Gal
Features
Steel chassis, low windshield, 30-watt headlamp
Price
US $699.50 (in 1975 — US$3041.00 in today's dollars)
Related Reading
Vintage Yamaha SnoScoot – Video
A Future for Lightweight Fun Sleds
Choosing A Vintage Racer
1990 Polaris Indy Sport GT Vintage Review
1991 Ski-Doo Mach 1 XTX Vintage Review