1990 Polaris Indy Sport GT Vintage Review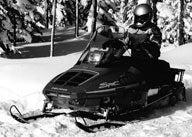 Proven Fuji power and a long 141-inch track
While a sled from model year 1990 doesn't seem all that old to us —actually it seems kind of new — but to anyone who can't legally buy a cocktail yet, it probably seems so last century. If you look at sleds of the early 1990s they do seem old. Nearly vintage. That got us to thinking about young collectors who might like to get started with a relatively easy fixer upper for a first time project. What sled would help them ease into enjoying a taste of the not-so old days?
While there are lots of sleds to fiddle with, we felt that a near vintage fixer-upper might make some sense, especially one that might enjoy a backlog of relatively easy to come by parts. The Polaris Indy came to mind as a sled that has been an icon in its history. That should mean that a would-be collector might be able to find relatively inexpensive samples of early Indys as they were the sales leader for more than a decade. Of course, some Indys may be worth quite a bit more than others. High performance models like a 1990 Indy 650 with Dial-Adjust rear suspension should command a higher price than a similar year Indy Sport with a 340cc fan-cooled twin.
An interesting sled of that era was actually an offshoot of the Indy Sport. The long-tracked version of the Sport, the 1990 Polaris Indy Sport GT could prove problematic to find, but it would offer an interesting history.
In model year 1990 Polaris offered more than a dozen models from the direct-drive Star to the triple cylinder Indy 650. At the low end of the 1990 spectrum you'd find the "Star" series that were based on the Cutlass platform that featured the direct-drive power train. This was the version that Polaris executives had intended to build when they negotiated to buy the company from Textron. A strange thing happened to that plan. Consumers wanted the Indy and although it was more expensive to build than the Cutlass/Star models, Polaris marketers wisely went with public opinion. The direct drive platform stayed around for a time, but it was the Indy that fueled Polaris to more than a decade of sales growth, making Polaris the Number One selling snowmobile in the world.
By 1990 the Polaris Indy had established the independent front suspension as the most popular design. Polaris engineering managed to mine gold from that platform, creating versions of the design to satisfy varied riding styles. By packaging different power systems with various track lengths, Polaris marketers created a good variety of "different" sleds.
The low buck Indy Sport shared the same basic front suspension concept as the performance Indy models, each featured a 36.5-inch ski stance, a 7.3-gallon fuel tank and similar styling. While the popular trail models differed in some ways, such as the use of a larger 11.25 gallon fuel capacity, they were all Indys and imbued with Polaris' very successful performance heritage.
While the base Indy Sport was the lowest-priced IFS sport sled on the market, the GT version differed quite a bit, despite the similar nomenclature. The base Sport and the GT shared a carbureted 340cc Fuji-built fan-cooled twin, but the engine turned a much longer track on the Sport GT. The base model spun a 121-inch track while the Sport GT featured a 141-inch track that could power off trail and provide a smoother ride for its designated two-up seating.
While it might be easy to envision the Sport GT as a lesser powered step down from the two-passenger 1990 Indy Trail Deluxe, that wouldn't be accurate. The Trail Deluxe featured a 133.5-inch track. It was tuned to handle the latest Polaris Dial-Adjust rear suspension. The Indy Sport GT featured a more basic parallel rail slide suspension. While the Indy Sport GT could accommodate two riders, it was conceived as a more utilitarian model that might prove attractive to fleet owners as rentals. It had moderate power that wouldn't intimidate first time riders, but its extra track length would most likely provide traction and length for a first time rider's skill level and keep them out of trouble.
Polaris promoted the 1990 Indy Sport GT as "…the first and only low-cost touring machine with IFS." In model year 1990, the Indy Sport GT came with a tall, protective windshield and a new hood and instrument pod.
While the base Indy Sport would have been more responsive and fun on the trails, the 340cc Sport GT with the standard rack and longer seat and track would have been very adept on the not-so-well groomed trails and fire roads of the day. The 340cc Fuji twin was a good and reliable runner and adequately powered both Indy Sport versions as well as the Sprint ES.
The benefits of rebuilding a 1990 Indy Sport GT are that it should have a nice parts backup since so there were so many Indys built over the years. It would be a bit unique and since it can carry two people, you could take a friend along to one of those old sled ride-ins that have been gaining in popularity in recent years. While not the most spectacular or historic sled in the annals of snowmobile history, the 1990 Polaris Indy Sport GT offers a good place to start out in sled restoration.
1990 Polaris Indy Sport GT Specs
Engine
Polaris/Fuji 339cc, fan-cooled twin; two VM30SS Mikuni carburetors; oil-injection; CD ignition
Horsepower
NA
Drive
Polaris drive & driven
Front Suspension
Polaris Indy parallel link trailing arm
Rear Suspension
Polaris parallel rail slide suspension
Length
118.0 in
Width
41.62 in
Height
45.0 in
Ski Stance
35.6 in
Track
15×141 rubber
Weight
NA
Fuel Capacity
7.3 US Gal
Features
Two-up seat (optional backrest); rack; high windshield
Related Reading
1991 Polaris Indy Lite Vintage Review
1991 Polaris Indy 650 RXL EFI Vintage Review
1980 Polaris Galaxy Vintage Review