2009 Polaris FST IQ Touring Review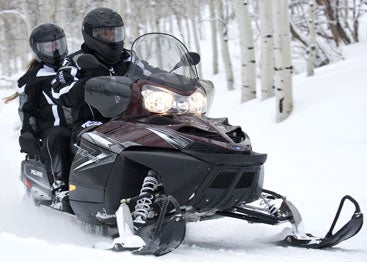 This high-miler comes loaded with gear and surprisingly potent turbo-boosted performance
The Polaris FST IQ Touring makes perfect use of the company's turbocharged 4-stroke twin. With 140 horses the 750cc twin has just the right blend of smoothness and performance to make this touring setup one of the best on the trail. With apologies to Ski-Doo, which has long understood the needs of serious high-mile riders, Polaris shows that it understands this niche of luxury snowmobiling as well. Smoothness with an infusion of testosterone counts with this buyer. When the long corridor trail stretches out ahead, this rider likes a little muscle flex from his throttle thumb and the Polaris turbo provides it with good on the move acceleration.
Fast Facts
Engine Type:Horizontal In-line
Cylinders:2
Engine Stroke:4-Stroke
Valve Configuration:OHV
Displacement:750 / 45.8
Starter:Electric
Turbocharged:Yes
View Full Spec
While the 4-stroke turbo and all its weighty plumbing might prove too much in an off-trail or performance sled where lighter is perceived as being better, the world of two-up touring accepts a weight penalty. That is as long as the perceived added weight is complemented with smoothness and other attributes of 4-stroke power such as ample torque, improved fuel efficiency and the car-like putter of the turbo twin.
Frontier Model
Not long ago, this writer and a former general manager at Polaris snowmobiles totally disagreed on the direction that Polaris was headed with the use of its Weber-based 4-stroke mill. This was a time when Polaris was coming off its trail-ready Frontier model, a sled that utilized an ATV-derived 4-stroke engine and had been quickly cobbled together in response to government action limiting the use of snowmobiles in Yellowstone National Park. Polaris' Frontier made the cut for sleds allowed in the national park. It was uniquely suited to running in the park with its stringently enforced speed limits and a need for quiet, fuel-efficient snow vehicles. It was a stop gap; a short-term solution to a long-term problem.
The Frontier — which we heard described as the perfect "birding" snowmobile, because it was so slow and so meek that it couldn't scare up a flock if you approached it — was simply not a keeper in Polaris' future.
Weber 4-Stroke
The plan was to bring in the European-developed and manufactured Weber multi-purpose engine. At 750cc from twin cylinders, the Weber offered a 4-stroke fix while Polaris developed its line of 900 and 750 Fusion-based sleds. Oops, we know how that went. And we felt that the Weber was headed in a similar direction because it evoked memories of the Frontier's powerplant. The general manager did not like the suggestion that the prototype Webers had all the sound characteristics of a lawn tractor. We simply pointed out that coming off the Frontier and looking to create some excitement with the Polaris/Weber 4-stroke option, the motor should sound better than a lawn and garden product.
We suggested that could be readily handled with exhaust tuning. Witness the guttural sound of the Yamaha 4-stroke triples and the motorcycle scream of their 4-stroke quads. Heck, Ski-Doo engineers devoted great amounts of manpower to getting its all-new Rotax 1200 4-stroke to generate a Formula One type pitch in the sportiest versions. To get its Jag 4-stroke to sound just right, Arctic Cat hired away a Ford Motor company sound engineer who had worked on the Mazda Miata project. If you recall, Mazda spent a lot of money getting a pedestrian sedan engine to sound like a retro English sports car.
Our point was that snowmobilers want a bit of romance in their trail sleds, long distance riders want something that sounds muscular, not utilitarian. As we have seen, the latest 4-stroke turbocharged models have a bit more muscle and a decided turbo sound. At least someone at Polaris understood. Perhaps, the Fusion debacle brought a bit of humility.
Trail Ready
Polaris engineering need not be humble about the Turbo Touring. It is a sled designed for long days on groomed trails. The seating is akin to a modern motorcycle deluxe touring machine. Maybe Polaris snowmobile engineers borrowed a bit from their Victory Vision motorcycle brethren. The Turbo Touring is wonderfully suited for making triple digit mileage between meals.
Built around a stretched version of the rider-forward IQ chassis, the Turbo Touring provides ample rider and passenger leg and arm room. The driver can select one of five handlebar positions thanks to the Ride Select system. Set behind a very functional windscreen with side deflectors to divert air from the driver's hands, the handlebar setup features multi-position hand and thumb warmers. The passenger gets adjustable hand warmers as well.
Comfort Ride
We really like the fact that Polaris settled on its own IQ 136 Comfort rear suspension and went away from the overly complicated M-10 design. Properly set up, the M-10 worked great. But we always felt that too few snowmobilers understood how to affect the best ride from that design. Unfortunately, count us in that group. The Comfort 136 design eliminates up to four steps and nearly 10 minutes in suspension setup compared to the M-10. The suspension features RydeFX MPV twin tube shock absorbers. Supplied by shock maker Arvin Meritor, the MPV design uses a patented Low Fade Orifice Carrier to provide a nicely balanced transition from a smooth low speed ride to firm, well-controlled ride when necessary. In addition the suspension also features torsion springs to maintain ride quality.
You'll find all the best IQ-oriented pieces on this sled, including some unique ones designed to make on-trail touring simply luxurious. Well, as luxurious as you can get considering you're bopping along the trail in the snowmobile equivalent of an open-air SUV!
Solo Travel
If you frequently travel solo but like the comfort of a stretch track touring model, you might consider adding Polaris' optional touring trunk cover that will give you sealed storage while maintaining the full functionality of the sled's passenger backrest.
The FST Touring offers everything a serious touring rider could want. There's 10 inches of front suspension travel and another 14 inches available at the rear. Steering is relatively light for a sled that weighs in at more than 640 pounds. Wind protection is very good as is night vision from the powerful high/low beam headlamps. Traction comes from the track's Hacksaw lug pattern with one-inch profile.
Of course, the expected goodies like reverse, electric start and rearview mirrors are all here. What you might not expect is the solid performance you get from the 750cc turbocharged 4-stroke twin. Combined with a P85 drive and P2 secondary, this Polaris motor delivers better than expected performance from smooth drive aways to full on blasts at wide open throttle. There's even a little hint of Cadillac Northstar V8 coming from the exhaust as this sled rolls on the miles.
2009 Polaris FST IQ Touring Specs
Engine
Polaris/Weber 750cc, intercooled turbocharger, 4stroke, twin cylinder; liquid-cooled; fuel injection
Horsepower
140
Drive
Polaris P-85 drive; P2 driven
Front Suspension
Polaris IQ — 10-in maximum travel; RydeFX MPV shocks
Rear Suspension
Polaris IQ 136 Comfort — 14-in of maximum travel; RydeFX MPV front and rear arms with torsion springs
Length
121.9 in
Height
52.0 in
Width
48.0 in
Ski Stance
42.5 in
Track
15 x 136 x 1.0 HackSaw
Weight
645 (claimed)
Fuel Capacity
10.2 US Gal
MSRP
$10,099
Related Reading
2009 Polaris Trail Touring DLX Review