2010 Polaris IQ Turbo Dragon Review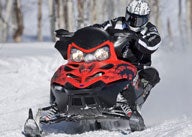 Polaris' turbo defines performance differently
Polaris' top of the line turbocharged sports model comes as a pleasant surprise. While not for all performance-minded riders, the 2010 Polaris IQ Turbo Dragon blends the best "trick" suspension parts with a very underappreciated power train. The Turbo Dragon features a very smooth, surprisingly quick, fuel-efficient 750cc 4-stroke twin with a rapid spooling turbocharger that virtually eliminates throttle lag. With its 140-plus horsepower, the IQ Turbo Dragon eats up straight-aways as well as any comparably powered sled on the market. Straight ahead performance it has.
Fast Facts
Engine Type:Horizontal In-line
Cylinders:2
Engine Stroke:4-Stroke
Valve Configuration:OHV
Displacement:750 / 45.8
Starter:Electric
Turbocharged:Yes
View Full Spec
When it comes to handling the bumps and corners of a rutted out trail, the nearly 600-pound sports sled loses its edge to its 90-lb. lighter sibling, the 800 Dragon IQ 2-stroke. For truly serious ditch pounders, the obvious choice is the 2-stroke Dragon. It's lighter and has nearly 10 more horsepower from its lighter drivetrain. But there are riders destined to appreciate what this 4-stroke performance sled has to offer.
Weber Engine
Since its introduction we have found this specific 4-stroke setup to be a bit of a conundrum. The IQ Turbo Dragon's Weber-designed 4-stroke twin seemingly has more in common with an industrial type Kohler or Honda motor. It is efficient and reliable, but not terribly sophisticated as performance engines go. That may be a bit mean, as the Weber-engineered Multi Purpose Engine (MPE 750) was never intended to be a performance snowmobile engine. As its name implies, engineers designed the twin to be versatile enough to satisfy both automotive and non-automotive uses. When you see the base 4-stroke separate of its attendant turbo plumbing, you'll view a compact, almost 2-stroke structure. And, in fact, one design criteria called for making this 4-stroker as power efficient as a 2-stroke, minus the inherent higher fuel consumption, dirtier emissions, odor and noise. This package seems quite amazing when you consider how much power Polaris pulls from the twin's 750cc displacement. The Weber design surpasses its objectives.
As you engage the throttle flipper on the trail, you'll be pleased with how quickly the power comes on. Polaris engineering created a smooth flow of turbocharged energy that starts as the thumb flipper directs computerized input to an electronic fuel injection system and works down to Polaris' own P85 primary drive clutch. This power delivery comes almost too smoothly. Unless you have a radar gun reading out your straight-line acceleration, it's almost impossible to tell that you have moved off the line as smartly as you do. The turbocharged power relies on what seems like effortless torque. If you did put a radar gun to your run, you shouldn't be surprised to find performance in the 100 miles per hour range running through a quarter mile on hard packed snow. Will the IQ Turbo Dragon blow away the truly big guns like a 1000cc Arctic Cat or even its 800 Dragon sibling? Probably not.
Reasons To Own
The reason you'd choose this Polaris doesn't lie under the hood. It lies under your fanny — and partly under your throttle thumb. There is good performance in straight ahead running. For hardcore twisties and mega-moguls you'll find the sled's weight works against it — and you. For a few bursts the IQ Turbo Dragon works. It has the technology to handle big bumps and tight corners. The pieces are there. You get exclusive-to-Polaris Walker Evans remote reservoir gas shocks controlling 10-inches of A-arm suspension travel. A Walker Evans internal floating piston shock works the front arm on the Dragon rear suspension while a Walker Evans adjustable shock reacts to bumps on the rear shock. This set up can be fine-tuned to your specifics and is similar to what you'd get with the lighter weight 800 Dragon. That's all great, but for many miles of hard riding, you will feel that extra weight, especially in the front end. For a few moments of excitement, the 4-stroke turbo version of Polaris' Dragon works just fine. If fulltime bump riding is your style, go for another mogul masher in the Polaris line.
The turbo Dragon excels as an every day groomed trail sled for a somewhat aggressive, but not out-of-his-mind aggressive rider. If you like to ride with a truly fast crowd, this isn't a sled for you. But if your riding crowd likes to make lots of miles regardless of trail conditions, then this can be a serious contender. You have very good suspensions with nearly 14-inches of rear travel. The engine will run smoothly all day and turn strong speeds across a lake. Plus, the IQ Turbo Dragon offers additional comfort settings via its seven handlebar positions. This is one of the last Polaris models to retain Polaris' Rider Select system, which was one of the good things premiered with the Fusion. Another good feature was the IQ front end, which has evolved into one of the best riding front ends in the business. So, you see, the unlamented Fusion wasn't a total disaster after all!
Style Features
The 2010 IQ Turbo Dragon makes a statement in its Matte Red style with black racer-like Freestyle seat. For the showroom the Turbo relies on a low, blacked-out windscreen. For the trail you'll want to opt for a taller height version as the showroom windshield offers negligible wind protection. The standard handguards are okay, but a more appropriate windshield adds more comfort.
If we had to choose any Dragon in Polaris' line, we'd think of the 2-stroke models first. But that's all ego. If we were being brutally honest and accepted that we had to ride just one sled all winter long, we'd take a hard look at the IQ Turbo Dragon. Why? First, our ego demands a sled that can get up and go. The Turbo Dragon fills that requirement. Secondly, we like to trash about in the rough stuff once in a while, but still we enjoy ride comfort for mileage rides. We'd take the turbo version as our experience has shown it to be a very smooth trail runner. Then, of course, there is the convenience of electric start that comes standard with the 4-stroke — and adds weight, of course! Even though the turbo version has a smaller 10.2-gallon fuel tank (versus 11.5 gallons of the 2-stroke models), chances are we'd be stopping fewer times per day with the 4-stroke. That translates to more riding time.
Let's not forget that the IQ Turbo Dragon does afford the same lightweight aluminum chassis, full instrumentation, hand warmers, and those tunable Walker Evans shocks. If we were being honest, the IQ Turbo Dragon would probably win us over. Chances are the vote tally wouldn't be close! This is one smooth trail sled with all the right pieces and then a few more like Rider Select handlebar, standard electric start, incredibly easy-pulling torque and the same Dragon styling that tells riding companions that we are serious about our snowmobiling.
2010 Polaris IQ Turbo Dragon Specs
Engine
Polaris Liberty 750cc, 4-stroke, liquid-cooled, twin; turbocharged with fuel injection
Horsepower
140 (Estimated)
Drive
Polaris P85 with P2 secondary
Front Suspension
IQ dual A-arm suspension; Walker Evans remote reservoir gas shocks; 10.0-inches of travel
Rear Suspension
Polaris lightweight IQ parallel rail with Walker Evans IFP shock on front arm and Walker Evans Compression Adjustable on rear arm; 13.9-inches travel
Length
115.0 in
Width
48.0 in
Height
45.0 in
Ski Stance
42.5
Track
15 x 121 x 1.25 Rip Saw
Brake
Polaris Phantom, hydraulic
Weight
580 lbs
Fuel Capacity
10.2 US Gal
MSRP
US$10,999
Related Reading
2010 Polaris Dragon 800 Review
2010 Polaris 550 IQ Shift Review
2010 Polaris Rush Review