2011 Mountain Sled Evaluations: King of the Hill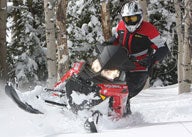 Which 800cc mountain sled reigns supreme?
After a full season of playing in the powder with 2011's best mountain sleds, we came to some varied conclusions. We had a few surprise results and saw a change in the dominant mountain player. With a season of riding in, we've come to the following conclusions and opinions.
2011 Ski-Doo Summit X 154 E-TEC Powered
If you are a big bowl brawler, then the Summit 800 X with E-TEC is the snowmobile for you. With its 16 inch-wide track, and larger-than-life power from the high tech 800, the Summit 800 X tackles the deepest snow and the steepest slopes.
For you tree runners, the Summit was quick on the trigger. Its light front end and quick handlebar rotation complimented its personality as it was willing to drive through any situation. Ski-Doo's new for 2011 S-36 handling package changed, in a very positive way, how the Summit tackles trees and mountains.
During the winter, though, we burned through a learning curve. On two occasions on the same day, I was slicing open a slope, chasing test rider Kevin Allred as he rode the Arctic Cat M8 when my Summit trenched in and momentum stopped. Snow conditions were powder on top, sugary beneath. It was frustrating.
On the drive home, I discussed this with Kevin. He asked where I placed my feet on the running boards. I informed him, wrong foot forward (right foot in left toe hold) and dangly foot dragging in the snow directly behind me, pointing to the rear axle. Thinking I had nailed the perfect position, he explained I needed to "stick the ski and unload the track." As we drove along home, Kevin explained I needed to pull my torso up close to the handlebars, "Suck up to them," he said, "then, place your right foot deep into the left toe hold, and place your dangly foot forward, toward the A-arms, this plants the left ski hard into the snow and unloads the track." Okay then.
Next weekend, I practiced this and the Summit performed smartly. Here lies the lesson. Each snowmobile has a unique personality that a rider must become familiar with and understand. With that lesson learned, we have come to believe in the XP Summit as a highly capable mountain sled with quiet strength to please.
Yet, we know there are riders who shoot the chutes more than trees, and if this is your type of Western riding, then the Summit delivers. Also, the deeper the snow, the sweeter the Summit becomes. It likes ridiculously deep snow.
The Summit was comfortable and confident on the trails. Many riders who hack away at the mountains on different brands question the 36-inch ski stance. Folks, this is not a worry. The Summit gave nothing away when traumatizing trail and tree. For most mountain riders, trail burning is secondary to mountain handling. Yet, it is becoming more an important "second" as the mountain rider is not as young as he once was.
Traditionally and historically, we mountain guys like narrow front ends for ease in rolling. Back in our mountain childhood, many mountain riders complained about swaybars and wide stances; a hindrance to rolling a snowmobile into a hill for clean sidehilling. The Summit with all its changes to the front end (S-36) and rear suspension, comes to the mountain rider with a narrow front end that is easy to roll into a mountain, simple to thread trees with, and is confident on the trail. It is a good sled.
There is debate about the Summit's over-the-motor steering post, also known as laydown or horizontal. With the handlebars swinging car-like, some old school riders battle with it; they prefer flat or dirt bike-like swing (think Honda CRF, for example). For us, we have adapted to the rotation, and it has become a non-issue.
After 600 miles, we leave the Summit to Ski-Doo and bid it goodbye. The reliable and nimble chassis, strong motor, and feathery light feel through the bars made us staunch Summit proponents; BRP builds an A+ mountain sled.
2011 Polaris Pro Ride RMK Pro 155
If you are a rider that sticks to the trees on thirty-degree or steeper slopes, and finds pleasure in sidehilling across a life-or-death incline, then the new Pro Ride RMK is designed for you.
The RMK's track works well in the trees and the RMK's overall narrow profile and running boards give it a clean pass. Regarding the track: at times when whacking mile-deep powder, the Series 5 powder track tended to blow out the snow leaving hook-and-go somewhat weak. But, this was a rarity.
The RMK Pro, being a narrow sled, proved that it would, and did, fulfill everything Polaris said it would. First year out, its reputation was superb. Yet, did the public have jitters for this launch (call these 900 RMK-like jitters)? Somewhat. But with Polaris' success with its 700 and 800 RMK, more so with its RMK Dragon models, the mountain man snowmobiler had nearly forgiven Polaris and had forgotten the number nine-oh-oh.
The Pro Ride RMK came from Polaris' energy and drive that began building with the Dragon. Polaris blended success with new amped up energy, and developed an RMK that is an engineering marvel, 30- to 40-pounds less of metal and plastic marvel. The Pro Ride RMK is light, strong and very much 21st Century.
Polaris' new Pro Ride RMK is a snowmobile built by passion, for the passionate. We felt that passion, and became passionate about our Pro 155.
The Pro Ride RMK's ergos – handlebars, seat and narrow runningboards – seamlessly flowed from hand, to seat to foot. From sitting to standing and leaning – be it from a neutral position to a wrong foot forward position – was sweet and not body strenuous.
Throughout the 2011 winter season we experienced no mechanical failures. The motor, drive train and suspension held strong, durable and reliable. Regardless of handlebar and thumb warmer setting, the thumb warmer held a lukewarm temp. On cold days, a cold thumb was common. One simple quality item was the RMK's rear snowflap and bumper, which were properly spaced and ergonomically designed for a gloved hand to pick up the sled's butt end and lift. Smart designing.
The big powder track on the RMK propelled the sled in most conditions. However, the deepest and fluffiest December and January powder challenged the track's hook and go; this is a small window of time when the RMK encounters this snow type.
The Pro Ride RMK is sweet and worth having. Polaris hit the bulls eye with this sled. Its "fickability" is world class and driver friendly; it is an easy-to-control mountain snowmobile.
2011 Arctic Cat M8 Sno Pro LTD 153
As of this writing, the M8, in the original and much improved M chassis (roots back to the M7) is history. But, this is the 800 that set the standard for "flickability."
Arctic's M8s that we have had for numerous years, was a durable goods sled. Arctic Cat builds reliable iron for the mountain tamer. The high output 800 Suzuki twin with batteryless EFI was crisp and stout. Here is what we like about the M Sno Pro: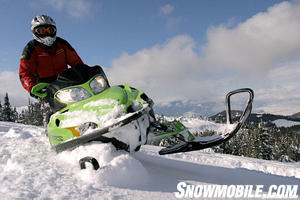 First, its Powerclaw track. This track is a hook-up and go freak. Its 2.25-inch paddles, with negative and positive camber paddles, fears no snow condition.
Second, we appreciate the Ms direct drive system. This reduction in rotating mass gives the M an advantage at putting power to the track.
Third, adjustable-height handlebars. When tree running, it is nice to set the bar's height for needed terrain maneuvers.
Fourth, storage. When the other three OEMs moved away from seat storage, the M's inside-the-seat storage came to the mountain rider as a huge plus.
Fifth, tight turning radius. The M's ability to cut on a dime and give some change is much appreciated when snorkeling through neck-high powder. Its use of Cat's F-series geometry gives tight radius turning. The term "flickable" is the M's thesaurus term.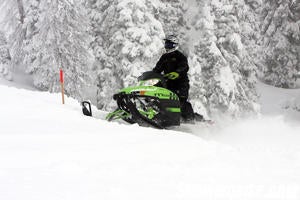 What would we change? Well, a new design. Its look is a yawner. 2012 fixes that — stay locked in to Snowmobile.com for model review and rider impressions of Cat's 2012 ProClimb M8. A more aggressive powder ski is needed to complement its sharp turn radius. All the OEMs can take a lesson from Yamaha here.
If you are a Cat rider looking to upgrade your early model M6, M7 or M8 and your pocket book does not agree with 2012 ProClimb prices, then strongly consider a non-current M8, a 2011 Sno Pro or standard. Yes, its cosmetics are dated, but the non-current M8 speeds to the crime scene and delivers the search warrant – it is not outdated in performance and maneuverability.
After 600 miles on the Cat M8, it held strong, dependable and away from the warranty sheet. This is true to Cat's products. They are reliable.
In Closing
XP Summit X – It delivered. The quarreling between driver and sled stopped with the 2011. Front and rear suspension changes – the S36 – and its non-ported track created a functional working relationship that vehicle and rider enjoyed. We in Snowmobile.com's mountain cave sure believe so. Simply put, the XP Summit X is so light through the handlebars; it is like piloting a hang glider on a warm puff of air. Complementary to its handling is the remarkable and strong E-TEC 800.
Pro Ride RMK Pro – Polaris told the buying public and media that the Pro Ride RMK will do A, B and C and it did, plus we discovered it also knocked out D through Z. Polaris found its roots and legs with this mountain sled.
Cat M8 Sno Pro – Its surprise is that it had no surprises. Predictable. Solid. Stable. Though this chassis' chapter closes at the end of 2011, its reputation as an unsung starter and strong finisher is hall-of-fame legendary.
Related Reading 2011 Mountain Sled Evaluation: Part One 2011 Mountain Sled Evaluations Part Two 2011 Polaris RMK Review 2011 Ski-Doo 800 Summit Review 2011 Arctic Cat M8 Lineup Review End of Season Powder Review: 2011 Yamaha Nytro MTX 153 & Polaris Switchback Assault