2011 Polaris 800 RUSH Pro-R LX Snowcheck Select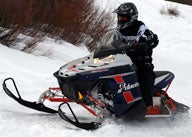 2011 Polaris 800 RUSH Pro-R LX Snowcheck Select
The sled the flatland crew wants from Polaris for next winter only exists as a "Snowcheck" model. Having test ridden the newest Polaris trail sleds for 2011 and having enjoyed a 2010 Polaris 600 Rush this past season, we're pretty much sold on the Rush and its Pro-Ride set-up. While we have some trepidation about opting for the newly available 800cc dual injector Cleanfire Twin in lieu of the perfectly adequate 600cc Twin, we would ask for the bigger displacement motor. It is the "American Way" after all. Bigger is better, right?
Adding in the baggage option, the electric start option and tallest windshield option simply makes the 2011 800 Rush Pro-R a much easier to live with snowmobile. Of course, we would add in rearview mirrors, too. That's as much a matter of safety as convenience. It's always good to know what's coming up from behind or whether or not your trail buddy is still with you.
We're not really sure what exactly our Polaris Rush would be called. It seems that it would be the 2011 Polaris 800 Rush Pro-R LX. At least that's what we'd specify at Polaris' online Snowcheck Select site where you can reserve your own personal choice for the coming season.
Performance Upgrade
What we learned at the West Yellowstone test site was simply that the new 800 Rush is, indeed, more potent than the base 600. Where the 600 Cleanfire motor houses four injectors to gather power, the latest Cleanfire 800 uses only two, which Polaris claims permits more consistent performance and adds to increased reliability. There's supposedly about 30 additional horsepower on tap with the 800 versus the 600, but we can state unequivocally that the 600 is more than adequate for the vast majority of riders. If you want to get off bumps and out of turns quicker, the 800 should satisfy you. The test models we ran in West Yellowstone were all crisp runners and pulled strongly. Polaris seems to have given us Rush riders a solid choice for upgraded performance.
To manage the upgrade in performance, Polaris adds a new cooler at the rear. This addition will be standard for both the 800 and 600 powered sleds. As a first year model our 2010 Rush worked out just fine, but for 2011 Polaris decided to revamp the slide rail profile in an effort to free up top end performance, which we found petered out in the 90+ plus miles per hour range with the 600. The new 800 — and the 600 — for 2011 should motor past that mark. The change should quiet track noise a bit as well. Adding a new front torque arm allows greater clearance if you want to stud the track. We feel that the stock 15x121x1.25 inch Ripsaw on the Pro-R is plenty grippy so we probably wouldn't stud it, as here in Minnesota some trails are off limits to stud-equipped sleds.
Pro-Ride
The Pro-Ride rear suspension offers upwards of 14-inches of progressive travel, which really shows up in those full-suspension sucking deep whoops. Ride over stutter bumps and over rough, yet-to-see-the-groomer trails can be dialed in thanks to our new favorite shocks, the Polaris-exclusive Walker Evans dial-adjustable piggyback models. We had some fun on the trail last winter playing with the easy-to-adjust Walker Evans shock package on our 2010 Rush. That's one reason we'd go for the Spring Only Snowcheck Select option on the 800 Polaris Rush. You can spec-out your options packages, so what we came up with is essentially all the performance features you get standard on the 800 Rush Pro-R plus the convenience and nice-to-have features of the Polaris Rush LX.
The Rush Pro-R is designed for the stand-up, straight ahead, power on, ditch line banger. It gets the "goodies" like the Walker Evans shock package to control the 9-inches of Pro-Ride front suspension and the progressive action of the rear suspension. The Rush LX, designed for the sit-down high mile rider, gets Fox shocks all around. While we found the test ride Rush LX to offer a good and supple ride with the internal floating piston Fox shocks, we definitely much prefer the adjustability offered with the Walker Evans.
Polaris suggests that the standard Pro-Ride rear external coil-over-spring shock be used for riders weighing 250 pounds or less. They suggest that the "big boy" shock and spring option is best for riders over 250 pounds. Our experience disputes that. We like to think that we may be on the hefty side, but we ride light. Our demo 2010 Rush came with the Big Boy shock and spring combo. Try as we might, we couldn't get it soft enough to please us. At the West Yellowstone site, with the full cooperation of the Polaris engineers on hand, we tried a myriad of Pro-Ride shock and spring combinations. We determined that the standard setup worked best. We could get the suspension movement we wanted by simply spinning the spring a few turns and adjusting the Walker Evans dial-adjust shocks a few clicks. In our opinion, unless you are a Sumo warrior, go for the standard set up and experiment from there.
Your Options
For 2011 Polaris will allow you to choose from one of three windshield heights. The low, racy one works great in warmer snow belt areas, but you'll want to consider a midheight or tall screen for colder climes. We used the mid-height, which WAS last year's tall option. The new taller 21-inch high version isn't obtrusive and will be a good option for serious below zero riding. It was developed by Polaris test riders in Roseau, Minnesota, who have to chase miles in -40 degree temperatures.
The other plus with opting early for the Snowcheck Select Rush is that you can get it in the "retro" style of Midnight Blue with red and white trim, plus a rear bag. With storage at a premium on the Pro-Ride models, you will want to check out accessory options. We went for the handlebar bag and a tail bag, which nicely complemented the two underseat stowage bags designed to hold spark plugs, the gauge used to set the suspension and a modicum of tools.
If you order early you also get a choice of 0 percent interest for 12 months or extended warranty options — a transferable 4-year warranty or a two-year powertrain warranty plus money allowance for Pure Polaris gear.
The 2011 Polaris Rush offers incentive enough whether you buy early or wait until later. There are some tweaks, as you would have expected from the introductory year to now. Still, if you can get a good deal on a 2010 Rush, that could be a serious consideration, unless you just have to have the greater performance of the Cleanfire 800 Twin, which is only available with the 2011 Rush.
Yes, we liked our 2010 Rush 600, but we anticipate liking our spec'd out 2011 800 Rush Pro-R LX early season Springcheck Select as we've described here even better. With a year's worth of onboard Rush-experience, we have a good feeling about the 2011 version. The performance from the bigger Twin working through slightly updated clutching and transferring power to a freer acting suspension should give us substantially better power and more top end. And a season's worth of working with the Pro-Ride suspension and shock packages should get us to a more refined ride for high mile days.
Ordinarily we don't push the early buy packages, but because we know what we want in our next Rush, we're ready to make certain that we get exactly what we want — now! This package of options is only available through April 17th, so we're making our move. Well, actually we made our move a couple weeks ago out in West Yellowstone. You can get a similar package — or another more suitable option package — by visiting the SnowCheck Select portion of Polaris' Website.
2011 Polaris 800 RUSH Pro-R Specs
Engine
Polaris Liberty 795cc twin cylinder 2-stroke; liquid-cooled; Cleanfire fuel injection
Horsepower
150-plus
Drive
Polaris P-85 drive; Team LWT
Front Suspension
Polaris Pro-Ride — 9-in maximum travel; Walker Evans piggyback adjustable shocks
Rear Suspension
Polaris Pro-Ride slide rail; Walker Evans Piggyback gas shock on front arm and Walker Evans compression adjustable sock on the rear arm; 14-inch maximum travel
Length
108.0 in
Width
48.0 in
Height
46.0 in
Ski Stance
42.5 in
Track
15 x 120 x 1.25 Rip Saw (2-ply)
Weight
459 (base Pro-R) — more for the LX option with bag, electric start etc.
Brake
Polaris Phantom hydraulic
Features
Electronic reverse (PERC); Option packages: 800 Cleanfire engine; Performance Package with Walker Evans shocks, Ripsaw track, lightweight brake disc and jackshaft; Convenience Package with mirrors, luggage rack and bag, 12volt and RCA power outlets for heated face shield, electric start; 21-inch Tall smoke-finished Windshield
Fuel Capacity
11.0 US Gal
MSRP
US$12,399 (with options as specified in the review)
Related Reading
2011 Polaris 800 RUSH Pro-R Preview
2011 Polaris Lineup Preview
2010 Polaris Rush Review
All Things Polaris on Snowmobile.com