2011 Polaris 800 RUSH Pro-R Preview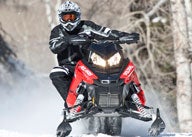 Rush outfitted with Polaris' 800cc Twin
The rumors of an 800cc-powered Polaris Rush are true. As one Polaris staffer remarked during the introduction of the new 2011 800 Rush Pro-R, "You want to be pointed in the right direction when you grab a handful of 800 throttle!"
Guess that should tell you all you need to know about this second year Rush hot rod. Adding the Polaris-designed and built Cleanfire 800 Twin will provide substantial pop to what we feel is an already quick moving 600cc snowmobile. That's exactly why the latest version of the 795cc Cleanfire fuel injected Twin-cylinder two-stroke finds a home in this plush-riding sled. Of course, you don't just drop another 30-plus horses into an existing 600 Rush without some serious testing. Polaris claims it has more than 100,000 test miles on its Rush series and in that effort worked to give this model an ease of adjustability unmatched in a performance sled. And, of course, Polaris does make concessions for that added power. There was a rethinking of many things, including a revision of the slide rail profile that helps add top end. This is a performance trail model after all!
The 800 Rush Pro-R comes with a Pro-Ride Chassis that has evolved through another year of engineering. The same aerospace structural bonding technology developed for the initial Rush continues, which simply means strength through lighter weight. This technology reduces the number of fasteners, rivets and welds. This new technology allows engineers to revise the entire front bulkhead to accommodate over-engine steering, which allows for a low mounted engine to enhance overall sled balance and a low center of gravity, which you can feel in the corners.
Power & Handling
To get the sled's handling on pace with the power, the 800 Rush Pro-R features refinements to the Rush's unique and innovative Pro-Ride rear suspension. For 2011 Polaris engineers revised the rail profile. This minor, though significant change helps achieve greater top speed. The suspension also features a new rear crank for reduced weight and an updated front torque arm for improved stud clearance.
As we've put miles on our long term 2010 Polaris 600 Rush this winter, we've come aware that real hardcore performance riders would not be satisfied with the 2010 version's top performance. While the 120-plus horsepower 2010 Rush is impressive, you do wonder what an "800" could do in this chassis. And would it be up to the task of handling that power? Obviously, we have the answer. And the answer is "No, not entirely!"
For 2011 Polaris not only boosts power, but also gives the hot rod rider some extras with which to enjoy the performance upgrade. Polaris states that the Rush Pro-R is "…the first sled that can truly satisfy their need for outstanding power, tremendous durability and the greatest in terrain dominating control."
Well, that's quite a claim. The power of the 800 Twin is a given. And you'll note that Polaris engineering made changes in the Pro-Ride chassis such as making it some 300 percent torsionally stiffer than any other non-Pro-Ride chassis models. This means less flexing in the corners and even with the 800's power you can count on the skis staying planted. Of course the suspension changes add to that as well. Plus you'll find exclusive-to-Polaris Walker Evans shocks all around on the 800 Rush Pro-R.
As you'd expect with Walker Evans, the needle shocks are premium grade and feature 16-position compression adjustability and remote reservoirs. If they work as well as the ones on our current year Rush, you can expect virtual fade-free performance. Plus, as we discovered, the Walker Evans design shocks are extremely tunable. The latest version has a unique needle design that uses hydraulic force at the end of the stroke to help eliminate any harsh bottoming.
Improvements
Just as with any second-year design, you figure that there will be changes for the better. The 800 Rush Pro-R gets those in the form of reduced weight in a lighter weight rotor and jackshaft, which reduces rotating mass while leading to improved throttle response and acceleration. Maybe that 2.5-pound weight reduction doesn't seem like much, but Polaris assures us that it will result in a quicker launch and improved acceleration.
Another weight reduction comes from the seven pounds that were lost with the engineering of a completely new and lighter weight silencer. Not only is it lighter, but it emits a more trail-friendly note, which your local forest police will appreciate.
You can count on the 800 Rush Pro-R to include the unique progressive action of the rear suspension that eliminates the "ouch" when running through those super "G" bumps that simply suck up a suspension's entire travel. And you'll appreciate the reaction of that Pro-Ride action on trails that might have yet to see the groomer.
Gripping the trail will be specially designed skis and an appropriately aggressive 15x120x1.25 Rip Saw dual-ply track.
Of course the sled will come with a digital read-out gauge, hooks at the end of the handlebar, a butt-fitting "Freestyle" seat, electronic reverse and a host of accessories. Setting the 2011 800 Rush Pro-R apart from the crowd will be its stylish red coloration. No matter how you get it, the 800 Rush Pro-R is not a modest looking sled at all. It screams power, performance and handling. All that Polaris promised at its 2011 new model launch in mid January.
Yes, the rumors of an 800 Rush were true. And there's a bit more!
2011 Polaris 800 RUSH Pro-R Specs
Engine
Polaris Liberty 795cc twin cylinder 2-stroke; liquid-cooled; Cleanfire fuel injection
Horsepower
150-plus
Drive
Polaris P-85 drive; Team LWT
Front Suspension
Polaris Pro-Ride — 9-in maximum travel; Walker Evans piggyback adjustable shocks
Rear Suspension
Polaris Pro-Ride slide rail; Walker Evans Piggyback gas shock on front arm and Walker Evans compression adjustable sock on the rear arm; 14-inch maximum travel
Length
108.0 in
Width
48.0 in
Height
46.0 in
Ski Stance
42.5 in
Track
15 x 120 x 1.25 Rip Saw (2-ply)
Weight
459 (claimed)
Brake
Polaris Phantom hydraulic
Features
Electronic reverse (PERC)
Fuel Capacity
11.0 US Gal
MSRP
N/A
Related Reading
Polaris 800 RUSH Pro-R Blog Post
2010 Polaris Rush Review
2010 Polaris Rush and IQ Updates
Inside Polaris' Pro-Ride Suspension
All Things Polaris on Snowmobile.com