2013 Polaris 800 Pro-RMK 155 Review – Video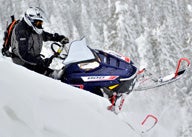 Polaris builds an impressive 417-pound powder king
Polaris' Pro-Ride Pro RMK for Model Year 2013 will lure buyers into Polaris dealer showrooms just as the 2011 and 2012 RMKs did. This come-in-and-buy is not wholly because the Pro-RMK is a "Pro," but because it has become skinnier and more horsepower efficient.
The steamy news from camp Polaris is the Pro-RMK 155. According to Polaris, be it the 800 or 600, the sled holds a dry weight of 417 pounds.
Yet the Pro RMK, regardless of motor or track length, comes equipped with Polaris' Quick Drive Low Inertia drive belt system, new Pro-RMK seat that is shorter and shallower where needed, and a nice complement of carbon fiber on the front suspension. Though the 155s weigh in at 417 dry, remember too, the 163 also took a 14-pound weight loss from 2012. To that end, the 163 weighs a svelte 424 pounds — a mere seven pounds more than the 155. This means the 2013 163 Pro weighs less than the 2012 155!
What does this mean for you? Polaris is building the lightest mountain sleds in the world, which makes Polaris the lightweight champion. This also means Polaris' Pro-RMKs should lead the other manufacturers in power-to-weight for mountain snowmobiles.
Snowmobile.com Editor Jerry Basset wrote in his column, First Impressions of the 2013 Snowmobiles, "A mountain sled with a 155-inch track, 800cc two-stroke twin, long tunnel and it weighs 417 pounds? Ski-Doo's short-track fan-cooled MXZ Sport 550 can't beat that. And Ski-Doo is known to build some of the lightest sport sleds in the business. The 550 Sport weighs 423 pounds — six pounds more than the longer Polaris Pro-RMK 155. So, it appears that we may be on the verge of a weight war."
Though we mention the 600 Pro-RMK, which has all the same "Pro" amenities as the 800, our focus here is the 800. We'll tackle the unbelievable 600 Pro-RMK in its own feature.
Belt Drive
Back to the belt drive system. In a February press release, Polaris reported, "The complete system — lightweight brake, extruded drive shaft and maintenance-free belt drive in place of a chaincase — reduces sled weight by more than 6.5 pounds, and provides a 21 percent reduction in rotational inertia for enhanced efficiency and acceleration." That 21 percent reduction is huge. Let's put it this way, this is an increase in transmission efficiency of 21 percent. This reduction, or efficiency boon, is huge when it comes to pushing a snowmobile and its rider through deep powder at elevations of 8,000 feet or greater.
For you long-track mongers who like 163s, the belt drive will spin the longer track with ease. Speaking of the 163, it is a flotation master. It takes a bit more muscle to throw it around, only because it is longer than the 155. Remember, the 163 is only seven pounds heavier than the 155.
The 150+ horsepower motor (153 is what we generally hear) will have a power-to-weight rating of 2.72; using the 153 figure. Meaning, one horsepower moves 2.72 pounds.
Polaris' Pro-RMK 800 for seasons 2011 and 2012 were the number one selling snowmobiles in North America, leading all brands and models. This means a mountain sled from a small market eclipsed the trail market. Will this happen for 2013 because of the above? We won't be surprised. Polaris continues to excite the mountain rider for season-2013.
Other changes for this 800 Pro include a carbon fiber overstructure, which adds to the Pro's strength, rigidity and weight reduction. In tandem to the carbon fiber, the belly pan and suspension torque arms have shed weight, yet, according to Polaris, are as durable as the 2012 Pro.
Great Features
It gets better. The Pro RMK 800 comes equipped with Polaris' new PowderTrac Runningboards, which are aggressive-traction platforms that have minimal construction for reduced weight. The new boot platforms have wide-open holes to keep snow from building under boot; this gives optimal snow and ice evacuation.
For us, the runningboards did not show any flex or bowing when reefed on for sidehill attacks and aggressive wrong-foot-forward maneuvers. The RMK engineers reported while out on the snow, these boards are stronger than the 2012's, we agree. The lighter and stronger runningboards augment the tunnel's strength, thus adding to the tunnel's rigidity. That is good.
More good news. The Pro-RMK has a new seat that is lighter, shorter and shallower than the 2012. Polaris's RMK hillclimb teams, dealers and riders alike wanted a seat that is firm, which this 2013 is, which does not snag a foot or leg when swinging from one side to the other, or pulling a "Chris Burandt" by jumping from one runningboard to the other in a short quarter-second hop. The seat for 2013 felt good and was not a hindrance while bonking through Tech Riding 401.
To close out the updates, the Pro's engineers moved the kill switch down the Pro Taper's bars to be away from a gloved hand where it can accidently be hit. The kill switch is adjustable, meaning; the Pro owner can place it at a desired right side handlebar location to suit personal preference. That is thinking.
The 2013 Polaris RMK in its lighter-than-2012 chassis made me a better rider. Now, let me be clear about something, the 2011 and 2012 Pro RMKs are not "has been" snowmobiles because of what the 2013 brings to the boxing ring. We fully expect that these non-current models will remain premium snowmobiles and be highly sought as pre-owned snowmobiles.
Inside the Pro-Ride RMK is Polaris' Liberty 795cc 2-stroke, liquid-cooled, Cleanfire fuel injected (CFI) twin cylinder motor busting out 150-plus horsepower. Bore and stroke is 85mm X 70mm. The motor comes complete with throttle position sensors, detonation sensors and the famed PERC — Polaris Electronic Reverse Control.
The Pro-Ride RMK has a vertical steering post with a series of 90-degree angles that deliver flat handlebar swing. The Pro-Ride RMK front suspension is narrower than the Rush and adjustable from 39-inches to 41-inches; we like the narrow setting. The Pro RMK, regardless of track length, has a sway bar. Some mountain riders like this, some don't and some don't care. For us in the Snowmobile.com snow cave, we don't see the sway bar as a flickable killer.
The Pro-RMK 155 / 163 is a premium lightweight backcountry and deep powder mountain snowmobile for the premium rider. It has Walker Evans at all front and rear points. Pro Taper handlebars manage the swing and yaw. A carbon fiber rear bumper with lightweight snow flap, lightweight Cyclone brake rotor and caliper, and hollow jackshaft add to this premium sled's lightweight brawn.
Colors are RMK black, white, and the early Spring buy Polaris "TX" / "RXL" retro, if you are old enough to remember these free air or early liquid coolers. This graphic package makes the Pro stunning due to its old school flashy appeal.
Test Rider, Kevin Allred's View
The last two years Polaris' Pro-RMK 155 led the market for individual sled sales. With the introduction of the 2013 Pro-RMK 155, which is 14-pounds lighter than the previous year's model, Polaris has fired a stern warning shot across the bow of is competition that it is not resting on its laurels; the company intends on staying in that number one spot.
I struggle to add more words about the 2013 Pro-RMK. Such as "for me this sled just works," or "this is what a mountain sled should be." So, I quote myself for the 2013. For me this mountain snowmobile is a favorite, it just works: it side hills, carves, pulls a hill, and gets on top of the snow; well, the list goes on. I have complete confidence in the sled on the trail. But more importantly, my confidence soars when I ask it to help me make technical backcountry mountain maneuvers.
At Snowmobile.com, we have beat up on our PROs in real world mountain riding conditions. For two years now, the lightweight champ has stood up to our ad hoc durability tests.
As for the new lightweight components on the 2013, they are technical components, like the specialty big-dollar after market stuff. How cool is that? Polaris will no doubt enjoy another good sales year with the 2013 models. As I look at the new features for 2013, I am impressed and wonder where Polaris will next take its Pro-RMK. But for us as consumers, it's all good.
Summation and Verdict
The Pro-Ride RMK coil over rear suspension is well tamed through the bumps, and allows the vehicle to handle deep powder, and mountain ascents and descents with ease and confidence.
The RMK ergos blend rider and snowmobile together for easy maneuvering. The tall and narrow RMK freestyle seat allow easy transitioning from sitting to standing. The Pro Taper handlebars fit a gloved hand with precision.
Given the 155 Pro's weight loss and advancements, we have it in a preliminary dead heat as our editor's choice as mountain snowmobile of the year. Now, we also bestowed this on the 2013 Ski-Doo Summit X 154. We know what you are saying; "The Summit X is 47 pounds heavier than the Pro RMK 800 155." But the Summit X 154 is also a top shot mountain snowmobile; its unconventional advancements made this a complicated matter, but not. The Summit is a sweetheart, a capable and extremely flickable snowmobile. We can't overlook the new XM chassis Summit with tMOTION, flexible track, pushed forward handlebars and spindles and E-Tec 800R power. Ski-Doo has punched a new hole into the mountain segment.
On the same note, we simply can't overlook what Polaris has done for its Pro — Quick Drive belt system, new runningboards, seat and carbon fiber all wrapped around a 417-pound 155. Efficient snowmobile it is. You, the customer have to make the decision, we can only offer opinions and guidance.
But, after riding these sleds hard over a period of a week, and then some, we stand our ground. Both are confident winners, and in life, sometimes we have ties; and it is in overtime that a winner emerges. Getting the Pro-RMK to 4-1-7 makes choosing one over the other a very difficult easy decision for deep snow riders to make.
2013 Polaris 800 Pro-RMK 155 Specs
Engine
Polaris Liberty Cleanfire 795cc twin cylinder 2-stroke; liquid-cooled; Cleanfire fuel injection
Horsepower
150+
Drive
Polaris P-85 drive with TEAM LWT driven; Quick Drive Low Inertia final belt drive
Front Suspension
Polaris Pro-Ride RMK adjustable IFS; Walker Evans gas shocks with internal floating piston; 9-inches of travel
Rear Suspension
Polaris RMK coil-over parallel rail slide with Walker Evans shocks; up to 16.0-inches of travel
Length
129.0 in
Width
46.5 in
Ski Stance
Adjustable from 39-41-in
Track
15 x 155 x 2.4 Series 5.1
Weight
417 (claimed)
Brake
Polaris hydraulic Low Inertia Drive disc
Features
ProTaper handlebar riser; electronic reverse; digital gauge; Gripper ski; Pro-Lite seat
Fuel Capacity
11.5 US Gal
MSRP
$12,199
Related Reading
First Impressions of the 2013 Powder Sleds
2013 Ski-Doo Summit X Review – Video
2012 Polaris 800 Pro-RMK Review – Video
2012 Mountain Sled Evaluations: Part 1
2012 Mountain Sled Evaluations: Part 2