2013 Mountain Snowmobile Shootout: Part II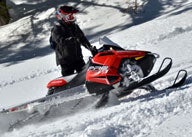 How do our three 800s and one 600 rate with real deep snow riders?
Mountain snowmobile evaluations are not exact. Snow has one constant – it is inconsistent. Consider its depth and composition. Consider too, elevation, temperature and humidity variances that affect a motor's performance. And the human element can't be excused either as we are either in our "A-game" or very amateurish.
The test data and statistics supplied in Part I of our mountain shootout may have validated or invalidated what you know about your XM Summit, RMK Pro 800, M8 Sno Pro or RMK Pro 600. So, base statistics aside, we put a cadre of real-world deep-snow experts on the test sleds and told them to give us their opinions. Then we asked them to rank each sled in specific categories so we could give each sled a final "test" score. Keep in mind that these rankings and scores are purely subjective and reflect the view of each individual rider and riding conditions on test day. You can disagree, but this is how our crew ranked the sleds.
Real World Riders
Greg Huntsman – Idaho Falls, ID. Occupation: Patent Licensing Agent Years Snowmobiling: 32 Favorite Riding Style:  Standing with feet on both sides (straddling the seat), mountain climbing and weaving through trees.
Roger Raymond – Rigby, ID Years Snowmobiling: 12 (700-800 miles per year, 90% or greater in big mountain back country riding) Background: Five years professional mechanic on motorcycles, ATVs, personal watercraft and boats. Degreed as a mechanical engineer and diesel system engineer. Designed, prototyped, and tested a mechatronic CVT for use on recreational vehicles (particularly snowmobiles). Published in "Transactions," the professional journal for the Society of Automotive Engineers( SAE); "Best of Show" at the SAE conference in Gras Austria. Favorite Riding Style: Deep-powder mountain backcountry
Dustin Pancheri – Idaho Falls, ID Occupation: Technical consultant, Starting Line Products Years Snowmobiling: 18 Favorite Riding Style: Backcountry free riding
Kim Steele – Shelley, ID Occupation: Department of Energy Years riding: 32 Favorite riding style: Big bowls. But just as home with technical riding and tree running. NOTE: Kim provided no comments, deferring to, and agreeing with the test riders' comments.
Kade Klinger – Rigby, ID Occupation: Service Manager for Fleetride (long haul, over the road and heavy duty trucks), Idaho Falls, ID Years riding: 25 Favorite riding style: Backcountry boondocking.
The Sleds – In Their Opinions
2013 Arctic Cat M8 Sno Pro LE 153
Greg Huntsman: Performed better than last year. Strong motor. Skis too narrow. Least maneuverable.
Dustin Pancheri: Strong motor with good throttle response, great top end, yet still good off the bottom. Excellent suspension in the big holes, but a tad harsh through the small stuff. Best track in super deep fluff, but spins a bit in low snow or hard conditions, better than the 2.250 track. Handles decent, but felt heavy in the front end compared to the XM and RMK Pro. Ski pushed a bit. Needs more lift for the front compared to the Pro RMK and XM. Runningboards are a tad short for me, needs an additional two-inches. Roomy cockpit. Needs some storage.
Kade Klingler: I enjoyed the M8, but it seemed behind the XM and Pro in ride ease. The M8 has great power and pulls hard; but in certain conditions, like the kind we had on January 26, it often trenched – it would not get up on the snow. I like the adjustable handlebars and it has a comfortable ride. The M8 holds a sidehill decently, but it seemed to take more effort to hold it than the XM and Pro. The stock skis are not good powder skis. The chassis did not glide over wet snow like the others; wet snow would build up and be pushed by the nose for several feet, which made it hard to steer and control.
Roger Raymond: The M8 continues to show its legacy as a high horsepower arm-wrenching mountain-warrior. One of its most impressive qualities is its incredible Power Claw track; it has serious hook up. In powder or crud it felt like it consistently delivered more thrust than the other 800s. The Cat demands to be ridden aggressively; when the pilot does their part, it will not disappoint. The skis don't float like the others, but they allow tight turns. The adjustable steering post is a favorite. The stiff suspension handles the trail with confidence. The M8's balance is a little challenging to describe. The sled pulls up with general ease, but it doesn't want to stay there as much as the other 800s. In deep snow it was not an issue, but in moderately pack conditions, the M8 wanted to drop back onto its skis, or roll all the way over; it doesn't have a generous, or forgiving, sweet spot. While the footboards stay clean and offer confident toe purchase, its steep angle takes getting used to.
2013 Polaris Pro RMK 800 155
Greg Huntsman: This one is my favorite. Best in maneuverability. Lightweight. Responsive. Stays on top of the snow. I like the narrow seat.
Dustin Pancheri: Super light weight chassis, easy to maneuver, very predictable, steers well with good flotation, sled stays very flat in any condition which adds to the predictability, suspension can be a bit harsh compared to the XM and M8, but still rides well, Power is adequate, but not as strong as the XM and M8, however its power is used more efficiently which makes the Pro just as capable from a performance standpoint. Good all around track, doesn't trench at all. Handlebars a bit wide. It has more throttle pull (stiff) than the M8 and XM, which became annoying. No storage…needs some bad.
Kade Klingler: I love the Pro 8. It is comfortable to ride, and it is the kind of sled that makes a rider look better [as a rider] than what they are. The Pro 8 jumps on top the snow and floats. The chassis, motor and track flat out work. There is almost no trenching. The engine is smooth that I didn't realize how hard it's pulling until I looked around and noticed I pulled from the other 8s. This sled always feels balanced. The Pro 8 is fun to ride. I appreciate the seat upgrade, from last year; it is much more comfortable to ride. The Pro 8 holds a sidehill without strain. It can be thrown up on its side and can boondock around trees with little effort. Yet down the trail, it rode the worst; I felt every bump. The engine performs well, but with a few more horsepower, it would go to another level.
Roger Raymond: While you can find highly-modified machines to out-climb the PRO 800, it is right at home scoring the highest mark on the hill. This machine can defy gravity. The PRO shines in highly technical boondocking. Its balance is predictable – I can thread the needle through trees and it will take on some ridiculous lines. Even the downhill sidehill, or U-turn, which is commonly considered to be one of the more difficult maneuvers to articulate, is a breeze.
The throttle pull is heavy, and I prefer a little less ski pressure with a slightly lighter front shock spring rate. While I appreciate the foot rail support used for a toe hook, I recommend it be slightly higher. All in all, the Pro 800 RMK is one of the most impressive sleds I've ever ridden
2013 Ski-Doo XM Summit X 154
Greg Huntsman: Feels nearly as light as the Polaris. Much easier to handle than last year. Strong engine. If it were lighter it would be fantastic!
Dustin Pancheri: Best Ski Doo Summit ever. Predictable turning, but could be a tad more aggressive. Smooth power delivery with good peak power. Easy to maneuver. Has some storage, but needs more. Open cockpit with good maneuverability. Excellent fuel and oil economy. Nice ride in small to medium chop. Can handle big holes. Handlebars have to be adjusted inline with the steering post or the rider feels too much feedback. Like the steering in the more vertical position compared to the 2012. Sled wants to stand up a bit on steep hills…needs to stay flatter. Overall, the XM is predictable.
Kade Klingler: The first thing I noticed was how the XM rode down the trail. I was amazed at how it ate up the bumps. As much as I don't like trail riding, it is necessary to get to the mountains. The Summit has great power, it is a neck snapper, and it felt like it had more power than the other 8s. The word that comes to mind when riding the XM is "playful." It is so fun to throw this sled around without effort. It is easy to carve into a hill and hold it there. I had a blast on this sled. There were times though, the XM felt a little too tippy, it wanted to pitch me over the front a couple of times. In wet and sticky snow, the XM would lift its front end off the ground when accelerating which made it difficult to handle at times. I felt like the XM trenched more than the other 8s. The two Pros, the 8 and 6, would pull away from me when I rode the XM in deep, wet and sticky powder.
Roger Raymond: The most improved feature to me is its balance. For many reasons including the revolutionary XM flexible track, it has the most forgiving sweet spot. This year it has much better flotation, and a more comfortable steering angle.  On moderately packed mountain conditions, it was by far the easiest to ride.  The power curve is smooth. The footboards are excellent and I don't recall ever having the need to kick snow off them.  I normally hook my toe on the topside of the foot pocket, and I did notice that it didn't hook as well as some of the others.  The soft front end soaks up moguls better than most, and provides predictable balance, but can adversely affect tight cornering. The direct inject engine didn't decelerate as quickly as the other throttle body injected sleds. There were occasions the other 800s could stop on the hill using only the brakes, while the XM slid to the bottom.  It was also observed that it seemed to trench a little more that some of the other tracks.  This model is clearly the best product Ski-Doo has ever brought to the market.
2013 Polaris Pro RMK 600 155
Greg Huntsman: Loved it! It obviously doesn't have the power of an 800, but it didn't lack for ponies in the settled snow conditions we were riding in. Very responsive motor. Ergonomics are nearly perfect for me. Flickable for sure. A blast to ride!
Dustin Pancheri: Same as the 800, but easier to ride in most situations, extremely capable even compared to the 800s. Strong motor for a 600, better sled than the 800s for most riders except in the big climbs. This sled is under rated, very good value. Needs storage just like the others. Love the running boards. One of the best all around sleds ever.
Kade Klingler: The 600 RMK Pro is an amazing sled. All the good I declare for the Pro 800 goes for the 600; it held its own with 800s, going everywhere they did. I do wish, though, it rode better down the trail.
Roger Raymond: No comments recorded.
Keeping Score
How the sleds ranked with the riders
Greg Huntsman

Categories
XM
M8
Pro 800
Pro 600
Rider's cockpit – ergos, handlebar, seat and overall body mechanics
4
4
5
5
Track performance
4
4
5
5
Deep Powder Performance
4
4
5
5
Motor performance
4
4
5
5
Drivetrain performance
4
4
5
5
Runningboards
4
4
5
5
Skis
4
4
5
5
Overall Average (Points Total Divided by 7)
4.28
4.14
4.85
4.71
Dustin Pancheri

Categories
XM
M8
Pro 800
Pro 600
Rider's cockpit – ergos, handlebar, seat and overall body mechanics
4
4
4
4
Track performance
4
5
4
4
Deep Powder Performance
5
4
5
4
Motor performance
5
5
3
5
Drivetrain performance
4
4
5
5
Runningboards
4
3
5
5
Skis
4
3
4
5
Overall Average (Points Total Divided by 7)
4.28
4.0
4.28
4.57
Kade Klinger

Categories
XM
M8
Pro 800
Pro 600
Rider's cockpit – ergos, handlebar, seat and overall body mechanics
3
3
4
4
Track performance
3
3
5
5
Deep Powder Performance
4
3
5
5
Motor performance
5
5
3
4
Drivetrain performance
3
2
4
4
Runningboards
3
3
4
4
Skis
4
1
4
4
Overall Average (Points Total Divided by 7)
3.57
2.85
4.14
4.28
Roger Raymond

Categories
XM
M8
Pro 800
Pro 600
Rider's cockpit – ergos, handlebar, seat and overall body mechanics
4.5
4
5
5
Track performance
4
5
4.5
4.5
Deep Powder Performance
4.5
4.5
5
4
Motor performance
5
4
5
4
Drivetrain performance
5
4
5
5
Runningboards
4.5
4
5
5
Skis
5
4
5
4
Overall Average (Points Total Divided by 7)
4.64
4.21
4.92
4.5
Final Thoughts
Combined Overall Scores

 
XM
M8
Pro 800
Pro 600
Greg Huntsman
4.28
4.14
4.85
4.71
Dustin Pancheri
4.28
4.0
4.28
4.57
Kade Klinger
3.57
2.85
4.14
4.28
Roger Raymond
4.64
4.21
4.92
4.5
Overall Average
4.19
3.8
4.54
4.51
The Arctic Cat M8 garnished the most up and down comments and scores. Most believed its weight transfer was too much, where one said it needed more. All praised its power and track, its trail manners and its telescopic handlebars. But, all found the M8 to be tricky to handle and scoffed at its less-than-adequate (LTA) deep-powder skis. The M8 held little snow, keeping clean from ice- and snow- build up. Its overall score was 3.8.
When our test riders were asked about the three 800s they would say, for example, "The Pro 800 is so easy to ride and handle…" Or, "The M8's power is unbelievable…." Then they would point to the Ski-Doo XM Summit and say, "Then there's the XM.…" The riders would search for the positive words, the splendid expressions to describe the XM, and come up short with the verbs and adjectives. Simply, the XM Summit left our riders speechless, it was that good to them. But, it had many up and down comments like the M8, yet XM rider-impressions were highly positive. Its overall score was 4.19.
The Polaris Pro 800 remains a favorite. A Pro is a Pro, it has very few faults, if they can be found. Its drivetrain efficiency is praised. Its cockpit honored. Yet, it biggest fault is horsepower; drivers' want more from the Pro 800, they want E-Tec- or Cat 800-like power. Its overall score was 4.54.
Polaris' 600 RMK Pro remains the snowmobile that is pushed, flogged, driven hard and challenged the most; and in the end, loved and revered the most. Anyone poking fun at the 600 RMK Pro would get a backhand. Talking smack about it was like talking bad about a family member. That was off limits. Its overall score was 4.51.
In studying the riders' comments, often what one rider liked about a mountain snowmobile, another rider did not like. That is the nature of skilled and unbiased test riders.
Related Reading 2013 Mountain Snowmobile Shootout: Part I 2012 Mountain Sled Evaluations: Part 1 2012 Mountain Sled Evaluations: Part 2 2011 Mountain Sled Evaluations: King of the Hill