2015 Yamaha RS Viper M-TX Turbo Review + Video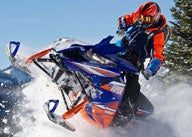 Yamaha goes vertical
Yamaha has been working hard to recreate its image among mountain snowmobilers. Trying to get to change public perception is no small task, but Yamaha is on to something.
While Yamaha sells excellent dirt bikes, which helps it secure a positive brand image. But in the Rocky Mountains, not many Yamaha YZ, YZF, TT and WR dirt bike owners bought a Nytro MTX because they wanted to color-coordinate their toyshop. The 2015 Viper M-TX may change that.
The collaboration between Arctic Cat and Yamaha is proving to be a good brother-in-law relationship. Yamaha gains a good chassis, Cat's ProCross and ProClimb, and Arctic Cat receives a dose of quality control. Both are "reaching across the aisle," to borrow a political term.
The 2015 Yamaha RS Viper M-TX line is Yamaha's effort to forge a new image into the ever popular and ever growing mountain snowmobile market. For the RS Viper M-TX, Yamaha purchases Arctic Cat's ProClimb chassis; the specific chassis used for Cat's own M9000 – handlebar post and all.
New for 2015 the RS Viper M-TX comes in several flavors: the basic M-TX 153, the M-TX SE 153 or 162, and the high-end 162 MT-X LE (a blue, orange and white M-TX that you can think of as the Denver Broncos or Boise State University Broncos M-TX LE). The LE model is a spring-buy "Power Surge" model only. It is beautiful.
Rather than repeat everything Editor Jerry Bassett wrote earlier, go to his February 11, 2014 article "2015 Yamaha Snowmobile Lineup Preview" at and "One Year Later, the Arctic Cat/Yamaha Deal."
Here we'll dedicate time to in-the-saddle rider impressions.
The track, which motivates all M-TX models, is the same 15-inch wide PowerClaw with 2.6-inch lugs used by Arctic Cat on its M line. In our multi-year experience with the PowerClaw, we've found it to be a superb track for most mountain conditions and are pleased Yamaha chose this track as the M-TX's hiking boot.
The 2015 Viper M-TX relies on a Yamaha-built 1049cc three-cylinder four-stroke electronic fuel injected motor that also powered the FX Nytro MTX for numerous years. This is a motor that can outlive its chassis.
COMPARISON: Read our review of the 2014 Arctic Cat M8000 + Video
With its 135 sea level-rated horsepower, the M-TX is in the same performance class as 600cc twin-cylinder two-stroke mountain snowmobiles. With its greater weight and greater horsepower, the M-TX's power-to-weight between it and the 125hp two-strokes, such as Polaris' 600 RMK Pro, Arctic Cat's M6000 and Ski-Doo's XM Summit 600 SP, is almost equal.
The RS Viper M-TX chassis is superior in many ways to the FX Nytro MTX chassis it replaced. We learned to enjoy the Mountain Performance Inc. (MPI) turbocharger-equipped Nytro MTX, though we still argued with it in the trees. During winter seasons 2011/2012 and 2012/2013, we conducted long term evaluations on an MPI turbocharged FX Nytro MTX – an MTX that performed much better turbocharged than not.
We created a positive relationship with this boosted Nytro, but could not develop light nimble feet. We believe Yamaha knew this and that acknowledgement drove Yamaha to create the RS Viper M-TX, which has a much more agile chassis than the Nytro MTX of yesteryear.
For 2015, Yamaha uses a vertical steering post to give it a flat rotating handlebar, which the Nytro MTX did not have. The vertical post gives the rider proper body positioning and leverage to attack a slope for sidehill rips. Though the M-TX's steering post is not telescopic like the M8000 Sno Pro, its height is spot on for rider need. Rotation speed is adequate for mountain riding.
As mentioned, the Snowmobile.com mountain wrecking crew spent two winter seasons on an FX Nytro MTX. At this year's 2015 new model introduction and ride reviews held in West Yellowstone, MT, this past March, Yamaha brought MPI-boosted M-TXs, to include the standard M-TX, SE and LE.
At first outing, all the boosted M-TXs were spinning much too light primary clutch weights and secondary clutch springs. Yamaha techies with MPI tuners cued up more weight and resistance and the M-TXs stopped hitting the rev-limiter. As a result, performance up a wicked slope at 8,500 feet was much more fluid than when the M-TXs pulsed like an eight year-old turning his kid sister's bedroom light on and off to make her cry.
Though Yamaha uses an Arctic Cat-supplied chassis and installs its own three-cylinder four-stroke 1049cc motor, Yamaha goes with its own drive and driven clutch. These clutches, when tuned for RPM, boost and elevation, do not work against the motor. But, as we learned this winter, if the two clutches are incorrectly configured for elevation riding, then your ascents will appear wheezy – like the motor's boost fell flat on the floor.
COMPARISON: Read our review of the 2014 Yamaha FX Nytro MTX
The long 162 SE and LE are deep-powder shooters and we like how the boosted 1049 motor worked over hill and dell. The 185 sea level to 10,000 foot-level horsepower propels the heavier-than-two-stoke equipped mountain snowmobile with ease. For riders over the double-century mark in weight, the boosted motor carries rider and snowmobile with ease.
For the LE models, we found the factory-set air pressure for the Fox Float 3s at the A-arms, and Fox Float 2s at the rear skid were too stiff for our liking. With years riding Fox Float-equipped snowmobiles, we understand that to obtain the optimum comfort and attack settings, the Floats need attention; these shocks deliver what riders demand, but must be attended to.
The higher-end Fox Float EVOL 3 at the A-arms on the LE also requires some adjusting, but the dual chamber shocks retain their pressure with more consistency than the Float 3s; oxygen is not as stable as nitrogen.
Our point here is this; with a long chassis, a heavy front end, and torque and horsepower built by turbocharged boost, "tweaking" as it is called, must be done to squeeze the most from the rigid SRV chassis, SRV-M front suspension and uncoupled rear suspension.
For us, the sweetest and simple surprise came from the standard-based M-TX. The high-pressure gas (HPG) shocks with coil-over springs gave a remarkably smooth ride. Likewise, the coil-over HPG shocks mated to the SR-153 rear suspension also provided a remarkably plush ride. With pre-load tension set at minimal stiff rate, the standard M-TX came to be our most fought-for boosted M-TX to ride.
Furthermore, the 153 chassis was a chassis on which we could terrorize the mountains. We scratched our head and wondered, should the standard M-TX be Yamaha's go-to mountain toy? We had a boosted M-TX everyday for five-days – standard, SE and LE, 153 and 162 – and came to believe the lesser-priced 153 standard M-TX is the boost baby to drive.
Where the M-TX, regardless of trim, showed weakness was in its ski. Yes, we can talk weight, but that will not do any good, as Yamaha is a four-stroke snowmobile company. Look at it this way, boost lifts weight, but the M-TX's ski does not. We feel the ski is much too narrow and its keel too shallow. Yamaha needs to design its own mountain ski or install one from a reputable aftermarket company. This ski is wholly inadequate for aggressive mountain riding.
To acquire a boosted Viper M-TX at a substantial savings, go to a Yamaha dealer before April 15, which ends Yamaha's "Power Surge," and secure an MPI turbo kit for $2,000, plus install costs, or you'll miss the opportunity to ride an easy to handle boost M-TX.
Here is a list of the Viper M-TX niceties that trump that of Yamaha's previous Nytro MTX: 1) runningboards that are stiff and remain clean; 2) vertical steering post; 3) seat storage; and 4) PowerClaw track. What we recommend for improvements, are smoother and more rounded nose and side panel lines. The blunt nose and minimal belly pan surface-area can hang up the snowmobile in ultra-deep powder.
In conclusion, the Snowmobile.com mountain test crew believes Yamaha is moving in the right direction. Yes, we want YZ-like two-stroke power from Yamaha, but its four-stoke Genesis motor is a good motor with a wide powerband. We know how to keep the boosted M-TX properly charged for ravine riding and have come to find the turbocharger keeps us out of trouble and never in it. Lastly, the standard black-in-color M-TX 153 is a nice handling mountain snowmobile, one I would ride before the SE and LE, but I wouldn't turn either down; we think the 153 length is more manageable.
Another Point of View
For additional insight, here's Sr. Test Driver Kevin Allred's take away:
My experience on the 2015 Yamaha M-TX MPI turbochargers would be categorized as I-can't-wipe-the-smile-off-my-face. This should not come as such of a surprise. Why? Three years ago we took delivery of a Yamaha Nytro MTX with MPI turbo. This became our first two-year long mountain "eval-test" snowmobile.
Over those two years, I became accustomed to the seemingly endless horsepower the boosted Yamaha triple delivered. Also during the test term, we learned the Yamaha/MPI turbo was reliable, no tinkering or fixing problems, just fill it with fuel, turn the key and have fun.
The other element to this 2015 package is that the Viper M-TX is a joint-venture product between Arctic Cat and Yamaha. The M-TX is a Yamaha version of Cat's ProClimb chassis.
Arctic Cat first introduced the ProClimb in 2012 and for the past three years, it has been a work in progress. In 2014, with improvements to the original ProClimb design, Arctic Cat hit the nail on the head with a very-accomplished mountain chassis. When the three companies, Yamaha, Arctic Cat and MPI, came together, the stars aligned and from the cosmos came one heck of a mountain sled.
With ample experience on boosted Yamaha power, along with ample seat time on a ProClimb chassis, I feel much at home on the new Viper M-TX.
So what are the other reasons for my mile-long smile? According to Yamaha, the boosted M-TX produces around 180 horsepower; you're on to me, I like horsepower! And yes, I'm that guy who has strong opinions about weight in a mountain sled. But when I can tap into 180 reliable four-stroke horsepower, a new and enjoyable level of fun opens up.
COMPARISON: Read our review of the 2014 Ski-Doo Summit X + Video
We spent ample time on the boosted Yamaha Viper M-TX, both on the 162 and 153, and for me, as time etched by, I gained more confidence in the M-TX chassis, my want to push it harder matched my abilities. I will admit, the boosted horsepower helped gain confidence.
As we dug into the Yamaha MPI turbo we could see much engineering thought and design went into the turbo unit. The components were neatly tucked into the chassis as if they were meant to be there right from the start.
A new exhaust system, which dumps in front of the drivers, produces a stock sound. Other than the intake snorkel, you would not know it's an aftermarket turbo.
Regardless of previous opinions you may have about four-stroke power in the mountains, and I've had my doubts, the 2015 Yamaha M-TX with MPI turbo is worth a good long look.
2015 Yamaha SR Viper M-TX 162 LE Specs
Engine
Yamaha Genesis four-stroke high-performance 1049cc; bore/stroke of 82.0mm/66.2mm; three-cylinder, liquid-cooled; 41mm electronic fuel injection system; dry sump lubrication
Horsepower
180+
Drive
Yamaha YVXC drive clutch with Yamaha driven; push button electronic shift reverse
Front Suspension
Yamaha SRV-M tall A-arm with Fox FLOAT EVOL3 RC aluminum shocks; up to 9-in of travel
Rear Suspension
Yamaha Dual Shock SR 162 parallel slide rail; Fox Float 2 and C43aluminum high-pressure gas shocks; up to 16.5-inches of travel
Brake
Radial master cylinder hydraulic brake system with disc mounted on drive shaft
Length
133.1 in
Height
49.6 in
Width
48.4 in
Ski Stance
Adjustable 38-39-in
Track
15 x 162 x 2.6 PowerClaw
Weight
N/A
Fuel Capacity
10 US Gal (Regular fuel)
Features
Optional storage bags, heated seat
MSRP
Only available until April 15, 2014 — US$13,349 — Canada $14,999 (MTX 162 LE)