2015 Snowmobiles of the Year: Best of The West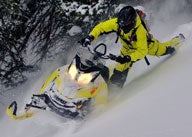 We hand out our steep and deep snowmobile awards
Crazy at it seems, I like watching the Westminster Dog Show. Sometimes the ugliest dog wins; ugly in my terms, not the dog's owner. There are times at this prestigious event when a short stubby pooch wins, and there are times when a long and lean hunting breed wins. We at Snowmobile.com know nothing about champion dog breeds and surely, nothing about championship dog shows. For the dog's breeder, owner and trainer, their top dog is righteous.
Like Westminster, sometimes we give top honors to unlikely models; it is not unusual for the unusual to win. Unlike dogs, the mountain wrecking crew at Snowmobile.com understands steep-n-deep snowmobiles – we know what is righteous.
So, here we are laying down our top dog picks for mountain snowmobiles of the year in these select categories:
• Mountain Snowmobile of the Year • Most Improved Mountain Snowmobile • Introductory Mountain Snowmobile of the Year • Four-Stroke Mountain Snowmobile of the Year • Deep Powder Crossover Snowmobile of the Year • Competitive Hillclimb Snowmobile of the Year
As there is much to present, let's squeeze the throttle.
Mountain Snowmobile of the Year 2015 Ski-Doo 800 Summit with T3
Ski-Doo takes it again. Boom.
Here is Ski-Doo's pedigree from Snowmobile.com, prior to this model year 2015:
• 2014 Ski-Doo XM RS Freeride, • 2013 Ski-Doo XM Summit (tie with Polaris RMK Pro) • 2012 Ski-Doo XP Summit with S36 Mountain Handling Package
Four years at the top. Boom.
Ski-Doo's T3 Summit X 163 and 174 come with the industry's first OEM built-into-its-chassis three-inch paddle track. Not only does the T3 come with three-inch tall paddles, the track retains Ski-Doo's famous-for-width, 16 inches. The PowderMax3 track is not a track that was plucked off a shelf and stitched to the Summit X T3 chassis. It was designed to be T3 specific with a lug pattern – spacing – and lug durometer – stiffness/softness – to make the T3 track wholly unique and application-specific to the T3 Summit.
Two other builders, Polaris and Arctic Cat, also are offering three-inch paddle tracks for deep-powder muscle sleds, the RMK and M8000. But, these are on dealer-created or OEM-created track exchange programs. The track swap-out includes exchanging the RMK's and M8000's drivers to smaller tooth driver, along with the 2.4-inch Series 5.1 track (Polaris RMK) or 2.6-inch PowerClaw track (Arctic Cat).
Read our review of the 2015 Ski-Doo 800 Summit X 174 with T3 + Video
Thus, in being clean and to the point, the T3 was designed around the track (as well as the driver/operator). It comes standard with the monster track and the right-sized drivers; no swapping out anything.
The Summit X T3 comes in two track lengths, 163 and 174.
The T3 Summits reflect the XM Summit X 800 in every way. Plus, the T3 Summit X has Ski-Doo's new Response Angle Suspension (RAS) 2 front suspension that relies on a 12mm taller forged spindle. These taller spindles are designed to help the long chassis roll-left and roll-right, keep the nose flat to the rear axle and, as a bonus; these do not add any weight to the T3.
The T3 Summit X features a lightweight muffler canister and lighter idler/bogie wheels from those of last year's XM Summit Xs. Part/component multi-tasking was taken into consideration to reduce weight. Ski-Doo claims zero weight gain for these longer track Summits. Remarkable.
All this adds up to why the 800-powered T3 Summit X is our Mountain Snowmobile of the Year.
Most Improved Mountain Sled 2015 Polaris 800 RMK Pro Terrain Dominator
Why in the heck would we list Polaris' 800 RMK Pro Terrain Dominator as Snowmobile.com's "Most Improved Mountain Snowmobile?" Was there something wrong with the RMK Pro in model year 2014 that needed correcting for model year 2015? Nope and double heck no. The "Pro" in the RMK Pro Terrain Dominator is as "Pro" as ever. We land on this Pro, a limited-build Spring-buy RMK Pro because of its good stuff; the factory add-ons that Polaris bolted on to this Terrain Dominator.
Here is the gadget list that rounds out the Terrain Dominator RMK Pro 800 155 and 163:
• Walker Evans Clicker Shocks, which are standard on the RMK Assault • Custom Topo wrap • Painted suspension components to match the wrap's color scheme • ProTaper handlebars that are lower than sister-ship Pro • Extreme front and rear bumpers, which gives the Terrain Dominator Pro a mean appearance • Burandt Lock and Ride tunnel bag • Polaris handlebar mounted bag
The Terrain Dominator RMK Pro is outfitted for the long drop, the steep climb, the long haul and fast mogul spanking.
Read our review of the 2015 Polaris 800 RMK-Pro + Video
Remember, the RMK Pro, in all its variants, comes with Polaris' lightweight Low Inertia Quick Drive belt drive system and its uber light Pro-Ride chassis with carbon fiber overstructure, PowderTrac runningboards, Pro-Lite seat and lightweight muffler canister.
All Polaris did for this model year, with its Terrain Dominator RMK Pro, is amp up an already amped out lightweight killer mountain snowmobile. These Pros are so wicked looking and built, it's hard not to stare at them.
We dang near chose this as our mountain snowmobile of the year, as the Terrain Dominator RMK Pro is that good; it almost unstitched the XM Summit T3 for the bejeweled crown
Best Introductory Mountain Snowmobile 2015 Arctic Cat M7000 Sno Pro 153
We easily went with the Arctic Cat M7000 Sno Pro 153, a simple, clean and efficient introductory mountain snowmobile that also delivers performance for the seasoned veteran.
Arctic Cat is a four-stroke company as much as it is a two-stroke company. The Yamaha three-cylinder, four-stroke motor is proudly named by Arctic Cat as C-TEC4. The motor is an electronically controlled fuel-injected (EFI) motor that produces approximately 135 sea-level horsepower. In this class it rides in company with other 600cc two-stroke twin-cylinder mountain snowmobiles. With that, Cat has organized a rivalry within its own brand, the ProClimb M7000 Sno Pro and the ProClimb M6000 Sno Pro, powered by Cat's own two-stroke twin. We figure that a slugfest between those two could be very interesting, but that's for another time.
The three-cylinder four-stroke motor, from its many years in Yamaha's Nytro snowmobiles, has a long and solid history for reliability and good fuel economy. The motor is not new. On other notes, the ProClimb Arctic Cat chassis is not new and the collaboration between Arctic Cat and Yamaha is not new, going into its second year. But, the M7000 is new.
Read our review of the 2015 Arctic Cat M7000 Sno Pro + Video
The M7000's rides on a 2.6-inch PowerClaw paddle track. The rear suspension is the springless Arctic Cat Mountain Rear with a tri-hub rear axle and FOX Float 3 air shock at the rear. On the rear suspension's front arm is an Arctic Cat (IFP) shock.
The front suspension is Arctic Cat's Race Front Suspension (ARS) with tall lightweight spindles and widely spaced A-arms.
A forgiving and very predictable mountain snowmobile that, Anyone, and we mean anyone, could ride the M7000 in the mountains – experienced or novice. It is fast, comfortable and snappy. The C-TEC4 motor is predictable for the person just starting out in the steep-n-deep world. Its track length – 153 – with the 2.6-inch PowerClaw paddle track delivers bite and claw that keeps the M7000 flat and upright. Its ergonomics are just right for the novice and experienced riders alike.
This is a good and all-around purpose-built mountain snowmobile for those who are just beginning their backcountry explorations.
Four-Stroke Mountain Snowmobile of the Year 2015 Yamaha MTX 153 with MPI Turbo
What we are about to discuss here is another mountain snowmobile that came close to being our Mountain Snowmobile of the Year. Yes, we could have had a three-way tie among the Ski-Doo Summit X T3, the Terrain Dominator RMK Pro and this, the Yamaha MTX 153 with MPI Turbo. This snowmobile was 99.99% snowmobile of the year for us; it is that good. With that said, the T3 did not receive the King's crown with absolute dominance; the T3 had to fend off a fearsome battle from the Terrain Dominator RMK Pro and the Yamaha M-TX MPI-equipped turbo.
The question asked of us, "What M-TX turbo is it?" Answer is the stealth black standard-based M-TX 153. Now, the other MPI-boosted M-TXs, SE and LE, 153 and 162, to include the absolutely gorgeous blue, white, black and orange M-TX, are just as mind blowing and deep powder melting as the standard-based M-TX. But what pulled us into this endorsement, besides having the nimble RS Chassis and 2.6-inch Power Claw paddle track, was its use of high-pressure gas (HPG) shocks with coil-over springs which gave the standard, but boosted, M-TX 153 a remarkably smooth ride.
Read our review of the 2015 Yamaha RS Viper M-TX Turbo + Video
Additionally, the coil-over HPG shocks mated to the SR-153 rear suspension gave the M-TX a remarkably plush ride. With pre-load tensions set at a minimal stiff rate, or at our liking for terrain and body weight, the all black standard M-TX came to be the boosted M-TX we wanted to ride; not that the others stayed in the corral, these too were punished by us.
So, the other M-TXs are mountain rippers – jet planes reaching for new heights. But, we found the coil over HPG shocks and shorter chassis played better on the trails and in complicated tree-infested terrains that were built into a mountain slope. Would we walk away from an LE or SE? Only if we were gut shot and needed a doctor. In other words, the turbocharged M-TXs are highly favored by Snowmobile.com. We know the M-TXs have the "H" word for "heavy." But, let its chassis and its power-to-weight shut the "H" up and you will become a convert.
Deep Powder Crossover Snowmobile of the Year 2015 Polaris 800 Switchback Assault with RMK Series 4.0 track
It's not new, but a much believed-in snowmobile, Polaris' 800-powered Switchback Assault with RMK Series 4.0 two-inch paddle track continues to be a deep favorite for the Snowmobile.com mountain test crew. It is not known in the Rocky Mountains as a high altitude plaything. In fact, we rarely see it on the mountainsides. This does not mean it can't handle the steep-n-deep, we've proved it can, and so can you.
This is a crossover snowmobile that multitasks quite well. No, it is not an RMK Assault, nor it is not a Rush Switchback 136, but it is its own hybrid crossover meant for deep snow. The Switchback Assault is built on the RMK-like Pro Ride chassis and can be purchased as an 800 or 600, which both ride on a 144 track. For this crowning, it is the 800-powered Spring-buy Switchback Assault with Series 4.0 powder track, we like the most.
Horsepower is thrown to the track drivers with vengeance. The Assault's drive train is a chaincase system – the Quick Drive Low Inertia belt drive system is not part of the Switchback Assault's makeup. No matter, the two-sprocket and chain system is stout and efficient.
Read our review of the 2014 Polaris Switchback Assault + Video
The Switchback Assault's rear suspension is the Switchback 144 uncoupled skidframe with tipped up rails which gives it the nimbleness of a 136, yet it maintains good flotation in powder.
As for the cockpit, which is similar to the RMK, you'll find Pro Taper bars with end hooks and a lower-than-RMK-Pro riser block. These bars do not have a mountain grab bar – the center pull strap.
The Switchback Assault's runningboards are similar as those used on a Rush Switchback – wide and meaty. These Hybrid runningboards, as Polaris calls them, surround any wide boot. A lightweight Freestyle seat is different than the RMK Pro Lite seat in that it is somewhat longer and wider.
A comfortable trail sled, the 800 Switchback Assault also makes an excellent powder sled. The longer rear suspension provides good control over tight and choppy trails. It performs fairly well in boondocking mode. This is a crossover snowmobile that goes beyond a 50/50 snowmobile – it is trail and backcountry clever.
Competitive Hillclimb Snowmobile of the Year 2015 Arctic Cat HCR 8000
For model year 2015, Arctic Cat returned some M8000 Sno Pro coolness to the HCR (Hill Climb Racer). The changes are small, but significant. These include ski-stance cinched up by two-inches from 42- to 43-inches from model year 2014 to a more narrow 40- to 41-inches for this model year. This brings the HCR 8000 more in line with Polaris' 800 RMK Assault 155 and Ski-Doo's 800 RS XM Free Ride 154.
Another change is that the hyfax and rails received track anti-stab caps on each respective nose. There were times when competitive HCR riders would cram the sled into a short hard wall made of ice and snow and its hyfax would pierce the PowerClaw track and stop momentum. In a competitive world of tenths- and hundredths-of-seconds, that is unacceptable.
To keep weight low and to prevent handlebar flex, which is proper for competitive hillclimbing, the HCR does not use the M8000's telescopic handlebars. The steering post is bolted to a 5.5-inch high riser block. Cat offers differing height riser blocks as an option through its parts and accessory catalog.
Read our review of the 2015 Arctic Cat ProClimb M8000 HCR
The HCR is built on Arctic Cat's ProClimb chassis, the same chassis on the M8000 Sno Pro and XF High Country 8000 Sno Pro.
Power is provided by the 8000-series Suzuki two-stroke twin that displaces an actual 794cc. This motor rolls out approximately 163 horsepower.
The front suspension is the robust Arctic Race Suspension (ARS) with FOX Float EVOL shocks. Its ski is the ProCross, which is spot-on for competitive hillclimbing.
Seat, runningboards and cockpit are identical to the M8000 Sno Pro. The HCR's tunnel is painted which prevents snow from flash freezing to the tunnel. The HCR uses a front-mounted heat exchanger, which is a single unit. This cooling system reduces snow- and ice-build up on the tunnel.
A lightweight-racing seat that is right sized for leg swings.
The rear suspension is Cat's M with tri-hub rear axle system. The rear skid has an Arctic Cat internal floating piston (IFP) shock on front arm and a FOX Float 2 shock on rear arm. Vertical travel is 15.5 inches. The HCR's track is Cat's 2.6-inch PowerClaw with a stiff 85-duometer and is of one length only, 153.
Make no mistake, the 2015 HCR 8000 is an aggressive snowmobile. Its stiff shocks, 40- to 41-inch ski-stance and non-adjustable handlebars make it perfect for podium chases. Consider the HCR a competitor that likes to be pushed.
For you budding or experienced competitive hillclimbers, the HCR 8000 is all business.
Top Dogs
There it is, our "Westminster" top breed picks for the West. Ski-Doo continues to shine with the Mountain Crew. But, the T3 did not walk into our room with an easy clean sweep. The Terrain Dominator RMK Pro and MPI boosted Yamaha M-TX 153 were just a percent away from standing on the same podium as the T3. What does all this mean? Today's deep powder horsepower hypersleds get the work done.
For this season, 2015 gives us mountain 'bilers much excitement. The RMK Pro is starting to date itself, but the Terrain Dominator RMK Pro is loaded and is a good buy. Not to throw water on our fire, but we can't wait for 2016, as the T3 set the industry on edge. For Arctic Cat and Polaris, we believe (hope) these two builders will show up in our room with a new and equally sized broom.