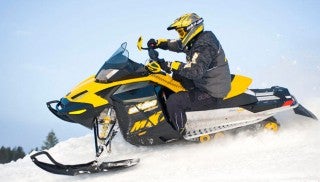 New engines and chassis, renewed desire to stay No. 1 top Ski-Doo's list for '09
If you're a regular Snowmobile.com reader, you know from our Feb. 4, 2008 report that Ski-Doo surprised us with some new engine technology. Oh, the ETEC wasn't really that big of a surprise, but the all-new 4stroke certainly was.
We weren't all that shocked about the addition of a new, wider version of the REV chassis. We figured that Ski-Doo had to have a bigger, wider platform on which to base its two-up touring sleds. We were surprised with a short-track version that Ski-Doo came with for its new MXZ 4stroke sport sled. And we didn't realize just how prominent international sales have become for all sled makers. That was driven home when Ski-Doo unveiled its all-new TUV sport/utility model with 4stroke engine option and a special REV-XU chassis.
Those were some of the items we discussed in our Feb. 4 report. But, as they say in those late night infomercials—wait, there's more. Here's a quick overview of what Ski-Doo is about for 2009.
Rotax 600 E-TEC engine
You knew this was coming, but not when. This engine combines the skill and savvy of Rotax two-stroke engine builders with the innovation of Evinrude engineers. Since both firms are part of the BRP powersports empire that also owns Ski-Doo, this corporate ménage-a-trois proves quite unique and beneficial to all.
This new motor is the next generation of advanced lightweight two-stroke engine technology. Applying the low emissions, fuel efficient concept proven in BRP's Evinrude outboard engines to Rotax' 600 HO E-TEC twin means a gain of 15% better fuel economy than similar displacement Rotax SDI engines. Of course, there's the added benefit of using half the oil.
Ski-Doo and Rotax claim that fuel economy is as good as competitive 4strokes. We have seen for ourselves that there is virtually no two-stroke smoke nor smell. The engine really does start in one pull, even in quite cold temperatures. We are believers. We figured that Ski-Doo would battle the 4strokes with the ETEC, and it will. But, just in case, Ski-Doo and Rotax teamed to create its own three-cylinder, overhead cam 4stroke.
Rotax 4-TEC 1200 engine
There have been 4strokes in Ski-Doo's past—but none like this. Until now we weren't convinced that Ski-Doo felt it needed a 4stroker. The expected ETEC two-strokes seemed to be where Ski-Doo was heading. But, obviously, the Quebec-based snowmobile company has seen the same pro-4stroke sales trend that Yamaha has. The difference is that Yamaha has a nice five-year head start.
Nonetheless, Ski-Doo's first snowmobile-specific 4stroke is exceptionally well done. Almost Yamaha-like.
Rotax's first performance four-stroke snowmobile engine has all the 'right' pieces. There's the very responsive electronic throttle body fuel injection; an inline three-cylinder configuration; dual-overhead cams and engine counter balancer for smooth operation. Just as the Yamaha Genesis 120 triple, the Ski-Doo/Rotax motor features relatively low 3,000-rpm engagement with peak power coming in at 7,800 rpm. You really need to test ride the 4stroke to appreciate the width of torque throughout the powerband.
We do disagree with Rotax on the engine's 'signature' European sports car sound profile. We feel that a deeper growl would be better suited to an audience of riders who tend more toward NASCAR than Formula One. Regardless of our opinion, the engine should arrive at Ski-Doo benchmarks of 18 to 22 miles per gallon for fuel economy.
Don't kid yourselves: this engine and the new REV-XR platform were targeting Yamaha directly. The three-cylinder engine configuration, the 'guesstimated' 130-hp output and use of a lightweight chassis were all planned to hit Yamaha right in its Vector and Nytro sales profile. Ski-Doo claims that its combination of 4-TEC 1200 and REV-X platform "…produces the lightest four-stroke in snowmobiling." When more than 30% of new sled sales are going to 4strokes, it doesn't take a marketing genius to read the future.
REVolution 2009
Understand that there is more than one version of REV chassis/platform in this 2009 Ski-Doo line up. Some models, especially the lower buck models with base engines and packages, retain the familiar original REV platform. The REV-XP, now simply REV-X, is the core chassis from which the wider REV-XR (think of this as the 4stroke platform) and more utilitarian REV-XU sprang.
To highlight the 'XP,' think in terms of: lightweight—the 2008 REV-XP Ski-Doo snowmobiles were, on average, 50 pounds lighter than comparable competitors; feature redesigned parts for better performance and lighter weight; were strengthened up to 37% over the early REV platform; and have a more versatile riding position with 8-inches greater legroom.
The new-for-2008 XP and its front and rear suspensions were derived from snocross and hillclimb experience as engineers sought to create a better handling front suspension and rear suspension that would both better control weight transfer and suck up bumps. The mountain version of the SC-5 suspension was designed to get the Summit models to plane on snow better. Those features are retained with evolutionary upgrades for 2009. Just as the XP was function specific, so are the REV-X variants you'll have to choose from on the latest 2009 Ski-Doo models.
REV-XP variations
This is essentially a carry-over for 2009, the XP platform is the configuration for all out performance, lightest weight and best rough trail performance.
The REV-XR variation is designed to accommodate the Rotax 1200 4-TEC engine and provide a refined body style and wind protection for luxury touring sleds. You'll see both a short and extended version of this chassis used for both MX Z models with the 1200 4-TEC engine and the luxury-packed GTX SE and GTX LE models (regardless of engine).
The REV-XU variation is Ski-Doo's utility-oriented platform for the TUV. A Ski-Doo Expedition TUV with Rotax 600 H.O. SDI engine is up to 84 pounds lighter than a similar purpose 2008 model based on the Yeti II platform.
As these new combinations of chassis variations and engines make their way into the Ski-Doo line over the coming seasons, you will note some 2009 Ski-Doo models carrying over older chassis and features. This is common during product transition and can mean very good deals on brand new sleds if you don't have to have the absolute latest items.
Luxury two-up touring redefined
We will not pretend that two-up touring models are our favorites. If we were taking frequent long distance solo 'saddlebag' tours, we would certainly consider the extended track luxury of models like Ski-Doo's new GTX SE. There is a lot to like about this sled and in many ways it epitomizes all that is good about the new Ski-Doo line for 2009.
The Ski-Doo two-up tourer moves to the REV-X platform for added comfort, easier handling and better fuel mileage from either a Rotax 1200 4-TEC or new 600 HO E-TEC engine. Having eight inches of added legroom for the driver, 70% more storage capacity and a new luxury suspension means more overall on-trail comfort.
If you are a serious two-up fan, the top of the line for Ski-Doo in 2009 is the sumptuous GTX Special Edition. Check out these standard features: REV-XR body, Rotax 4-TEC 4stroke engine, adjust-on-the-fly Air Control suspension, tilt steering, heated seat, push-button reverse, multi-function/digital/analog gauge, rigid saddlebags, trunk bag, extra wind protection, plus front and rear power outlets.
True Ski-Doo fans will recall a previous luxury touring sled with air suspension, but not one that works as well as the new Air Control that can be adjusted on-the-fly by the driver for both load or trail conditions. Pressing a handlebar-mounted switch operates an on-board air compressor that adjusts the preload of the air spring. Combine this new easy-rider air suspension with the SE's new SilenTrack makes this one smooth—and quiet—snowmobile. A special shape on the inside of the SE track reduces the sound of the track's cross rods from hitting the idler wheels. That's what reduces track noise.
If that doesn't spoil you, there's tilt steering. Simply pull a lever to set the bars in one of four positions.
Early order models
Each snowmobile manufacturer tries to get us to order early. It helps the manufacturer to plan its production schedule, provides a bit of early cash, and it's a way to get consumers into the brand's dealerships. The incentives vary from season to season, but Ski-Doo for 2009 wants to make Spring Only sales time worthwhile. Here's a sampling of what's available if you hit the dealership early.
MXZ X-early purchase packages offer: • Factory-installed Electric start with an 800 or 600 engine choice; • Availability of 800R Power T.E.K. as an engine choice; • Clicker damping adjustment on HPG Take-Apart aluminum front and rear shocks; • RipSaw track with taller 1.25-inch lugs; • Multi-function analog/digital gauge cluster; • Racing brake pad, steel-braided brake line; • And special color/decal schemes only available in the Spring.
The Renegade X 'Spring' package differ from the in-season Renegade in these ways: • HPG Take-Apart Clicker aluminum front, rear shocks; • C-36 Racing Clicker center shock; • Multi-function analog/digital gauge cluster; • Racing brake pad, steel-braided brake line; • Aluminum handlebars with bent J-hooks; • Low windshield; • And handguards.
Designed for deep snow, the Ski-Doo Summit series is highlighted by light weight and a wide choice of both power options and track setups. The special Spring Only Summit X Models continue a tradition of outstanding power-to-weight ratio (2.8 lbs per horsepower with 800R Power TEK engine) and mountain-bred features.
The 2009 X models combine an ultra lightweight REV-XP platform with two powerful Rotax engine choices: the 800R Power T.E.K. or new 600 HO E-TEC. There are track options ranging from 146 x 16 x 2.25-inches to 163 x 16 x 2.25-inches. There is also an additional choice of 154 x 16 x 2.25-inches track.
Unique to the 'X' package versus in-season Summit Everest models are: • Factory-installed electric start; • HPG Take-Apart aluminum shocks; • Multi-function analog/digital gauge cluster; • Racing brake pad, steel-braided brake line; • Aluminum handlebar with bent J-hooks; • Low windshield with handguards; • And special color and decal styling.
You will find most of the same MXZ models returning for 2009. The 600cc ETEC was an early release model in selected markets and will be found throughout the MXZ line this coming season. The 1200 4stroke will be an option and some may already have test ridden the 1200X version.
The TNT designation expands with three engine choices: the carburetted 500SS, new 600 ETEC and 1200 4stroke. In addition there are TNT, extended track Renegade, sport-tuned Adrenaline, value sport Trail, and a base REV 550 fan-cooled X-package version in the MXZ line.
The Summit series offers similar packaging with Everest, Everest 550SS and a 550 fan-cooled version.
Trail sports luxury
Ski-Doo continues the GSX tradition on each of the new REV-X platforms and with a wide choice of engine options from fan-cooled twin (on returning REV chassis) to new liquid-cooled 4stroke available on the GSX Limited (new REV-XR platform).
You'll find the major upgrade for 2009 is the use of new Pilot 5.7 SL skis. They offer less aggressive straight line ski tracking suited to trail touring applications. A single center keel is wide and square to reduce darting. Rip Saw tracks, electronic reverse in the two-strokes and touring-tuned suspensions make these sleds well suited for long days on groomed trails.
Legendary value
The Legend model line carries over the RF chassis and the V800 4stroke twin that has been used in Europe for a number of seasons. The model reflects value with easy handling and a no-hassle Rotax engine. The RF platform first appeared in the original Freestyle and was enhanced to accommodate the needs of utility riders who sought value in the base Skandic. This is an easy to ride and appreciate recreational snowmobile equipped with a fuel-sipping engine. Equipped for two-up touring, it features comfort-calibrated suspensions, an extra large windshield, mirrors, and heated handgrips for both driver and passenger.
Speaking of the Freestyle, the sole model for 2009 is the Backcountry with 550 fan-cooled engine and 136-inch track built around the compact RF platform. This is quite a fun snowmobile and extremely versatile and reliable.
Expedition
The workhorse fleet in the Ski-Doo line for 2009, Expedition models reflect utilitarian value. Designed to be rugged and reliable, they specifically suit the most untamed snow pack on the planet.
New for 2009 is the Expedition Touring Utility Vehicle (TUV) that was specifically designed to go where you want—regardless. The TUV features the new REV-XU chassis and seats two above compliant and controlled suspensions. Although based on the same REV-X platform as the MXZ and GTX models, the Expedition TUV was further refined with rugged utility-specific features. The other Expedition models retain the tried and true Yeti frame and style.
50 years and counting
Celebrating its 50th anniversary as a snowmobile maker, this pioneering company continues to break new trails as it introduces more refined chassis styles and new engine technology that is more environmentally friendly than ever before. Indeed, Ski-Doo has come a long way from its first Ski-Dog in 1959 to the MXZ 1200X of 2009.
Related Reading 2009 Ski-Doo preview 2009 Ski-Doo E-TEC 2009 Snowmobile Preview Part I