Ideas for the Future of Snowmobiling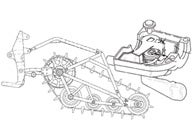 Searching a patent database yields possible features for future sleds
Any time we start believing that there can't be much left to add to a snowmobile, we start poking around searchable databases, enter a few unwieldy, if not outlandish search criteria and sit back a few milliseconds as our goofy "what ifs" come back as why nots. We do this as a late night form of entertainment and as an educated way to see what our friends at the sled companies may be up to.
Such previous poking around allowed us a peek at Yamaha's electric power steering concept, although we were a few years ahead of that curve and had begun to think that Yamaha gave up on the idea. Not at all, today Yamaha has EPS on three sled series: the Apex, Vector and Venture GT.
If you guessed the appropriate search words, you could have found a tidbit about Yamaha's exhaust gas management system used on current Apex four-stroke quads.
Polaris' RUSH-type rear suspension was also available for sharp-eyed tech voyeurs, but to those engineers we offer congratulations on how the drawings were obscured enough to keep the real and final product highlights guarded.
As noted, we search the World Wide Web as a form of entertainment. Not always do our searches yield snowmobile-specific info. We frequently look to other motorsport venues and even go "green" with some frequency to see what's hip and happening in the world of alternative powered vehicles. Keeping in mind that snowmobiling is a tragically minute niche compared to cars, scooters and motorbikes, we look to see what technological developments possibly might be dripping down to sled tech.
Consider that sleds draw from some of the same suppliers as the auto companies and you shouldn't be surprised to see common products like certain paint jobs highlighting current model snowmobiles. White and silver are the most popular auto colors in North America according to paint supplier Dupont, but black is strong as well. Historically, black has been a very popular sled color for decades. Is that because Arctic Cat favors it? Whatever! Black is very popular with real world snowmobilers when it comes to purchasing and wearing sled apparel, especially bib snow pants.
Now, as many readers may have surmised, this writer is tragically unhip when it comes to a manufacturer (any manufacturer) leaning heavily on the oh-so popular consumer focus groups. We think they are a crutch for unimaginative marketers and an impediment to creative engineers and designers. Focus groups require us everyday folks to look at product offerings and tell a manufacturer which one is the brilliant design. If they don't have a clue, why would they think we commoners would get it?
If Steve Jobs and Apple had sat you down in front of the first iPod, would you have envisioned that it would radically change the music industry? If Apple had relied on focus groups instead of its own headman, we might still be exercising with a Sony Walkman tape player strapped to our arms.
We can't conjure up what may come next in snowmobiling based on what we know now. That's also why we are very skeptical of consumer surveys telling us what products will come in the future. How do we know? When sled makers ask consumers what they want in future sleds, the results reflect current thinking and current knowledge of what is available. We want faster, lighter sleds with more reliability, lower pricing and longer suspension. That'll be $10,000, please, from each sled maker as we just now gave them the results of their next consumer survey and saved them the marketing cost of printing it, mailing it and tabulating it.
In reality we want much more. But what exactly can we have? Can we have anti-lock braking systems? How about a snowmobile air bag system to protect us in a crash? How about custom handlebars that will fit us whether we are long or short armed? How about a sled that can actually lean into a turn?
Interestingly, snowmobile engineers, designers and product development planners do think outside the traditional envelope of snowmobiling. In actual fact, the basic snowmobile design concept that Carl Eliason outlined decades ago works extremely well and everything else that comes along for now is quite simply embellishment. In the future we will be exposed to some new ideas. We'll let you in on a few that we stumbled across in our late night web wanderings.
We may soon discover that throttle cables are history as there are definitive plans to use "throttle-by-wire" computerized devices from companies like Honeywell. Don't worry; there still will be a throttle flipper. It will work via sensors and interact electronically with the engine's electronic control center. It should be a seamless and unobtrusive switchover for us riders.
We have already seen variations of an adjustable handlebar for a straddle seat vehicle from Arctic Cat, which has backed away from it with its newest Procross sleds. Polaris offered us seven positions for its handlebar and steering post setup on the Fusion-type sleds. Only a few models for 2012 retain that concept. So, it seems that Ski-Doo daddy, BRP, may be late to the party with a patent filed in 2009 for an adjustable handlebar system. The actual filing, though, is for more than sleds as it seeks to create a more ergonomic fit for riders of its sleds, ATVs, Sea-Doo watercraft and Can-Am Spyder sport trike.
One of the most interesting "finds" we came across is the snowmobile air bag safety system, which was offered up as a US patentable concept in 2007. The design provides the snowmobiler with air bag protection emanating from the handlebar area or from the sled's hood area. The device could be detached and stored indoors. This air bag idea follows along with the optional air bag restraint system available with Honda Gold Wing motorcycles. The patent describing the sled airbag is attributed to Suzuki.
We can tell you, that having been seriously injured in a motorcycle crash and having taken an occasional unintended off-trail excursion, we can feel the benefit of such a device. The main problem with this is that it needs serious refinement and should be unobtrusive such as those in a car or on the Gold Wing. The idea is stellar, especially if you ride a 160-plus horsepower speed sled.
Our explorations confirmed rumored reports of Polaris working on an anti-lock barking system (ABS). The most current design most likely would involve the more powerful versions of the Rush-type sleds. The idea of an anti-lock braking system isn't new of course. Most of your cars and pickups have them. But we think the use of ABS for a sled makes immense sense. In its patent filing, Polaris explains the benefits.
"During a braking event on a conventional brake equipped snowmobile when the operator quickly and firmly applies and holds the brake lever on the handlebar the endless track will typically lock. The snowmobile will transfer weight to the front skis and the endless track will slide causing the snowmobile to over-steer and skid, which will hinder the operator's ability to control the snowmobile."
Polaris continues its description as "…including ABS when the operator quickly and firmly applies and holds the brake lever, ABS control will intervene and cause brake caliper to release brake disc before endless track assembly lockup occurs minimizing the possibility of an over-steer condition. ABS control looks at the percent slip between the endless track velocity and the snowmobile velocity."
Obviously there are many factors to getting the right set up for safe ABS operation, but we are delighted to see that Polaris is working on increased sled safety, as a patent filing from February of this year would indicate. As Polaris buffs know, the Minnesota company once designed and incorporated a liquid-cooled hydraulic brake into its high performance models in the Indy years.
And, while not exactly a revelation of product enhancements that we might see on future sleds, we did find some interesting fodder for rumor mongering. For example, we stumbled across snowmobile patents filed within the past five years on behalf of Honda. The descriptive artwork showed a sled with a four-cylinder motor and description of turbocharged power. And you wonder where those Honda rumors come from?
We also found a nifty looking "personal snow vehicle" description of a small sled with a narrow Phazer-like front profile but a single ski and a dirt bike mono-shock, swing arm rear suspension. This design gets attributed to Yamaha and has a filing date of late 2010. Was this a replacement for the Phazer or a challenger to the Snow Hawk snow bike? We really like the style and the thinking.
Stay tuned as we think sleds of the future could be ever so much more interesting.
Related Reading Bassett's Blog : Power Steering Coming Soon? Personal Snow Vehicle Concepts Yamaha Unveils Electronic Power Steering 10 Great Ideas in Snowmobile History