2011 Ski-Doo GSX SE Review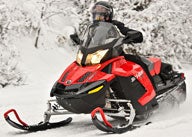 The high-mile trail traveler for serious snowmobilers
When you've been snowmobiling for a few decades and have gotten over the need for pure high-powered, back-banging, ragged edge riding, then you'll understand the appeal of Ski-Doo's latest power cruiser, the 2011 GSX SE. Don't mistake power cruising for grandpa-riding, because this sled is definitely not that.
Fast Facts
Engine Type:Horizontal In-line
Cylinders:3
Engine Stroke:4-Stroke
Valve Configuration:DOHC
Displacement:1170.7 / 71.4
Starter:Electric
Turbocharged:No
View Full Spec
Under the hood and set back aft of the front suspension centerline you'll find a very sophisticated 1,170.7cc triple cylinder motor that puts out maximum power at 7800 revs and comes with a Formula One pedigree. Indeed, BRP's Rotax-Works in Austria sought some tuning assistance from one of Europe's top Formula One engine outfits. That's one reason you may detect a difference in exhaust note between the Rotax 4-TEC 1200 powering the current GSX SE and the similar but tonally adjusted motor used in the sportier MXZ. Since the GSX is aimed at the luxury segment, engineers decided a smoother and quieter exhaust would be preferred, leaving the huskier tone to the MXZ riders.
Regardless of exhaust note, the Rotax 1200 four-stroke enjoys a reputation for dependable and sturdy power that begins its torque delivery at a relatively low 2500 RPM in the 2011 GSX SE model. From there you get a steady and nearly linear pull to wide open injectors that will haul you quickly down any wide lane corridor trail in North America.
This most recent version of the Ski-Doo 4-TEC set up gains improved performance from minor, but important, tuning of the TRA IV drive clutch and its relationship to the QRS secondary. Power delivery is now smoother than it was in the earliest 1200 four-stroke equipped sleds. These enhancements are noticeable as making the GSX easier to "drive" with virtually no throttle lag. You'll also note that the drivetrain gives a bit of off-throttle engine braking, but not enough to be obtrusive when cornering.
Just as the exhaust note was silenced, so was the GSX SE's track. If you've been riding snowmobiles for a number of years, you'll have noticed that as sled engines and underhood noises became quieter, the track's noise became more apparent. In fact, snowmobile sound engineers have known for decades that meeting regulated decibel ratings required much more than simply affixing a sound-deadening exhaust system to the motors. The undercarriage has long been recognized as a major noisemaker. The switch from steel skis to plastic skis reduced some on trail noise, but the slapping of the track and its whining over the suspension and drive sprockets has been an area needing quieting.
The 2011 Ski-Doo GSX SE attacks track noise by adding the same SilenTrack used on some two-up Grand Touring models. This track is specifically designed to reduce noise and has been shown to lower track feedback by up to three decibels. The SilenTrak uses a raised molded-in band for the suspension's idler wheels to roll over, thus keeping them from dropping into the internal track ribbing.
Although reducing the noise levels as you travel on groomed and packed trails, the 15-inch by 137-inch track will still bridge those little sections of short stutter bumps to give you a plush ride. The track's lug profile sits up an inch to provide adequate grip for acceleration or braking when you need a handful of the GSX SE's standard hydraulic Brembo disc brake.
Ski-Doo engineers seem to have gotten the message that riders of full-on luxury sport touring models still like their sport features with their luxury appointments. The double A-arm front end features fade-resisting high-pressure gas shocks to control the nine-inches of travel. The long travel rear-suspension houses an HPG shock on the SC-5 "stretch" rear design as well as an air-controlled shock that allows you to make ride adjustments on the fly by simply fingering a handlebar-mounted rocker switch.
The GSX SE gives you lots of room to maneuver as the sled is built around the REV-XR chassis, specifically engineered to handle the three-cylinder four-stroke engine. The seat is co-opted from the MXZ stable and calibrated to give you both a comfortable riding position and "X" style agility.
Though you sit behind an ample windscreen, the GSX SE offers four-positions to its tilt steering that lets you decide whether you want to run hard as an MXZ rider, cruise like a Grand Touring rider or bang through the bigger bumps like a Renegade rider. Ski-Doo engineers were careful to create a sled that can fit your day-specific riding attitude, be it all-day cruising or pushing for hurried high miles.
Whatever your plan of attack, the GSX SE will meet your challenge. For ease of operation, there is the requisite electric start and a push-button reverse to make off-loading a breeze. The multi-function gauge sits conveniently mounted so you can keep tabs on your — and the sled's — performance. Add in power outlets for a heated shield or GPS. And enjoy the benefits of rearview mirrors and the nice-to-have heated seat to keep your rump toasty warm. A standard equipment tunnel bag gives you adequate day storage. So, you'll find that this sled manages to combine the best of sport and touring. Plus, the smooth-pulling 4-TEC triple will let you pull out of the corners and onto the straights with sufficient force to let you recall those moments from back in "the day" when you were hot rodding on that butt banging sport sled that had the narrow power band and short travel suspensions. You'll enjoy the GSX SE as it reminds you of the fact that modern day is far better than "back in the day."
2011 Ski-Doo GSX SE Specs
Engine
Rotax 1170cc, four-stroke, liquid-cooled, triple; double overhead cam; dry sump; throttle body electronic fuel injection
Horsepower
130 (estimated)
Drive
Ski-Doo TRA VII primary drive with QRS secondary
Brake
Bremo hydraulic
Front Suspension
Ski-Doo double A-arm suspension; High Pressure Gas shocks; 9.0-in maximum travel
Rear Suspension
Ski-Doo SC-5 parallel rail slide with HPG shock on front arm and HPG with air-controlled spring on rear arm; 16-in maximum travel
Length
122.4 in
Width
47.9 in
Height
52.7 in
Ski Stance
42.4 in
Track
15 x 137 x 1.0 SilenTrack
Weight
549 lbs (claimed)
Fuel Capacity
10.6 US Gal
MSRP
US$12,399
Related Reading
2011 Ski-Doo Renegade X 1200 Review
2010 Ski-Doo GSX LE 1200 4-TEC Review
2010 Ski-Doo GSX LE 600 E-TEC Review
2010 Ski-Doo GSX Sport 550F Review
All Things Ski-Doo on Snowmobile.com