2012 Ski-Doo Freeride Review [Video]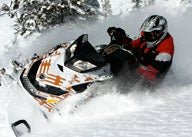 Ski-Doo gives you the ability to be free
So impressed were we about our free ride feeling at West Yellowstone, MT, this past March, we felt Ski-Doo's Freeride, a deep powder backcountry phenomenon, needed its own special report. The Freeride is more than a flickable deep powder machine. It is a backcountry free thinker that is both friendly and serious.
Here is a question for you. Is the Ski-Doo Freeride a Summit? Yes it is. Is it also a crossover like the Ski-Doo Renegade? Somewhat. Is it a Polaris RMK Assault competitor? Indeed. Is the Freeride a mountain snowmobile built for the deep-powder visionary, who is a fearless mountain surfer and wow-factor adrenaline junkie? Absolutely. Last question. Are you man enough for it?
The Freeride is a dedicated mountain snowmobile that seeks a unique rider, the backcountry free stylist. The Freeride appeals to the young Gen X and Y riders who want to distance themselves from the traditional deep powder rider who is 40 and older. (Though in my opinion they are one and the same.)
Ski-Doo knew Polaris had built a market lead with its RMK Assault. Polaris pilots like Dan Adams and Chris Burandt have made the Pro Ride RMK Assault a money making machine.
So, did Ski-Doo just say, "Well boys, we'll have to let this one go, the Assault riders are too far ahead?"
Absolutely not!
Ski-Doo marketing and engineering gurus — including Summit R&D lead, Chris Ruske — knew BRP (Bombardier Recreational Products) had the punch to build a backcountry dominator on its XP chassis. To quote Ski-Doo on its Freeride website, The Freeride is "…a mountain sled built to take on altitude's biggest terrain. For climbing chutes, throwing whips and jumping hills. It's a machine that knows no limits. Just like the guys who ride it."
When we rode the first Freeride, model-year 2011, we fought the snowmobile's wide front end and its non S-36 handling package. Basically, in our estimation, the 2011 Freeride was a 2010 Summit with a wider front end. In essence, we believed the 2011 Summit, with its S-36 handling package, trumped the 2011 Freeride when it came to dicing up a mountain. We did not find the 2011 Freeride to be much of an "extreme" sled.
Thus, when we approached the 2012 Freeride this past March, we had a negative mindset. We were prepared for a heavyweight fight in the powder ring. Well, we were unprepared and punched-out surprised. The 2012 Freeride is NOT a rebadged 2011. It is reborn, more a deep-powder missionary spreading the good word to all you freestylists and extreme backcountry mountain sheep with big racks.
Here are the mechanical specifics. First, the Freeride is powered by Ski-Doo's new famed 800 E-TEC. Snowmobile.com test editors have written extensively on this motor, giving the engineering specifics. But know, the Freeride's Rotax-built 799.5cc E-TEC, with electronic direct fuel injection, tunes up some loud horsepower, approximately 164.
The Freeride comes in several track lengths, 137, 146 and 154. The RMK Assault does not offer that. The following is common for all Freerides:
REV-XP RS chassis from the MX Zx sno-crosser, with forward steering post, more forward than the Summit by approximately one-inch.
Wide and ultra-reinforced runningboards.
SC-5MR-2 rising rate rear suspension with reinforced rails and a 4th idler wheel. Per Steve Cowing, Ski-Doo Media Relations Manager, the rising rate suspension will take the big hits an extreme rider might encounter.
Powder Max 2 track, measuring 16-inches wide with 2.5-inch lugs, or Powder Max with 2.25-inch lugs. The 137 can be ordered with the 2.25-inch or 1.75-inch Powder Max track. The 2.5-incher is a monster track.
Lightweight chromoly front suspension with quick-disconnect sway bar.
KYB Pro 40 aluminum piggyback front and rear shocks with new single knob compression adjuster; same shock package as on the MX Zx. (In our opinion: These shocks fight heat fade, are strong, and can be easily tuned for rider need.)
Pilot DS skis with adjustable ski stance; 38.4-inches or 40.1-inches. (In our opinion: Narrow ski-stance is nice when threading the needle.)
Quick disconnect sway bar. Opinion: (In our opinion: We would leave the sway bar disconnected at all times as it makes tree whipping much easier.)
Brembo brake with racing pad.
Multi-function digital gauge with display and 3-minute recording.
Aluminum tapered handlebar with mountain strap. (In our opinion: Superb bars that match hand, shoulder and arm movement.)
RER electronic reverse.
New REV-XP X Narrow seat with storage. (In our opinion: Nice. The only OEM offering this feature.)
Dual air intake.
Much of the Freeride's ability to carve and sashsay comes from the vehicle's superb handlebars. These handles are ergo crisp to match hand and arm curve, are at a width that mimics natural shoulder width. Now, ultra tall riders, the over six footers with broad shoulders may find the bars narrow, yet for this 5'8" test rider life was good.
The Freeride's handlebar steering post is an inch farther forward toward the nose than that of the Summit X. This forward post allows riders to control flight. Some may find the more aggressive forward position a bit awkward; the 6'4" driver may wrestle this.
The narrow and rounded sculptured seat is grippy, comfortable and at a proper height for easy sitting to standing transitions. Also, when laying down the sharp lefty and righty turns on a chewed up trail, the seat keeps the caboose properly positioned.
Now, back to the choppy trial, the Freeride has an inner child, the MX Zx tunnel and componentry; it is a quick darting NCAA fullback that soaks up and controls the opposition – the choppy moguls. This snowmobile does not like being wussy on the trails. Let it mash.
The Freeride is a non S-36 equipped mountaineer. Though, it is not a Summit with the S-36 handling package, it does not know it. It is nimble. Cowing told Snowmobile.com that the Freeride uses a wider front end than that of the Summit. He said, "No the Freeride does not use the S-36. The guys that use a machine in extreme manners mostly prefer a wider front end for more stability in bumps and jumps (hence the extreme capacity of KYB Pro 46 shocks)."
The Freeride, especially the 146 and 137 are insanely quick in the trees and in carving out all the numbers between 1 and 10; 16-inch wide tracks are not a hindrance. The longer 154 is an extreme deep powder Goliath with its 16-inch wide tread. But, do not think it is not a carver. It is. Yet for some of us, we are gravitating to shorty sleds with the tall lugged track. The 146 with the Powder Max II track (2.5-inch tall paddles) delivers knockout blows with its short and quick chassis.
Why do we say this? Short and tall is fun; it is important to cheat death while barreling through tree-infested 30-degree slopes. Some may find us full of B.S. on this, but today's nimble shorties with tall powder tracks are gaining in popularity.
The E-TEC 800R engine is electric motor smooth. Rolling in and off the throttle is easy and deceiving; deceiving in that its 164 horses stomps out a path with stealthy, sneaky silence.
The clutches – drive and driven – are responsive to crankshaft output. As condition and elevations change, the driven clutch, the QRS can easily be tuned for such. That is much appreciated as a mountain snowmobile, due to elevation changes, is challenged beyond that of a trail-specific snowmobile.
The wide runningboards are pleasant for wide snowmobile boots; the real estate is nice. However, there are times when setting into a steep slide hill, the running boards may, at times, keep the track from collecting the needed traction to maintain forward momentum.
Because this all-white snowmobile will pick up winter-season grime, keep your cleaner handy.
Lastly, you're right if you think we like this sled. The 2012 Ski-Doo Freeride is Snowmobile.com's extreme backcountry freestyle mountain sled of the year. It is worthy of this honor. Please join us in giving a bow.
2012 Ski-Doo Freeride
Engine
Rotax E-TEC 800R 799.5cc, liquid-cooled twin; direct injection; 3-D RAVE
Horsepower
164 (Claimed) — Requires Premium unleaded
Drive
TRA VII with QRS secondary
Brake
Brembo racing brake with stainless-steel braided brake line
Front Suspension
Dual A-arm; KYB Pro 40 gas shocks with coil over springs; 8.3-in travel
Rear Suspension
SC-5M-2 parallel rail; KYB Pro 40 shocks; up to 14-in travel with 146-in track
Length
127 in (with 146-in track.) Varies based on model and track length
Width
44.9 to 46.4
Height
51.2 in
Ski Stance
Adjustable: 38.4 or 40.1 in
Track
Powdermax or optional PowderMax II with 2.5 lug profile; 16-in width in optional lengths
Weight
485 with 146-in track (claimed)
Fuel Capacity
10.6 US Gal
Features
Electronic reverse; chromoly A-arm suspension; multi-function gauge; aluminum tapered handlebar; "X" narrow seat with storage; J-hooks and mountain strap
MSRP
(Spring Only) US$13,349 (146-in track)
Related Reading
2012 Snowmobiles of the Year: Best of the West
2012 Ski-Doo Summit 800 Review [Video]
2012 Ski-Doo Lineup Unveiled