2012 Snowmobiles of the Year: Best of the West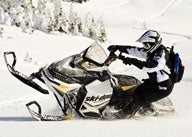 A year of excellent choices for western riders
Last season Polaris cleaned house with its Pro Ride RMK. Its popularity with Western powder riders made it the most successful selling snowmobile for model-year 2011 — regardless of segment! To place this in perspective, the mountain snowmobile segment makes up about 25 percent of the snowmobile market as a whole. Meaning, 75 percent of all buyers are outside the mountain segment, which makes it impressive that a sled in a 25 percent market-share niche outsold the other major market snowmobiles — trail, performance trail, cruiser and crossover. That is remarkable. The only other time this occurred was with the 2009 Arctic Cat M8 Sno Pro 153.
Heading into 2012 the Best of the West showdown tightens up with excellent product as the other snowmobile manufacturers have fought back against Polaris and brought serious product to their dealers' showrooms. And Polaris didn't spin its track in the powder either.
Ski-Doo has steadily refined its XP chassis Summit X to give it the soul we all know it deserved. With the S36 mountain handling package, new steering post and handlebars, softer springs on the front suspension, soft quick disconnect sway bar and its new non-ported 2.5-inch Powder Max II track, the 2012 Summit X silenced our criticisms and converted us to a sense of Summit mania.
Prior to the arrival of the Polaris Pro Ride RMK, Arctic Cat was the "must" ride, but as the company honed in on developing its new 2012 powder sled, sales slipped. But now the Cat is back for 2012 with an all-new mountain chassis, a proven motor and a well-established track and rear suspension. The 2012 Arctic Cat ProClimb M8, standard, Sno Pro and HCR resemble nothing of its predecessor line, yet they hold onto its heritage.
Some riders may feel they need to wait another year and let the "bugs get worked out." We're trying to figure out what those "bugs," may be, as the motor is the same dependable Suzuki we've come to rely on, the track is robust and well-known and the clutches are sound. Yet, the consumer was cautious about purchasing the ProClimb M8 — little was known about its powder characteristics prior to the 2011 season ending. There were no new ProClimb M8s on the snow for consumers to flog. Hence, sales were not off the chart strong. We don't blame the public for being slow to react, but we can confidently write the M8 is all business and steeped deep in mountain acumen.
Maybe not new to the powder riding elite, but definitely new for the sled makers is the arrival of serious factory-backed "boosted" power. This coming year we're witnessing the arrival of a booster club for mountain riders with factory-installed turbo Arctic Cat's M1100 Turbo and Yamaha's aftermarket-purchased and dealer-installed Push Turbo or Mountain Performance Inc. (MPI) supercharger. These sleds give the boost crowd reason to go and recruit big brawny mountains. Yamaha offered the turbo and blower as a Spring-buy, dealer-installed option, when purchasing a 2012 MTX 162, and for $1,400, it was a basement price. Cat's turbocharged Suzuki twin-cylinder four-stroke is sent to the dealer ready-to-ride as a SnoPro M1100 and HCR M1100. Dude, that is sweet.
The 600s
While big power is one way to attack mountains. Finesse is another and for 2012 the deep snow rider gets a serious set of 600 powder specials that come equipped with mountain rider gear.
Ski-Doo gives the mountain rider, who finds happiness on a 600, an easy Zen thing to do. The Summit 600 with E-TEC is more mountain sled than is acknowledged. The E-TEC powered 600 Summit comes in the SP (non-premium X) flavor with all the S-36 amenities, as the 800 SP. Track lengths are 146 and 154; it spins the original Powder Max track, the 2.25.
But Polaris figures if its 800cc Pro Ride RMK was a winner, why not make a 600cc version? For 2012 Polaris ups the 600-class ante with a radical 600 Pro RMK that is wholly the same as the 800 Pro 155. Nothing skimpy here. The Pro 600 is meant to be as adept in the mountains as its bigger 800 sibling. A 600 Pro is smart business by Polaris as they are capitalizing on the Pro's momentum.
Cross Over Adventure
For the deep powder crossover riders, we see two serious choices, Polaris' Switchback Assault with the 2.0-inch RMK track and Arctic Cat's ProCross XF 800 Sno Pro High Country. Both are deep-powder handlers with fast trail capabilities. Arctic Cat's ProCross High Country trumps the Assault's track by offering a taller lug. Both snowmobiles are powerful 800s with serious off-trail capabilities. Adding fuel to the motor, Cat also has further arsenal in its deep powder crossover line, the ProCross XF 1100 Turbo Sno Pro High Country. It's a major "Wow" for the turbo junkie who clamors for deep powder slamming and fast trail running.
Taking the drops in the backcountry is the mission of Ski-Doo's Freeride and Polaris' RMK Assault. Both are designed for the extreme adrenaline junkie whose rich father foots the bill for Johnny to jump, whip, drop and back flip.
When it comes to choosing which is the Best of the West, we found ourselves deadlocked, as the quality of the 2012s is close. The improvements in power, snow handling and overall capabilities have been amazing over the past few seasons. Where one of us can make an argument for his choice, so can another rider back up his choice. We really can't recall a time when choosing "best" powder sleds have been so close and so very much based on our own personal style and preferences.
Best 800 Mountain Ski-Doo Summit X 154
When it comes down to final choices we were split in our opinions. For example, veteran test rider and evaluator Kevin Allred gave his arguments with solid, well-grounded points, giving credit to sales numbers – the rider's vote. Therefore, his vote falls on the Polaris 800 155 Pro as the best-of-the-best. It was an especially difficult decision for him, as he believes the Ski-Doo Summit X 800 154 to be equally as worthy. Ski-Doo has a new high-profile track, under seat storage, refined S-36 and new ergo mountain specific bars. But, the deal breaker for him is the customer's vote, which settles in on the Polaris and backs it up with high sales. Remember readers, for 2011 we declared the RMK Pro 155 to be our best-of-the-best. It is still excellent with a year's worth of fine-tuning.
As Snowmobile.com's Western Editor and equally veteran tester Matt Allred saw it, the choice as the best mountain snowmobile for 2012 favored the Summit X 800 154. He feels that Ski-Doo has chipped away at its XP chassis, taking criticisms from us and others, refining the XP 800 Summit X to the point of making it a worthy choice as mountain sled of 2012.
This brings us to the new Arctic Cat ProClimb M8, specifically the Sno Pro. We think the Sno Pro will be everything Cat said it will be. The M8 is sweet, agile and specific to mountain riding. We predict it will be strong in hillclimb races that dot the Rockies, and will prove many bench warmers they should have purchased it for model-year 2012.
Best Boosted Mountain Sled Tie — Arctic Cat M1100 Turbo Sno & Yamaha Turbo or Supercharger Nytro
For us the boost segment, unfortunately, is a tie. We're not wimping out here because one is a turbo- or blower-equipped sled dealer-installed, the other a full factory-built booster. We give Yamaha strong accolades for allowing a dealer to build a "Works" sled for the consumer – the FX Nytro MTX 162 SE. The FX Nytro MTX chassis is durable, well known, and holy cow, the Push turbo or MPI supercharger makes high-altitude deep powder riding freakishly fun.
Arctic Cat for 2012 gives the consumer a ProClimb M1100 Sno Pro Turbo in a 162, the only track length. The motor is proven and fast. A factory-built monster is ground breaking. Our time on the M1100 Turbo was limited, but for all intents and purposes, Cat spun it right. Many big bowl shooters will purchase the M1100 Turbo Sno Pro. We may be wrong, but Cat is going to be a trendsetter here. They have a proven motor and Cat desires to make a point in the ultra-deep powder world.
Best 600 Mountain Polaris RMK Pro 600
The 600 class goes to Polaris. The 600 RMK Pro 155 is serious about the mountain riding business. Now the 600 Summit E-TEC SP 146 and 154 are deserving of praise, no doubt. But, over two days of riding aboard the 600 Pro 155 with all the premium Pro equipment, we were easily convinced the 600 is a purpose-built powder maniac, and is a "600" in label only; it acts like a 700. If Ski-Doo would build a 600 X in a 146 (or perhaps a 154, or perhaps a Free Ride 600), they might be surprised at its sales and demand.
Best Deep Powder Crossover Polaris 800 Switchback Assault with Deep-powder Track
The deep-powder crossover segment goes to Polaris and its Switchback Assault 144 with the two-inch powder track. This snowmobile is so radically nimble, fun, light in the bars, and quick in the trees; and is serious about being in the powder. This is a high fun-factor sled that makes a mediocre rider a good rider.
Best Extreme Backcountry Ski-Doo Freeride 146
Best extreme jump junkie snowmobile goes to Ski-Doo and its Freeride 146 and 154. Polaris' Pro Ride RMK Assault is truly worthy of this badge, however, the nimbleness from the 146 is whip-it fun, and a 16-inch wide track makes the Freeride 146 powder savvy.
---
Editor's Note: When it comes to making our choices, the answer was not always clear as test rider Kevin Allred can attest. Here's how he sees it. And how you may too!
The Bests of Kevin Allred's 2012 Dilemmas
It is that time when the Snowmobile.com badges the "best mountain sled of the year;" a time when I pull my hair out. As I think back on the many years we've been naming sled of the year, I recall several times facing a dilemma when more than one sled deserves the title. I remember a four-hour ride home in the Team truck when we debated what sled would be our pick.
Yet, I recall when the choice was obvious. This year is not one of those years. There exists a definite sales leader with the Polaris 800 Pro RMK 155. This lightweight mountain snowmobile hit the snow full throttle for model-year 2011 and never looked back. Polaris led the way in the mountain segment and in other segments as well with this vehicle. It's hard to argue down sales success. For 2011, you the consumer named this "sled of the year" by how you spent your money.
For me, I chose not only to base my decision on the RMK's sales, but on the fact this sled, for my weight and height, fits me perfectly. For 2012 the Polaris Pro Ride RMK 800 Pro returns basically unchanged, other than colors, and improved foot rests; the sled flat works.
Herein lays my dilemma. I take our "sled of the year" business seriously; it should be based on more than personal preferences. I've been in this gig long enough to know the characteristics I like about a sled may be the characteristics that annoys others. As a test rider, no matter how hard I look at the facts, there are personal preferences that complete the story, such as back country handling, handle bar position and so on. So here's the dilemma. Another mountain sled that earned "Number One" on the podium for me is Ski-Doo's 800 Summit X E TEC 154. Our 2011 long-term test Summit came to be quite an attitude adjuster. Along with outstanding ride, quality light steering, S-36 back country handling, the Summit X became a favorite as well, and continues to do so for 2012.
For 2012 the Summit X returns with improved S-36 handling, motor performance, different handlebars, under seat storage and a whopping 2.5-inch lug height Powder Max II track. This Summit is going to be a tough competitor for 2012, and certainly earns the top spot on the podium as well.
Another dilemma I face is in the boosted segment. It seems the buying public has forgotten Yamaha's FX Nytro MTX. For 2012, the FX Nytro MTX 162 comes with an industry first, an optional aftermarket turbo (by Push Turbo) or supercharger (from Mountain Performance Inc.) that boosts MTX's horses from 170 to 180. These boosted kits are sold as an accessory through Yamaha dealers with warranty, if installed by the dealer. These optional boosters were offered at a basement price of $1400, when making a Spring-buy purchase on the 162 LE. Remember with boosted motors there is no horsepower loss with elevation gains; horsepower remains constant. A boosted sled punches out a whole new element of fun. Combine that with the industry's first track designed for boosted sleds and Yamaha hits the snow for 2012 with a very impressive ride.
While on the subject of boosted sleds, we need to take a look at Arctic Cat for 2012. Arctic moved its entire mountain fleet to a new chassis – ProClimb. The ProClimb Ms are powered by two different motors, one a two-stroke, the famed 800 Suzuki twin; other a four stroke twin 1100 with two variations, naturally aspirated and boosted via an inner-cooled turbocharger. The turbocharged Suzuki twin four-stroke builds about 177 horsepower when on full boost. Remember, that is 177 HP at 1,000 feet or 10,000 feet.
Unfortunately, my time on the ProClimb M1100 turbo was quite limited, yet I made the most from the time I had. I learned the M1100 Sno Pro responded very well to back country handling and is very fast, in fact sneaky quiet very fast. This sled will be very appealing to those who like banging on the big long hills where turbo power dominates.
The M8 Sno Pro in the new ProClimb chassis will be a popular ride amongst Cat loyalists, or for that fact, anyone who ventures to the black and green world. The powerful 800 HO in the new chassis felt right – positive, controlled, and balanced. The chassis too offers a much-improved ride over the previous Ms with overall improved handling and rear suspension compression and rebound.
In closing, let me say this, sleds do have their individual personalities, complete with individual likes and dislikes. Bottom line, if you are happy with your current brand of sled and you have a dealer you trust, you won't go wrong with these 2012s. But, if you are looking to change brands, or you are a newcomer to the sport, read carefully our evaluations, the information you need is there.
So, back to sled of the year. I would actually wish to abstain from voting, but then I picture a dark smoke-filled room with a bright light shinning in my face, men with long trench coats saying, "You vill sign zee paper." Well maybe too many war movies playing through my mind, so before it gets to that, my vote goes toward the Pro RMK. Do I get to make my one phone call?
Related Reading 2012 Snowmobiles of the Year: Best of the Flatlanders The Best 2011 Snowmobiles for the West 2011 Snowmobiles of the Year 2012 Arctic Cat ProClimb M800 Review [Video] 2012 Yamaha Nytro MTX 162 "Boosted" Review [Video] 2012 Ski-Doo Summit 800 Review [Video] 2012 Polaris 800 Pro-RMK Review [Video]