2012 Ski-Doo GSX LE 1200 Review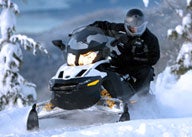 The serious trail rider's comfort sports sled
With Ski-Doo's headquarters in Valcourt located just off the famed Quebec snowmobile super trail systems where getting from Point A to Point B can be quicker and easier by snowmobile than by car, it makes sense that Ski-Doo engineers would understand the relationship between trail sport and trail comfort. If you look at the Ski-Doo line of 2012 sleds, you'll see models that can easily go in either a sport performance or comfort performance direction.
Fast Facts
Engine Type:Horizontal In-line
Cylinders:3
Engine Stroke:4-Stroke
Valve Configuration:DOHC
Displacement:1170.7 / 71.4
Starter:Electric
Turbocharged:No
View Full Spec
In searching out user-specific models, it can be easy to get a bit confused. Or, maybe that's just us. The MXZ and GSX models seem quite different, at first. Obviously the MXZ, designed and marketed for the true sports rider, retains the look of a sport sled with its aggressive styling, racy low windshield and shock packages designed to challenge moguls. The somewhat similar looking GSX models appear to be more refined, come with a rear storage bag, steering console cover, rearview mirrors and more upscale styling cues to appeal to the rider who prefers more trail "cush" to slamming big air moguls. Despite the marketing aims of the two sleds, the two models actually have a great deal in common.
Unlike Arctic Cat, which essentially offers the same sled with two package choices in either Sno Pro or LXR trim, Ski-Doo created two distinct models built on its current Rev-X platforms. While we can't disagree with Ski-Doo marketing success, we have expressed selfish concerns that the GSX could be more or, perhaps, the MXZ could be a bit less.
We like the look of the MXZ with its more aggressive appeal and higher-grade shocks. But, we really like the GSX for its higher level of creature comforts. Fortunately, Ski-Doo marketers and engineers are closing the gap between the two models. Not totally, but we find the 2012 GSX quite appealing as a serious ride for high mileage snowmobilers who can appreciate and enjoy throttling through a rugged stretch of trail.
The truly aggressive GSX rider would opt for the lighter weight high output 600cc E-TEC direct injection two-stroke. The rider more interested in miles would go for the GSX powered by the very smooth Rotax 4-TEC 1200 triple. And that's where we are going. Ski-Doo really gets the concept of fast transit. That has a lot to do with the hometown, where rides are measured in hundreds, not tens of miles at a time. Since the local Quebec trails are groomed better than some winter freeways, distances can be covered quite quickly as opposed to the local midwestern trail systems where 150 miles is a good ride. In Quebec and Ontario, that distance makes for a good run between breakfast and a snack stop.
Since Ski-Doo advises that its liquid-cooled, fuel injected 1171cc triple can achieve upwards of 18 miles per gallon, the standard 10.6-gallon fuel tank represents up to 190 miles per tank of unleaded regular gasoline. So, a century run or pre-lunch sprint of 150-miles should be little challenge for the 130-horsepower four-stroke triple.
We do like the Ski-Doo Rotax triple. In the MXZ it has a coarse rumble that is muted a bit for the trail comfort models, especially the two-up Grand Touring. Regardless, you'll find the 1200 4-TEC extremely pleasing as it has an exceptionally wide power curve that incites your hot rod throttle thumb. The chain driven double overhead camshaft controls four valves per cylinder. Smoothness results from a gear-driven counter balancer that limits engine vibration through the handlebars. In total, the Rotax inline three-cylinder motor is designed for excellent on-trail performance, whether you want to push up to the 7800-rpm maximum engine speed or simply laze along enjoying a special scenic section of trail. You will find this engine very adept at matching your mood.
The power gets translated from the power take off through Ski-Doo's own TRA IV drive system to the new-for-2012 lightweight 1.25-inch lug height RipSaw track. Braking comes from an exclusive Brembo disc braking system, which includes a stainless steel braided brake line. Ski-Doo's brake vendor, Brembo is the same Italian-based manufacturer that supplies braking systems for Red Bull Racing's Formula One world championship cars. While you won't need to rein in a Ski-Doo from 200 to 30 miles per hour in a few hundred yards, be glad to know that the engineering know-how carries over.
While the GSX LE is the more "basic" of the two GSX models, we consider the LE version to be closer to the MXZ TNT 1200 in trail appeal. This is the one you want for sport. You get good shocks, although the TNT 1200 offers an upgrade. Still, most GSX LE riders will be hard pressed to tell the difference between the two, unless the LE is ridden hard over serious moguls and seriously pushed through miles of twisted trails. Then you might feel the shocks fade.
The GSX LE comes stock with high-pressure gas shocks to control the double A-arm front suspension's action. The rear suspension reflects the needs Ski-Doo engineers deemed ideal for serious mileage makers. The SC-5 parallel slide rail design uses a variable rate gas shock on the rear arm and a softer action Motion Control shock on the suspension's forward arm. Maximum travel is 9-inches up front and up to 15-inches at the rear.
The GSX LE seat reflects the current "comfort" design that allows easy movement from front to tail. The handlebars are constructed of lightweight aluminum and incorporate "J-hook" ends for added control in the tight corners.
Those features give the GSX LE a friendly and sport-oriented presence on the trail. But it's the creature features like push-button reverse, tall wind-deflecting windscreen, rearview mirrors, an expandable tunnel bag and a 12-volt power outlet that differentiate the GSX from the MXZ models. This is a sled meant to travel hundreds of miles in a day. It is designed to optimize main corridor routes and let you travel groomed trails efficiently.
Things to like about the 2012 GSX LE 1200 are the sweet sound and soul of the 4-TEC triple. The mileage factor is a plus. But, then, that's how this sled was engineered. This sled is an excellent runner on freeway trails and a heck of a lot of fun for pitstop-to-pitstop excursions as well. The GSX LE allows its owner to enjoy the look of serious participation combined with the benefits of creature comforts that become more important to veteran riders. Smooth and quick meet versatile and comfortable about sums up the 2012 Ski-Doo GSX LE.
2012 Ski-Doo GSX LE 1200 4-TEC Specs
Engine
Rotax 4-TEC 1200, 1170.7c, 4-stroke, liquid-cooled, triple; Double overhead cam with counter balancer; electronic fuel injection
Horsepower
130-plus
Drive
Ski-Doo TRA IV primary drive with QRS secondary
Brake
Brembo hydraulic
Front Suspension
Ski-Doo double A-arm suspension; HPG High Pressure Gas shocks; 9.0-in maximum travel
Rear Suspension
Ski-Doo SC-5 parallel rail slide with Motion Control shock on front and HPG-VR on rear arm; 15-in maximum travel
Length
114.4 in
Width
47.9 in
Height
49.3 in
Ski Stance
42.4 in
Track
15 x 120.0x 1.25 RipSaw
Weight
529 lbs (claimed)
Fuel Capacity
10.6 US Gal
MSRP
US$11,749
Related Reading
2012 Ski-Doo MXZ TNT 600 E-TEC Review
2011 Ski-Doo MXZ TNT 800R E-TEC Review
2011 Ski-Doo GSX SE Review