2012 Ski-Doo Skandic SWT Review [Video]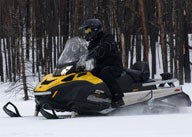 A really big work sled is for truly serious users
If you need a serious over snow vehicle, Ski-Doo has just the ticket. Smaller than a Ski-Dozer but quite a bit larger than an MXZ, the 2012 Skandic SWT is the spiritual replacement for the long retired twin-tracked Alpine. Both share the same purpose in their mechanical lifetime — doing serious work.
Fast Facts
Engine Type:Horizontal In-line
Cylinders:2
Engine Stroke:2-Stroke
Valve Configuration:Reed Valve
Displacement:594.4 / 36.3
Starter:Electric / Pull
Turbocharged:No
View Full Spec
Ironically Ski-Doo kind of lists the Skandic SWT (Super Wide Track) in the marketing guise of utility. It fits utility the way a Freightliner compares its usage to a Ford F150 pickup. This is a serious work sled. Even the Ski-Doo marketing types don't mince words in their description. They refer to it as a "massive snowmobile workhorse."
With that in mind, we'll vent our literal hurt feelings encountered as we test rode this beast. Recovering from a very nasty motorcycle crash that rearranged our right leg, we found this sled's extra wide seating actually painful. We can only imagine that the seating area was conceived for a very tall, very bow-legged cowboy used to riding Clydesdales and not cutting horses. The tall seat and extra width emulate the snowmobiling equivalent of a Freightliner's control room. Perhaps, this sled could tackle the route used on "Ice Road Truckers." It is certainly rugged enough.
Rugged and tough, the Skandic SWT is the model you want to cross the Yukon or battle the open tundra in a far northern wilderness. You'll never want to get this beast stuck, but the chances of that happening are not as great as you might think. The SWT part of the sled embraces a very huge, Sasquatch-like footprint that puts a two-foot wide by 13-foot long rubber track on the snow. The lug height measures an adequate 1.25 inches. This huge track is managed by a two-speed forward synchromesh tranny that was developed by Lynx snowmobile engineers, now incorporated into the BRP camp. Indeed, the Skandic Super Wide is extremely well suited for the Arctic Circle areas of the world.
While this is a heavyweight sled, it does have some sense of sophistication. The basic underpinnings come from the "utility" versions of the REV design, referred to as the REV-XU platform. You'll find a great deal of function in this model. The tall seat offers a commanding view of the tundra ahead. A huge, and we do mean huge, windshield sits 23-inches upright. Surprisingly there is minimal distortion in such a wide expanse of Plexiglas. You can watch for approaching polar bears thanks to dual rearview mirrors built into the wind breaker.
While the Super Wide demands a wide beam to fit the seat, the sled is actually extremely compliant once its Rotax powerplant gets it underway. The front suspension consists of shapely round telescoping cylinders that are controlled by Motion Control shocks. The skis are extremely wide to balance the flotation of the super wide track. But steering ability seemed relatively easy, even when breaking trail, surprising for such a generously sized sled.
We chuckled a bit as we studied the command center and noted a mountain strap. It isn't likely that you'll be throwing your weight out beyond the runningboards like you might on a Summit. We imagine that this sled tells you where it's going to go, not vice versa. It is very stable and likes to maintain directional momentum.
The Super Wide comes with a choice of powerplants, both 600cc Rotax twins. The 600 E-TEC two-stroke is the more powerful and the one we'd specify, as we'd like the nearly doubled horsepower that the E-TEC offers versus the ACE 600 four-stroke. The ACE 600 should offer better mileage and we'd expect it to be quieter, but it tops out at about 60-hp, which is not what we want if we're hauling serious loads. The Super Wide should excel at managing a ski slope and the attendant needs of hauling sleighs full of gear. It should also accommodate specialty-grooming gear and could be used to maintain narrow "feeder" trails.
The Skandic SWT shares a heritage brought to the sport by Ski-Doo's Alpine, a single ski, twin-tracked warrior that was popular with serious winter workers. The Skandic SWT uses a single track but puts down a similar amount of footprint as the Alpine with its two 15-inch tracks.
The Alpine earned the respect of ski resort owners, power line surveyors and far north workers. We fully expect the Skandic Super Wide will earn a similar amount of respect for the same reasons. This is a ruggedly built, powerfully engineered snowmobile that will tackle the most serious winter climates. There's a rugged bumper, underseat and rear storage, as well as an articulating rear suspension that is especially critical in work situations.
We figure that this is the sled you want when you have to count on getting out and back from who knows where. It is tough. It is engineered for work. It is powered by a choice of two proven motors. And its well-designed two-speed transmission gives you low speed grunt power or higher speed cruising capability.
If you need a serious workhorse, the 2012 Skandic Super Wide Track deserves a serious look.
2012 Ski-Doo Skandic SWT Specs
Engine(s)
Rotax 600 HO E-TEC: 600cc liquid-cooled two-stroke twin; fitted with Rotax E-TEC fuel injection system; uses 87 octane fuel
ACE 600 — Liquid-cooled Rotax 600cc double overhead cam, four-stroke twin with 2-into-one exhaust; uses 87 octane unleaded
Horsepower
Rotax 600 HO E-TEC — 120
ACE 600 — 60-hp (engagement 2200 rpm with maximum engine speed of 7250 rpm)
Drive
Rotax 600 HO E-TEC: TRA III with QRS; two-speed forward synchromesh transmission
ACE 600: eDrive primary with QRS secondary; two-speed forward synchromesh transmission
Front Suspension
Ski-Doo Long Travel strut suspension with Motion Control shock; 6-inch travel
Rear Suspension
Ski-Doo SC-5U parallel slide rail with Motion Control shock on front arm and HPG shock on rear arm; 14.0-inches of travel
Length
127.5 in
Width
42.4 in
Height
52.3 in
Ski Stance
35.4 in
Track
24 x 156 x 1.25
Weight
NA
Fuel Capacity
12.0 US Gal
MSRP
US$12,449
Related Reading
2011 Ski-Doo Skandic Tundra Xtreme Review
2009 Ski-Doo Skandic SUV 550F Review
2008 Ski-Doo Scandic Tundra Review