2013 Ski-Doo Grand Touring SE 1200 Review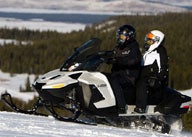 Luxury touring from the folks that started it all
Let's see now, we are talking about a snowmobile when we discuss features such as "air ride" suspension, tilt steering, smooth CVT drive, efficient and powerful double overhead camshaft engine, heated seating and premium quality Brembo braking system? These would all be "plus" features on many modern automobiles. But it is simply standard issue for Ski-Doo's premium touring sled, the 2013 Grand Touring SE. And, as they say in the late night infomercials, "Wait, there's more!"
Fast Facts
Engine Type:Horizontal In-line
Cylinders:3
Engine Stroke:4-Stroke
Valve Configuration:DOHC
Displacement:1170.7 / 71.4
Starter:Electric
Turbocharged:No
View Full Spec
Indeed, yes, there's more. This snowmobile comes with a specially engineered 15×137 RipSaw track that incorporates unique SilenTrack technology that is claimed to result in a three-decibel reduction in on-trail track noise. That's a big deal as the snowmobile industry has fought sound levels since the mid-1970s. Back then sled makers focused on the engine packaging, air intakes, exhaust and underhood cooling. In recent years as snowmobile engineers worked on sound levels, it became obvious that one of the last "noise" makers was the track and how it works within the drive system. Ski-Doo and its track partners have collaborated on sound reduction by using a supple, specifically designed construction that features a taller molded-in band that allows the track to roll over the suspension's idler wheels without letting them drop on to the internal track ribbing. Traction is more than adequate as this RipSaw-sourced design uses a one-inch tall lug profile for grip. While hot rod sport sled riders may scoff at the somewhat short lug height, two-up touring riders will appreciate it. The 137-inch length affords good grip and the lug profile will be smooth on groomed trails, where this luxury snow vehicle will make most of its mileage. Smooth, quiet. Two good attributes for a serious luxury model.
For 2013 you'll also appreciate the enhanced power take off from a brand new eDrive 2 clutching system. While CVT trannies may be the new "hot" thing for modern high mileage economy cars, snowmobilers have enjoyed this technology for a half-century already. The concept of a constant velocity transmission is to maximize an engine's output by allowing it to stay in its most effective and efficient power band. It has worked incredibly well when applied to two-stroke drive systems. It's application on early four-strokes left a bit to be desired, but today's snowmobile drive train engineers have worked well to pair CVTs to a new breed of snowmobile-specific four-strokes like the Rotax 4-TEC 1200.
Still, though, Ski-Doo powertrain specialists felt that the Grand Touring model could be tweaked a bit more and developed the eDrive 2. The original eDrive found a home with the two-cylinder Rotax ACE 600 that kicks out about half of the 4-TEC 1200's 130 horsepower. Greater torque from the larger engine required stouter and more efficient transmission characteristics. Even so, the enhanced eDrive 2 needed to be smooth off the throttle, transition easily to midrange application and provide good quality top-end speed. Thankfully the 1200cc 4-TEC triple offers up a very user-friendly torque curve, which is enabled with the stronger eDrive 2 tranny. If you have ridden a non-eDrive Grand Touring, you'll be impressed by the newest drive system. It really allows the smoothness of the Rotax triple to come out of hiding. You can easily feel the electronic fuel injection system's smooth sourcing of power as you push in on the throttle. Power from idle to wide open modulates smoothly. The midrange has always felt strong and been a Grand Touring asset, but now it's even better. The enhanced drive system really makes this sled an all-star whether you are touring by yourself or with two additional passengers – preferably another adult and, perhaps, a grade schooler taking up space on the three-person seat.
Power and premium sound reduction may be hallmarks of the 2013 Grand Touring SE, but we'd be remiss if we didn't point out the fully featured ride and how sled ergonomics make the Grand Touring an excellent long distance touring ride. The top line SE features air-controlled shocks that you can manipulate right from the handlebar. The basic geometry comes from the long-serving SC-5 rear suspension design, but has been adapted to react to five preloaded settings on the rearmost air spring. You'll find Kayaba-sourced high-pressure gas shocks working on the front skis.
Ergonomically this touring sled spells luxury with a large "L." Regardless of the driver's height and preferences, there are four handlebar settings to ease steering fit and feel. A simple car-like lever lets you change the setting. Of course, you expect to get premium wind protection and a 24-inch tall touring height windshield provides it. You'll have added cold-diverting features on the bodywork of this REV-XR chassised sled as standard fare. Hands will be warmed for driver and passenger by multi-setting electric warmed grip surfaces. Plus there are hand deflectors for the passenger
Convenience? The seating – driver and passenger areas – has two warm settings that can be operated independently of each other. The backrest can be adjusted to suit the passenger or moved forward to afford a solo rider added support.
All day or all week touring should make little difference to this long hauler as it comes with ample storage. A tunnel bag with 8.2 gallons of capacity is standard. You also can fill the SE's weatherproof, injection molded plastic side cases. These attach to the rack's sides, but can be quickly removed to carry into your end-of-day destination.
Ease of travel is what makes the 2013 Ski-Doo Grand Touring SE a special edition. It has the power of the company's top of the line Rotax-built four-stroke and the smooth on-trail performance that has highlighted Ski-Doo long-distance models since the wide tracked Nordics of the 1970s. This 2013 version continues that Ski-Doo heritage of high value features with the absolute latest snowmobile technologies that combine to create one the best touring vehicles in the sport. It's quiet. It's efficient. It's loaded with features you want for covering hundreds of miles in a day of riding. It's comfortable. And, it comes from a company that knows more about long distance over-snow travel than any other in the world.
2013 Ski-Doo Grand Touring SE 1200 4-TEC Specs
Engine
Rotax 4-TEC 1200, 1170.7c, 4-stroke, liquid-cooled, triple; Double overhead cam with counter balancer; electronic fuel injection
Horsepower
130-plus
Drive
Ski-Doo eDrive 2
Brake
Brembo hydraulic
Front Suspension
Ski-Doo double A-arm suspension; HPG High Pressure Gas shocks; 9.0-in maximum travel
Rear Suspension
Ski-Doo SC-5 parallel rail slide with handlebar-controlled ACS air shock on rear arm; 13-in maximum travel
Length
127.0 in
Width
47.9 in (maximum)
Height
53.9 in
Ski Stance
42.4 in
Track
15 x 137.0x 1.0 SilenTrack RipSaw
Weight
599 lbs (claimed)
Fuel Capacity
10.6 US Gal
MSRP
US$12,999
Related Reading
2012 Ski-Doo Grand Touring Sport ACE 600 Review – Video
2013 Arctic Cat TZ 1 LXR Review
2013 Yamaha Venture TF Review
2012 Polaris Turbo IQ LXT vs. 2012 Arctic Cat TZ1 Turbo LXR