2013 Yamaha Venture TF Review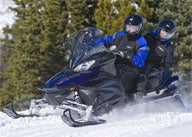 Two-up versatility and power steering comfort
For Canadians the 2013 Yamaha Venture TF is a proven product that retails just north of $15,000 Canadian. Its strengths, aside from the designed-for-snowmobiling triple cylinder four-stroke motor, include a 151-inch long Ripsaw track and accommodations for two. While you might think that stretching the wheelbase of the base Venture with a longer track might interfere with steering, don't forget that Yamaha – and only Yamaha, to date – offers the ease of electric-assisted steering to mitigate the need for building up the upper body.
Fast Facts
Engine Type:Horizontal In-line
Cylinders:3
Engine Stroke:4-Stroke
Valve Configuration:DOHC
Displacement:1049 / 64
Starter:Electric
Turbocharged:No
View Full Spec
For the US-market, Yamaha adds this long track two-up and extends the Venture series to five models. In addition to the new-for-2013 "TF", there is the base Venture with triple carburetors and 144-inch track; the upgraded full-on deluxe touring Venture GT with power steering, fuel injection and 144-inch Ripsaw track; two Phazer-based Venture two-ups, the Venture Lite and new-for-2013 Venture MP (Multi Purpose) with the 16-inch wide by 144-inch track.
So, who would buy a Venture TF? Good question, since the two-up touring market remains as flat as an Iowa snowmobile trail. Best guess is that the TF fits into a niche occupied by Ski-Doo's Expedition series of quasi-touring sleds. Both series offer basic two-up cruiser features combined with a longish track better suited to off-trail excursions. In the case of Yamaha, the TF borrows from both the base Venture and more upscale Venture GT. Where the base Venture only offers a carbureted engine, the new TF gets the fuel injected Genesis motor from the GT. That's a big plus. But it was a necessity as the GT also comes with the power steering package that Yamaha pioneered in its top-of-the-line Apex series two seasons before. To get the lighter steering that makes the TF easier to handle on or off the trail, you really need that electric power assist (EPS) and it doesn't come with the carb engine. There is an entirely different engine and steering cradle for the EPS; so borrowing from the GT model was a no-brainer.
Interestingly, though, since we would think that the TF might find itself used by serious off-trail riders in more remote areas, we could have seen the TF getting the carb-only motor. Just seems that carbs might help hold initial costs down and offer a sense of comfort to riders in remote areas where service might be a bit hard to find. After all, if you've noticed, where do you find Yamaha snowmobile dealerships? Most often in larger population areas as opposed to the Mom & Pop "other brand" dealerships scattered in small towns of so-called demographic C & D counties.
We have to surmise that Yamaha's electronic fuel injection and EPS have miniscule warranty issues and continue to build on that "quality" theme we keep seeing touted by Yamaha marketers.
We are big proponents of the Yamaha mid-performance triple, especially since it had EFI added. We absolutely adore the low-end grunt, which is important when outfitting a Venture-based sled with a deep snow issue 151-inch long track. If you want to get truly serious, you could always upgrade to a taller lug by buying a different Camoplast track. This isn't going to be a mountain tamer or deep snow toy, so don't bother.
This sled will cost you US$200 more than the deluxe pure-touring Venture GT and US$2,200 more than a basic Venture. What you're getting in the TF is a sled with the extra length but key features of the GT. We have to guess that there is a very small niche for this sled, but one that will appeal to snowmobile clubs needing a versatile two-up model for establishing trail maintenance, folks who live off the grid in hard to reach winter camps, and the occasional worker.
The keys to the 2013 Yamaha Venture TF include the efficient Yamaha drive system, the ease of steering, especially useful with a 151-inch long track, but also the standard touring features like rearview mirrors, articulated rear rails for reversing and added traction for hauling, plus the tall windscreen.
With the Yamaha reputation for building reliable and durable snow vehicles, we could see the Venture TF serving an owner for many seasons. Electric start, reverse, great low end grunt, precision fuel injection, easy steering from an electric assist and quality components like gas shocks, auxiliary electrical outlets, rear rack and comfortable for two seating makes the 2013 Yamaha Venture TF a quality purchase, if you have the need for a top quality on-off trail utilitarian snowmobile. Sales of the TF work in the Canadian market and Yamaha sled gurus expect it to fill a need in the US as well.
2013 Yamaha Venture TF with EPS Specs
Engine
Yamaha four-stroke "mid-performance" 1049cc; bore/stroke of 82.0mm/66.2mm; three-cylinder, liquid-cooled; 41mm electronic fuel injection system
Horsepower
125+
Drive
Yamaha YVXC drive clutch with Yamaha driven
Front Suspension
Yamaha A-arm with 36mm HPG aluminum shocks; up to 8.6-in of travel
Rear Suspension
Yamaha ProComfort 144 parallel slide rail with articulated rails; 36 mm aluminum gas shock; up to 13.8-inches of travel
Length
123.4 in
Height
52.4 in
Ski Stance
42.8 in
Track
15 x 151 x 1.25 Camoplast Rip Saw
Brake
2-piston hydraulic disc brake with ventilated lightweight rotor
Fuel Capacity
9.2 US Gal (Regular fuel)
Features
Electric power steering, Electric start, reverse, LCD speedometer/odometer, DC Outlet, extra tall windshield, rear storage, one-year limited factory warranty
MSRP
US$12,899 — C$15,299
Related Reading
2013 Yamaha Venture MP Review – Video
2012 Yamaha RS Venture GT Review
2011 Yamaha RS Venture Review
2010 Ski-Doo Expedition 1200 4-Tec Review