The OFSC Family of the Year: Bud and Doreen Knowles – Video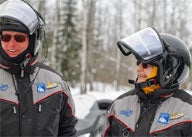 Hitting the trails with two of Ontario's finest volunteers
This past February I had the great opportunity to ride the two big loops in the Greater Sudbury area as part of a ride to honor the Ontario Federation of Snowmobile Clubs (OFSC) Family of the Year. This award is given annually to a family voted have given the most to Ontario's incredible trail system. It's an incredible honor that also includes an all-expense paid trip with two days on the trails.
When I arrived at the Chateau Guay Motel I met this year's winning family, Bud and Doreen of the Baxter Snow Riders, for the first time. Rather than sitting back and relaxing on their vacation, the two were hunched over their laptop checking trail statuses to ensure that there were no issues on the OFSC's 10,000+ miles of interconnected trails. Talk about dedication.
We had a chance to catch up over dinner, and they told me about their home club, the amount of time that they'd been snowmobiling, and Bud's stint as one of the OFSC's governors. If there is a more storied snowmobile family, I've never met them.
The next morning we set out on the Chiniguchi Loop, part of the Sudbury Trail Plan Association's network of trails in District 12. Whipping across Lake Wahnipitae and being passed by Doreen confirmed my suspicions that these two were dyed-in-the-wool sledders, who give their time for the love of the sport.
We pulled back into the parking lot of the motel after our first long and exciting day of riding, and I had a chance to ask Bud and Doreen about how these trails compared with their home district of Muskoka District 7. Check the video to hear how the Sudbury trails stack up.
After 200km on the trails, you'd expect almost anyone to be tired, but Bud and Doreen were raring to head out to our restaurant of choice that night – Made in Canada, a very Canadian-style restaurant, complete with indoor log-cabin décor.
Bud and Doreen shared some of their motorcycling stories with me. They're Goldwing riders and shared a few gems with me, including a snow-bound ride on the Blue Ridge Parkway where the truckers stopped in traffic and cleared a path for them to get safely into the tunnel until the storm passed.
Our second day on the trails saw us put over 250 km under our belt on the Cartier Loop. We experienced almost every kind of terrain here – incredibly technical trails with dozens of small moguls, long sweeping turns, hydro line trails, river crossings, rockcuts and every kind of forest that grows in the area, from snow encrusted pines to barren birch.
We ate and fuelled up at the Windy Lake Motel and Restaurant and headed back out on the trails, covering an incredible amount of territory before finally arriving back at the hotel, only an hour late, to find our shuttles to that evening's restaurant waiting for us.
Our group, which consisted of such a wide variety of riders, was happy to sit back and relax at Curious Thymes in Science North and talk about all of our experiences snowmobiling. In all, there was more than 10 riders on this tour, but the real stars of the weekend were Bud and Doreen. It's rare to meet people in this day and age that still value the spirit of volunteerism so highly. With Bud and Doreen, it shows in everything they do.
Their even-handedness and kindness are so present in all of their actions – even in the way they speak. Their claim that there is someone more deserving than them for this award was in keeping with their spirit of generosity and community service. Bud has said to me, these trails don't exist without the constant and consistent effort of volunteers – an army of men and women who give freely of their time, thought and effort and all on a volunteer basis. There aren't too many sports in the world that inspire that kind of dedication – and that made me realize how special the trails we have in Ontario are.
The next morning we loaded up our sleds and went our separate ways, but these two award-winning volunteers left an impression on me – that Ontario has some of the most dedicated snowmobilers in the world, and that Bud and Doreen do truly represent the best of our community spirit.
For complete information of snowmobiling in Ontario, visit http://www.gorideontario.ca/. You can also find out more about sledding in the area by visiting OFSC District 12's website.
Related Reading World Class Sledding in Sudbury, Northern Ontario – Video Ontario's Interactive Trail Guide Makes Finding Snow Easy The Best Snowmobile Club in North America Snow-Starved Snowmobilers Turned to Ontario This Winter – Video Late-Season Snowmobiling in Northeastern Ontario – Video Rainbow Country Snowmobile Adventure – Video